May 31, 2018
Accenture Interactive Named SAP® Hybris 2018 Partner of the Year in the SAP Pinnacle Awards for the Second Consecutive Year

NEW YORK; May 31, 2018 – Accenture Interactive has been recognized as the SAP® Hybris® 2018 Partner of the Year – Large Enterprises for the second consecutive year. The SAP Pinnacle Awards were presented by SAP Hybris, a provider of omni-channel customer engagement and commerce solutions, to the 22 top-performing global partners in 2017 that have made outstanding contributions to driving customers' digital transformation and innovation. SAP Pinnacle is SAP's premier global partner recognition award program.
The award recognizes Accenture Interactive's ability to innovate across all pillars of SAP Hybris and in every global region, while increasing business growth year on year. The award reflects Accenture Interactive's contribution to SAP software license revenue and ability to deliver complex transformational projects and disruptive solutions – with the goal of helping organizations become more innovative and to attract, retain and grow a profitable customer base.

In addition, SAP Hybris selected Accenture Interactive as the Global Service Delivery Partner of the Year and Americas Regional Partner of the Year. These awards recognize our continued investment in the SAP Hybris ecosystem, working together to deliver great customer experiences.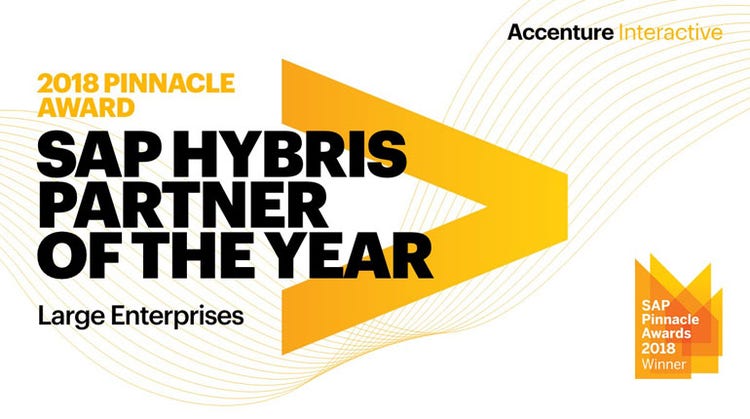 "It is an honor to be recognized by the leader in digital commerce for our collaborative work to deliver organizations with exceptional, commerce-enabled customer experiences," said Anatoly Roytman, head of Commerce, Global, Accenture Interactive. "In today's competitive digital landscape, it is imperative for our clients to connect on and offline experiences through innovative technology and to deliver contextual, consistent, seamless interactions that in the end drive sales and growth."

Selected from SAP Hybris' broad partner ecosystem, nominations for the SAP Hybris Partner of the Year Awards were based on internal SAP data. A steering committee composed of regional and global SAP Hybris representatives determined winning partners in each category according to a number of criteria including joint sales achievement, customer case studies and consultant certifications. Awards were presented in a variety of categories, including overall partner performance by geography, innovation, service delivery and newcomer.

"We are thrilled to be recognized by SAP for driving joint success for our clients," said Brian Walker, global commerce strategy and head of Commerce, North America, Accenture Interactive. "Digital is no longer a set of marketing channels – it is a fundamental for everyone. Our clients are looking for new ways to use technology to drive value and by embedding digital into everything they are able to take their commerce experience to the next level."

Accenture became SAP Hybris' first global strategic partner in 2013 and has been consistently recognized as a top alliance partner since. The alliance combines leading customer data management, context-driven marketing tools and unified commerce technology from SAP Hybris with the digital marketing capabilities and deep technology experience from Accenture Interactive.

About Accenture
Accenture (NYSE: ACN) is a leading global professional services company, providing a broad range of services and solutions in strategy, consulting, digital, technology and operations. Combining unmatched experience and specialized skills across more than 40 industries and all business functions – underpinned by the world's largest delivery network – Accenture works at the intersection of business and technology to help clients improve their performance and create sustainable value for their stakeholders. With more than 442,000 people serving clients in more than 120 countries, Accenture drives innovation to improve the way the world works and lives. Visit us at www.accenture.com.

Accenture Interactive helps the world's leading brands transform their customer experiences across the entire customer journey. Through our connected offerings in design, marketing, content and commerce, we create new ways to win in today's experience-led economy. Accenture Interactive is ranked the world's largest digital agency in the latest Ad Age Agency Report. To learn more, follow us @AccentureSong and visit www.accentureinteractive.com.

# # #

Contact:

Alexandra Annable
Accenture
+44 7918780916
alexandra.annable@accenture.com

This document makes descriptive reference to trademarks that may be owned by others. The use of such trademarks herein is not an assertion of ownership of such trademarks by Accenture and is not intended to represent or imply the existence of an association between Accenture and the lawful owners of such trademarks.

Copyright © 2018 Accenture. All rights reserved. Accenture, its logo, and High Performance Delivered are trademarks of Accenture.