September 18, 2018
Accenture Interactive Launches Fjord Johannesburg, its First Design and Innovation Studio

in Africa

New studio is part of a strategic move to establish Fjord as the design leader for Africa

JOHANNESBURG; Sept. 18, 2018 – Accenture (NYSE: ACN) has launched its first design and innovation studio on African soil, Fjord Johannesburg. The move significantly expands the company's design capabilities and demonstrates its commitment to unlocking Africa's innovation potential through the creation of experiences that redefine industries in our constantly evolving digital era.
The new studio, opening in November, will be located at Accenture's new 3875m² offices in Waterfall. It will be led by Marcel Rossouw, design director and studio lead for Fjord Johannesburg.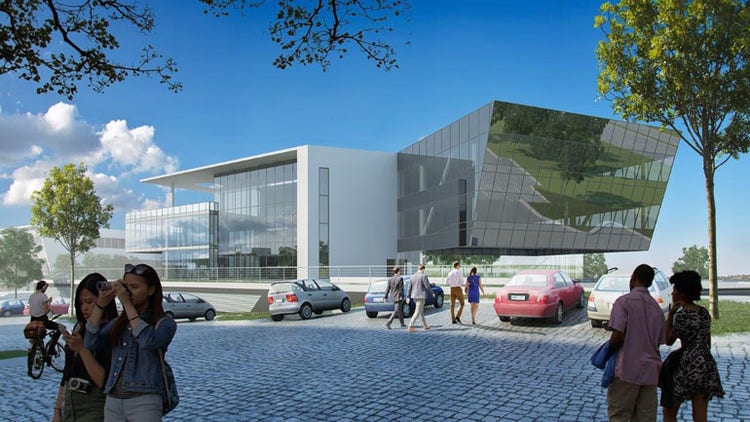 Architectural rendering of the new Accenture space in Waterfall. Opening in November,
it will feature the first Fjord design studio on the African continent.

Said Rossouw, "Brands are constantly asking, 'how does one take a business need or problem, build that out into a definition of a service experience, and then bring it to market?' It's about re-engineering existing service experiences, identifying customer needs, prototyping rapidly, iterating often and proving or disproving assumptions. But it's also about getting feedback from customers. The combination of these factors helps companies advance towards the ultimate service experience."

Fjord is the design and innovation consultancy of Accenture Interactive. The Johannesburg location marks its 28th design studio globally, solidifying its position as the world's leading design powerhouse.

Working in the same location as Accenture Interactive will allow Fjord to fuse its core design strategy DNA with the digital agency's expertise in marketing, content and commerce to create and deliver the best customer experiences for the world's leading brands. Accenture Interactive Africa's blend of intelligent design and creative use of technology has already been used by some of South Africa's largest and most prominent brands, including Alexander Forbes, Discovery, MultiChoice and Nedbank. The digital agency has also earned industry accolades for its innovative and compelling business results, most notably two gold awards in the Service Design category at the 2017 and 2018 Loeries awards.

"Great design tells great stories," explains Wayne Hull, managing director of Accenture Digital and Accenture Interactive lead in Africa. "It unifies a brand, drives innovation and makes the brand or service distinctive and hyper-relevant in both the digital and physical worlds. This is critical to achieving results. Having Fjord Johannesburg as part of Accenture Interactive, and collaborating with all of Accenture Africa, will provide unique experiences and forward-thinking capabilities for our clients."

"Businesses in South Africa are becoming more design-aware and are looking to take greater advantage of design skills to compete with the rest of the world," said Thomas Müller, head of Europe, Africa and Latin America at Fjord. "We're excited to open our first design studio on the continent and to be part of an emerging market that is ripe for design and innovation, and open for business. Developing markets like South Africa are challenging assumptions and norms about what digital services and products are meant to be, and we'll strive to put design at the heart of the innovation being produced there."

About Accenture
Accenture is a leading global professional services company, providing a broad range of services and solutions in strategy, consulting, digital, technology and operations. Combining unmatched experience and specialized skills across more than 40 industries and all business functions – underpinned by the world's largest delivery network – Accenture works at the intersection of business and technology to help clients improve their performance and create sustainable value for their stakeholders. With 449,000 people serving clients in more than 120 countries, Accenture drives innovation to improve the way the world works and lives. Visit us at www.accenture.com.

Accenture Interactive helps the world's leading brands transform their customer experiences across the entire customer journey. Through our connected offerings in design, marketing, content and commerce, we create new ways to win in today's experience-led economy. Accenture Interactive is ranked the world's largest digital agency in the latest Ad Age Agency Report, for the third year in a row. Fjord, Accenture Interactive's design and innovation unit, reimagines people's relationships with the digital and physical world around them, using the power of design to create services people love. To learn more follow us @AccentureSong or @fjord and visit www.accentureinteractive.com or www.fjordnet.com.

# # #

Contact:

Jonathan Mahapa
Accenture
+27 11 208 3947
jonathan.mahapa@accenture.com

David LaBar
Accenture
+1 646 456 4505
david.labar@accenture.com

Copyright © 2018 Accenture. All rights reserved. Accenture, its logo, and High Performance Delivered are trademarks of Accenture.