November 29, 2018
Accenture Interactive Appoints Top Dutch Creative Talent to Strengthen its Creative Capabilities Across the Region

AMSTERDAM; Nov. 29, 2018 – Accenture Interactive has strengthened its creative capabilities by adding three industry leaders to its team in the Netherlands. The appointment of Gijs de Bruijn as strategy director and Martijn van Marle and Peter van Rij as creative directors strengthens its experience credentials and furthers its mission to create and deliver a suite of digital marketing services and brand experiences for clients. The appointments are effective January 1st, 2019.
De Bruijn is a seasoned and well-known strategy director in the Dutch creative industry. As a former strategy and managing director at Selmore, he brings extensive experience in branding, advertising, strategy planning, cross-media projects, brand activation, sales promotion and direct marketing to Accenture Interactive. Earlier in his career, he worked for top agencies including MRM//McCann, TBWA, Publicis and for the global financial institution, ING. De Bruijn was responsible for successful campaigns for a variety of leading brands, such as ABN AMRO, ASN Bank, Audi, Bavaria, ŠKODA, The Van Gogh Museum, and Dutch department store Bijenkorf.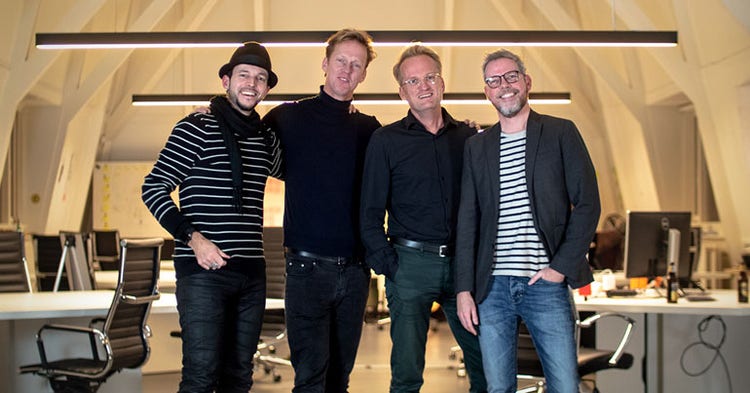 Accenture Interactive's new strategy and creative leaders in The Netherlands
(left to right: Nick Mueller, Peter van Rij, Gijs de Bruijn, Martijn van Marle)
Accenture Interactive's new executive creative directors (ECD's) have been working together as a creative duo at the top of the Dutch creative industry for years. Both Van Marle and Van Rij worked as chief creative officers at Ogilvy, after working as creative directors at TBWA\NEBOKO for an extended period. In their previous roles, they honed their craft in concept development, creative direction, creative strategy, commercials, social media and viral marketing.

Together, Van Marle and Van Rij are responsible for some of the Netherlands' most famous and enduring campaigns, including work for Amstel, supermarket Albert Heijn, and the Royal Dutch Army, as well as international campaigns for Amnesty, Ford, Heineken, and Philips. Together, they won numerous awards, both for effectiveness and creativity, including Cannes Lions, EFFIE awards and the Dutch ADCN awards.

Anatoly Roytman, head of Accenture Interactive — EALA, commented: "At Accenture Interactive, we bring a fresh approach to our clients and, as their businesses are more competitive and complex than ever, it is crucial for us to embed creativity across all aspects to drive experience transformation. We are very excited to have such strong creative leaders such as Gijs, Martijn, and Peter join us to help us continue to build the leading global experience agency in the region."

"With the addition of the new creative capabilities to our team, we reinforce our position as a true digital experience agency," says Ron Vrijmoet, managing director Accenture Interactive. "Combining the very best the creative industry has to offer with our service and product design capabilities, we can now help our clients provide the best brand experiences to their customers, starting with the creative brief to the delivery of customer experiences that leverage a unique combination of creativity, consultancy and technology."

Gijs de Bruijn, strategy director, added: "The experience has become the manifestation of brand promises. Accenture Interactive is a new breed of agency, combining creativity with a strong foundation in technology. The creative industry is rapidly evolving, and this move feels like a logical next step for me, to become part of a fundamentally new approach in experience marketing."

Martijn van Marle, creative director, said: "Beautiful things happen when people with diverse talents are brought together. We are combining some of the best data and technology experts who design innovative digital solutions with our new creative team that knows how to create emotionally engaging campaigns."

About Accenture
Accenture is a leading global professional services company, providing a broad range of services and solutions in strategy, consulting, digital, technology and operations. Combining unmatched experience and specialized skills across more than 40 industries and all business functions — underpinned by the world's largest delivery network — Accenture works at the intersection of business and technology to help clients improve their performance and create sustainable value for their stakeholders. With more than 459,000 people serving clients in more than 120 countries, Accenture drives innovation to improve the way the world works and lives. Visit us at www.accenture.com.

Accenture Interactive helps the world's leading brands transform their customer experiences across the entire customer journey. Through our connected offerings in design, marketing, content and commerce, we create new ways to win in today's experience-led economy. Accenture Interactive is ranked the world's largest digital agency in the latest Ad Age Agency Report, for the third year in a row. To learn more, follow us @AccentureSong and visit www.accentureinteractive.com.
# # #

Contact:

Anja van Beijnum
Accenture
+31 6 1330 0503
anja.van.beijnum@accenture.com

Copyright © 2018 Accenture. All rights reserved. Accenture and its logo are trademarks of Accenture.