January 30, 2018
Accenture, Henley Business School and GO DPO® Team-Up On New Online Training to Demystify GDPR

LONDON; Jan. 30, 2018 – In response to the need for senior executives to rapidly get up to speed with the requirements of the General Data Protection Regulation (GDPR), Accenture has teamed up with Henley Business School and RegTech training company, GO DPO ®, to create an online training course that helps clarify the complexities of the GDPR in just 60 minutes.
Informed by deep industry expertise across Accenture, and written and presented by Ardi Kolah LL.M, Director of the GDPR Transition Programme at Henley Business School and founder of GO DPO ®, the course helps organisations understand how to build deeper digital trust due to the tougher rules and technical and organisational changes brought about by the new regulation.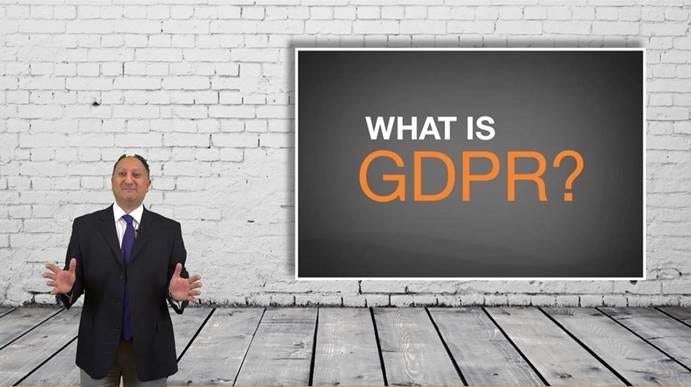 The GDPR is the biggest shake-up in data protection, privacy and security for over two decades and is fully enforceable across the European Union from May. 25, 2018.
@AccentureStrat @HenleyBSchool and @eu_compliance team-up to deliver new #GDPR online #training course bit.ly/2DiyTsC


Nick Taylor, managing director and UKI lead at Accenture Strategy said: "GDPR will fundamentally change how companies manage and protect customer information. The regulation gives customers the power to decide how businesses use their personal data, so gaining digital trust is of critical importance to every organisation that relies on customer insight. The training provides the need-to-know information a business executive needs to understand GDPR, and outlines the positive impact it can have on their business too."

The training course, which is available online, uses animation and graphics and is accessible to those who do not have a legal or technical background but need to get to grips with the GDPR. It also provides valuable insights based on research carried out for the 80-hours GDPR Transition Programme at Henley Business School.

The course costs £49.99 per user, and can be licensed and tracked across multiple employees in the same company to allow businesses to keep a record of who has successfully completed the course. A shorter, ten-minute version of the training is also available (£4.99 per user) that can be used to inform frontline, customer-facing employees, such as those working in contact centres.

Ardi Kolah LL.M, Director, GDPR Transition Programme at Henley Business School, adds: "The GDPR requires a reboot in our thinking about data protection, privacy and security for the digital age. It's much more about reputation rather than just regulation, and about building deeper digital trust to do more, not less, with customer data. We hope that both the 60 Minute GDPR Fast Track and the 10-minute version will prove to be popular courses for organisations looking to accelerate cost-effective awareness and training on the GDPR for staff ahead of the May 2018 deadline."

The 60 Minute GDPR Fast Track course is available at: www.godpo.accenture.learnetal.com
To find out more about the GDPR, please visit: www.Accenture.com/GDPR

About Accenture
Accenture (NYSE: ACN) is a leading global professional services company, providing a broad range of services and solutions in strategy, consulting, digital, technology and operations. Combining unmatched experience and specialized skills across more than 40 industries and all business functions – underpinned by the world's largest delivery network – Accenture works at the intersection of business and technology to help clients improve their performance and create sustainable value for their stakeholders. With approximately 435,000 people serving clients in more than 120 countries, Accenture drives innovation to improve the way the world works and lives. Visit us at www.accenture.com.

Accenture Strategy operates at the intersection of business and technology. We bring together our capabilities in business, technology, operations and function strategy to help our clients envision and execute industry-specific strategies that support enterprise wide transformation. Our focus on issues related to digital disruption, competitiveness, global operating models, talent and leadership help drive both efficiencies and growth. For more information, follow @AccentureStrat or visit www.accenture.com/strategy.

About Henley Business School GDPR Transition Programme
Devised by GO DPO®, it is the only business school GDPR Executive Education programme in Europe. Henley Business School is ranked No.3 for Executive Education (FT, 2017).
Details of the GDPR Transition Programme:
Module 1: Readiness for GDPR
Module 2: Risk management
Module 3: Fundamental legal principles
Module 4: Substantive difference between Data Protection Directive 95/46/EC and the GDPR
Module 5: Data and Security Obligations
Module 6: Processing of data and cloud computing

Delegates will receive the Henley Business School Certificate and can also sit for the CIPE/E and CIPM Certificates offered by the IAPP.

Further information is available at: https://www.henley.ac.uk/executive-education/course/gdpr-transition-programme

# # #

Contacts:

Andy Rowlands
Accenture
+44 20 8396 3871
andy.rowlands@accenture.com

Lucy Davies
Accenture
+44 777 3044 808
lucy.d.davies@accenture.com