July 23, 2018
Accenture Forms Strategic Alliance and Invests in Data Intelligence Company Ripjar


New strategic relationship expands Accenture Security's ability to help organizations scale their approach to using data analytics, machine learning, behavioural analytics and advanced visualisations

NEW YORK and LONDON; July 23, 2018 – Accenture (NYSE: ACN) has formed a strategic alliance with Ripjar, a data intelligence company based in the United Kingdom, and has made a minority investment in Ripjar through Accenture Ventures. The move will expand Accenture Security's capability in data fusion, automated analytics, and machine learning to help organizations improve the way they tackle global security challenges. Terms of the transaction were not disclosed.
As part of the alliance, Accenture Security will leverage Ripjar's next-generation strategic intelligence platform, Labyrinth, which gives Accenture the ability to fuse, analyse and orchestrate data to help its clients work on important strategic issues including public safety, financial crime, and the prevention and detection of cyberattacks.

"With the explosion of connected devices, predicting and detecting cyberattacks from a massive volume of data has become as difficult as finding a needle in a field of haystacks," said Kelly Bissell, senior managing director of Accenture Security. "Ripjar's unique intelligent analytics capabilities provide significant insight into complex investigations and deliver greater situational awareness of complex threats. Our minority investment in Ripjar reinforces our commitment to provide clients with innovative solutions to safeguard their systems, networks and people."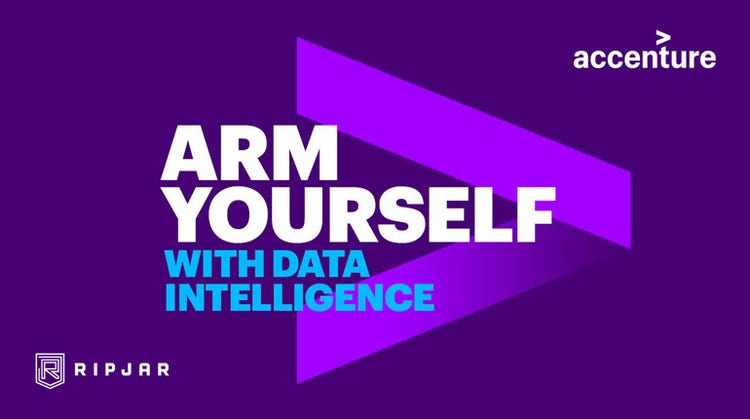 Building on decades of experience in data analytics within the British intelligence community, Ripjar's unique technology provides a comprehensive suite of integrated tools and data visualizations to drive detailed forensic analysis that helps organizations more effectively process, understand and glean strategic insights from any structured or unstructured data source using artificial intelligence.

"Tackling growing global challenges requires innovative and scalable approaches," said Tom Griffin, CEO, Ripjar. "Accenture Security's global reach, deep industry experience and innovation-led approach, combined with Ripjar's technology, is a real game changer for supporting global organizations in the fight against cybercrime."
Accenture's new strategic alliance with Ripjar to enhance client solutions in public safety, financial crime, and prevention and detection of cyberattacks. #dataintelligence #dataanalytics


The relationship with Ripjar was driven by Accenture Ventures, which focuses on teaming with and investing in companies that create innovative enterprise technologies. Through extensive relationships with startups, entrepreneurs, investors, academics, venture capitalists and corporate R&D groups around the world, Accenture Ventures invests in, and teams with, promising sources of innovation in the market.

"Accenture's investment in Ripjar formalizes our strategic relationship as we work together to industrialize its technology to embed artificial intelligence, analytics, big data and machine learning into the fabric of our clients' systems globally," said Josh Kennedy-White, managing director, Accenture Security. "This toolset will now enable clients to stay on the front foot against financial criminals and cyber adversaries."

About Accenture
Accenture is a leading global professional services company, providing a broad range of services and solutions in strategy, consulting, digital, technology and operations. Combining unmatched experience and specialized skills across more than 40 industries and all business functions – underpinned by the world's largest delivery network – Accenture works at the intersection of business and technology to help clients improve their performance and create sustainable value for their stakeholders. With 449,000 people serving clients in more than 120 countries, Accenture drives innovation to improve the way the world works and lives. Visit us at www.accenture.com.

Accenture Security helps organizations build resilience from the inside out, so they can confidently focus on innovation and growth. Leveraging its global network of cybersecurity labs, deep industry understanding across client value chains and services that span the security lifecycle, Accenture helps organizations protect their valuable assets, end-to-end. With services that include strategy and risk management, cyber defense, digital identity, application security and managed security, Accenture enables businesses around the world to defend against known sophisticated threats, and the unknown. Follow us @AccentureSecure on Twitter or visit us at www.accenture.com/security

About Ripjar
Founded by former members of the UK's Government Communications Headquarters (GCHQ), and backed by UK global investment management and data science company, Winton, Ripjar develops software products that combine automation, artificial intelligence, and data visualisation to enable a new type of augmented analysis that can help tackle complex and new threats to society including money laundering, cybercrime and terrorism.
# # #


Contact:

Alison Geib
Accenture
+1 703 947 4404
alison.geib@accenture.com

Ripjar
media@ripjar.com

Copyright © 2018 Accenture. All rights reserved. Accenture, its logo, and High Performance Delivered are trademarks of Accenture.