October 22, 2018
Accenture Enables Interoperability Between Major Blockchain Platforms


Accenture enables business process synchronization between Digital Asset, R3 Corda, Hyperledger Fabric and Quorum distributed ledger platforms

NEW YORK; Oct. 22, 2018 – Accenture (NYSE: ACN) has developed and tested two technology solutions that enable two or more blockchain enabled ecosystems to integrate, solving a critical challenge for broad adoption of blockchain technology.
The two Accenture solutions show that that blockchain platforms from Digital Asset (DA Platform) and R3 (R3 Corda) as well as Hyperledger Fabric and Quorum are capable of integrating to securely orchestrate business processes. The technology solutions also demonstrated they could actively share data and information across distributed ledgers, proving that integration is possible across the growing number of blockchain and distributed ledger platforms in the market.

"This is a game-changer that can help accelerate adoption of blockchain technology. The key challenge was to develop the ability to integrate without introducing 'operational messaging' between distributed ledger technology platforms in order to stay true to the principles and benefits of blockchain technology," said David Treat, managing director and Global Blockchain Lead, Accenture. "Applying this capability with our clients is already unlocking new opportunities to bring ecosystems together, mitigating key concerns about picking the 'wrong' platform or having to re-build if one partner uses something different."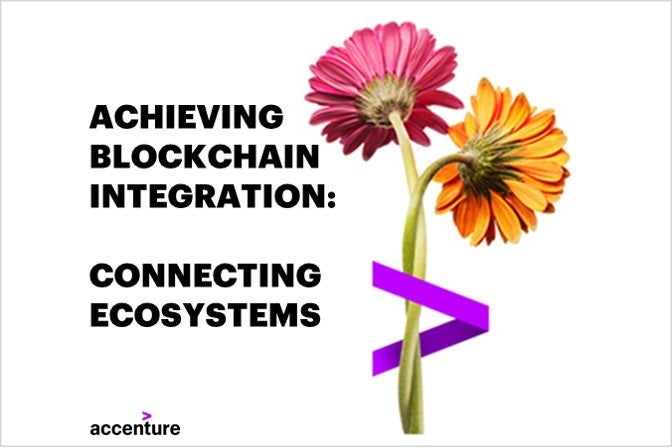 Interoperability has emerged as a hot topic among industry analysts and enterprise technology professionals, who acknowledge the high probability of multiple DLT platforms gaining traction in the market. Additionally, different industry verticals and business ecosystems may prefer one platform or another, such that over time, market players will see value in connecting with each other. Concern about picking the 'wrong system' or looking ahead to perceived challenges to connecting blockchain-based ecosystems that may be on different platforms has been a hindrance in moving the technology forward.

Blockchain is a new type of distributed database system that maintains and records data in a way that allows multiple stakeholders to confidently and securely share access to the same information. The technology is poised to revolutionize operations across a multitude of sectors, such as financial services, government, healthcare, entertainment and freight and logistics.
Proven interoperability between major #blockchain platforms that stays true to the benefits of the technology


Industry analyst Gartner has estimated that the number of blockchain platforms could continue to grow to more than 70 before competition and consolidation narrow the field to a much smaller number of dominant providers.

For different distributed ledger technologies (DLTs) to integrate, they must preserve the ability to audit, trace and verify data elements with complete security and integrity. Accenture's technology solutions solve this challenge with an interoperability node that resides, and provides the lines of communication, between two or more DLT platforms. The interoperability node includes embedded business logic that contains the business standards, policies and guidelines by which the different blockchain platforms have agreed to work together.

The solution enables integration between the different blockchain platforms by either allowing for the transfer of a tokenized asset on two blockchain platforms or allowing mapping of data to the different blocks that exist in two different blockchain platforms at the same time, with the reference data kept in constant sync. With the solution, there is no need for ongoing messaging between the different platforms. Rather, it becomes possible to transfer and maintain an "active state" between the nodes of the separate blockchain platforms, keeping them synchronized.

"Business is conducted across multiple ecosystems and, in many instances, we're seeing these ecosystems align to "fit-for-purpose" platforms. But for blockchain to achieve its full potential these different platforms must interact seamlessly with each other, and our technology solutions show that this is possible — while still delivering the security and transparency benefits that blockchain offers," said Emmanuel Viale, managing director, Accenture Labs. "This is a crucial step to ensure that growth and innovation continue with this dynamic technology."

"It's important for our customers to know that not only does the Digital Asset Platform seamlessly integrate with their existing systems, but also has the possibility to integrate with other DLT platforms," said Shaul Kfir, chief technology officer, head of Technology Architecture & Innovation at Digital Asset. "Accenture has demonstrated a useful approach which addresses many practical enterprise business needs."

Richard Gendal Brown, chief technology officer at R3 said, "We have said right from the beginning that interoperability is key to avoiding the trapped assets and silos of the past. We made specific design choices when building Corda to ensure that applications built on our platform can interoperate without friction. The successful testing of these technology solutions is a significant step forward for blockchain development and validates our approach."

"Accenture and IBM have long recognized the need for scale, while enabling technologies to work collaboratively without altering respective platforms," said Jerry Cuomo, IBM Fellow and vice president for Blockchain Technologies. "As we continue to work with our consortia across platforms we look forward to applying this technology jointly to a broad range of enterprise ecosystems."

Accenture will continue to test its technology solutions with ecosystem partners to establish integration effectiveness between other leading DLT platforms. The company has filed two patent applications for key elements of the underlying technology used in the integration technology solution and expects to file additional patent applications in the near future.

About Accenture
Accenture is a leading global professional services company, providing a broad range of services and solutions in strategy, consulting, digital, technology and operations. Combining unmatched experience and specialized skills across more than 40 industries and all business functions — underpinned by the world's largest delivery network — Accenture works at the intersection of business and technology to help clients improve their performance and create sustainable value for their stakeholders. With 459,000 people serving clients in more than 120 countries, Accenture drives innovation to improve the way the world works and lives. Visit us at www.accenture.com.

Forward-Looking Statements
Except for the historical information and discussions contained herein, statements in this news release may constitute forward-looking statements within the meaning of the Private Securities Litigation Reform Act of 1995. Words such as "may," "will," "should," "likely," "anticipates," "expects," "intends," "plans," "projects," "believes," "estimates," "positioned," "outlook" and similar expressions are used to identify these forward-looking statements. These statements involve a number of risks, uncertainties and other factors that could cause actual results to differ materially from those expressed or implied. These include, without limitation, risks that: the transaction might not achieve the anticipated benefits for the company; the company's results of operations could be adversely affected by volatile, negative or uncertain economic conditions and the effects of these conditions on the company's clients' businesses and levels of business activity; the company's business depends on generating and maintaining ongoing, profitable client demand for the company's services and solutions, including through the adaptation and expansion of its services and solutions in response to ongoing changes in technology and offerings, and a significant reduction in such demand or an inability to respond to the changing technological environment could materially affect the company's results of operations; if the company is unable to keep its supply of skills and resources in balance with client demand around the world and attract and retain professionals with strong leadership skills, the company's business, the utilization rate of the company's professionals and the company's results of operations may be materially adversely affected; the markets in which the company competes are highly competitive, and the company might not be able to compete effectively; the company could have liability or the company's reputation could be damaged if the company fails to protect client and/or company data from security breaches or cyberattacks; the company's profitability could materially suffer if the company is unable to obtain favorable pricing for its services and solutions, if the company is unable to remain competitive, if its cost-management strategies are unsuccessful or if it experiences delivery inefficiencies; changes in the company's level of taxes, as well as audits, investigations and tax proceedings, or changes in tax laws or in their interpretation or enforcement, could have a material adverse effect on the company's effective tax rate, results of operations, cash flows and financial condition; the company's results of operations could be materially adversely affected by fluctuations in foreign currency exchange rates; the company's business could be materially adversely affected if the company incurs legal liability; the company's work with government clients exposes the company to additional risks inherent in the government contracting environment; the company might not be successful at identifying, acquiring, investing in or integrating businesses, entering into joint ventures or divesting businesses; the company's Global Delivery Network is increasingly concentrated in India and the Philippines, which may expose it to operational risks; as a result of the company's geographically diverse operations and its growth strategy to continue geographic expansion, the company is more susceptible to certain risks; adverse changes to the company's relationships with key alliance partners or in the business of its key alliance partners could adversely affect the company's results of operations; the company's services or solutions could infringe upon the intellectual property rights of others or the company might lose its ability to utilize the intellectual property of others; if the company is unable to protect its intellectual property rights from unauthorized use or infringement by third parties, its business could be adversely affected; the company's ability to attract and retain business and employees may depend on its reputation in the marketplace; if the company is unable to manage the organizational challenges associated with its size, the company might be unable to achieve its business objectives; any changes to the estimates and assumptions that the company makes in connection with the preparation of its consolidated financial statements could adversely affect its financial results; many of the company's contracts include payments that link some of its fees to the attainment of performance or business targets and/or require the company to meet specific service levels, which could increase the variability of the company's revenues and impact its margins; the company's results of operations and share price could be adversely affected if it is unable to maintain effective internal controls; the company may be subject to criticism and negative publicity related to its incorporation in Ireland; as well as the risks, uncertainties and other factors discussed under the "Risk Factors" heading in Accenture plc's most recent annual report on Form 10-K and other documents filed with or furnished to the Securities and Exchange Commission. Statements in this news release speak only as of the date they were made, and Accenture undertakes no duty to update any forward-looking statements made in this news release or to conform such statements to actual results or changes in Accenture's expectations.

# # #

Contact:

Alison Geib
Accenture
+1 703 947 4404
alison.geib@accenture.com

Copyright © 2018 Accenture. All rights reserved. Accenture, its logo, and High Performance Delivered are trademarks of Accenture.

This document makes descriptive reference to trademarks that may be owned by others. The use of such trademarks herein is not an assertion of ownership of such trademarks by Accenture and is not intended to represent or imply the existence of an association between Accenture and the lawful owners of such trademarks.