February 06, 2018
Accenture Earns Four Partner Excellence Awards from SAP in Recognition of its Leading Capabilities in Digital and Cloud

NEW YORK; Feb. 6, 2018 – In an acknowledgement of its leading capabilities in digital and cloud, Accenture (NYSE: ACN) has received four SAP® Partner Excellence Awards, which recognize top-performing alliance partners that have made outstanding contributions to driving customers' digital transformation. Partnering with SAP, recipients of this year's awards have been helping customers benefit from new innovations, gain results rapidly, grow sustainably and run more simply with SAP solutions. Accenture won the following awards, which were presented at regional SAP Field Kick-Off Meetings in Las Vegas, Sydney and Barcelona:
SAP North America Partner Excellence Award 2018 for SAP Hybris Solutions
SAP APJ Partner Excellence Award 2018 for Most Innovative Digital Transformation Success Story
SAP EMEA/MEE Partner Excellence Award 2018 for Digital Transformation
SAP EMEA/MEE Partner Excellence Award 2018 for Cloud
"Digital technologies are changing everything, and the opportunity to drive the intelligent revolution with data-driven insights and innovative technologies has never been greater. Our long-time collaboration with SAP has consistently demonstrated that with a strong technology foundation and unparalleled industry expertise, we can help clients achieve incredible speed to value and gain competitive advantage," said Christophe Mouille, senior managing director and Global SAP practice lead at Accenture. "These awards are testament to our commitment to creating intelligent enterprises, maximizing business outcomes and delivering new growth by bringing together industry-specific business processes and data, underpinned by innovative SAP technology."
The SAP APJ Partner Excellence Award 2018 for Most Innovative Digital Transformation Success was presented to Accenture based on work completed with Orica, an Australian-based multinational corporation that is the world's largest provider of commercial explosives and blasting systems. Orica turned to Accenture to help install a single SAP platform in the cloud, including SAP S/4HANA®, SAP Ariba®, SAP SuccessFactors®, SAP Concur® and SAP Fieldglass® solutions.

"The SAP Partner Excellence Awards exemplify the shared purpose, commitment and success that allow our partners, together with SAP, to deliver value to our customers on an ongoing basis," said Rodolpho Cardenuto, President, Global Channels & General Business, SAP. "To that end, I am pleased and honored to recognize and congratulate Accenture as the recipient of four regional awards. We look forward to continuing to work closely together with Accenture to realize even greater success in 2018."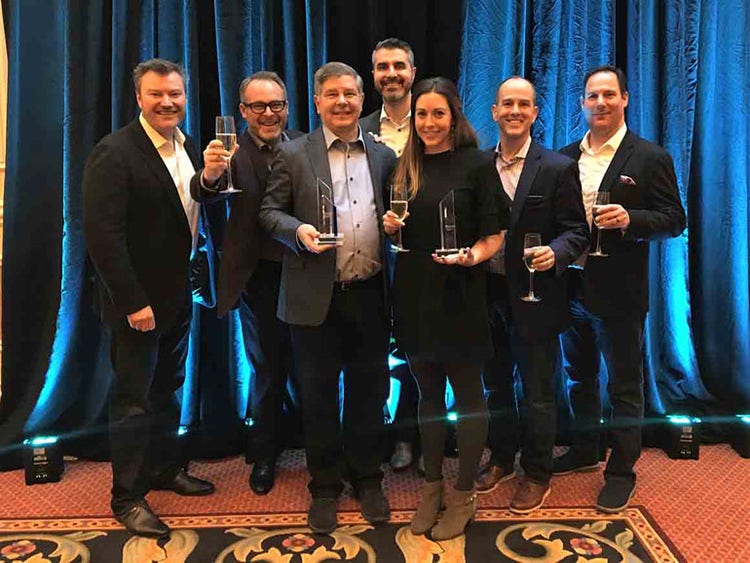 Accenture team members accept the SAP North America Partner Excellence Award 2018
for SAP Hybris Solutions
Selected from SAP's wide-ranging partner base, nominations for the SAP Partner Excellence Awards were based on internal SAP sales data. A steering committee composed of regional and global SAP representatives determined winning partners in each category according to numerous criteria such as sales achievement and performance. Awards were presented in a variety of categories, including overall sales, innovation, technology, services and solution-specific areas.

Accenture and SAP have a successful, 40-year long strategic alliance that provides clients with practical strategies and solutions to tackle critical business issues. Collaborations around the core development and go-to-market for both SAP S/4HANA and SAP Leonardo are helping clients in all industries fast-track their journey to becoming digital businesses.

About Accenture
Accenture is a leading global professional services company, providing a broad range of services and solutions in strategy, consulting, digital, technology and operations. Combining unmatched experience and specialized skills across more than 40 industries and all business functions – underpinned by the world's largest delivery network – Accenture works at the intersection of business and technology to help clients improve their performance and create sustainable value for their stakeholders. With approximately 435,000 people serving clients in more than 120 countries, Accenture drives innovation to improve the way the world works and lives. Visit us at www.accenture.com.

SAP, SAP S/4HANA, Hybris, Ariba, SuccessFactors, Concur and other SAP products and services mentioned herein as well as their respective logos are trademarks or registered trademarks of SAP SE (or an SAP affiliate company) in Germany and other countries. See http://www.sap.com/corporate-en/legal/copyright/index.epx for additional trademark information and notices.
All other product and service names mentioned are the trademarks of their respective companies.

SAP Forward-looking Statement
Any statements contained in this document that are not historical facts are forward-looking statements as defined in the U.S. Private Securities Litigation Reform Act of 1995. Words such as "anticipate," "believe," "estimate," "expect," "forecast," "intend," "may," "plan," "project," "predict," "should" and "will" and similar expressions as they relate to SAP are intended to identify such forward-looking statements. SAP undertakes no obligation to publicly update or revise any forward-looking statements. All forward-looking statements are subject to various risks and uncertainties that could cause actual results to differ materially from expectations The factors that could affect SAP's future financial results are discussed more fully in SAP's filings with the U.S. Securities and Exchange Commission ("SEC"), including SAP's most recent Annual Report on Form 20-F filed with the SEC. Readers are cautioned not to place undue reliance on these forward-looking statements, which speak only as of their dates.

# # #

Contact:

Julie Bennink
Accenture
+1 312 693 7391
julie.l.bennink@accenture.com


Copyright © 2018 Accenture. All rights reserved. Accenture, its logo, and High Performance Delivered are trademarks of Accenture.