May 23, 2018
Accenture Commits US$200 Million to Education, Training and Skills Initiatives Over Next Three Years to Equip People Around the World for Work in the Digital Age


Commitment includes company's Skills to Succeed goal to equip more than 3 million people with job and entrepreneurial skills by 2020

NEW YORK; May 23, 2018 – Supporting its vision to improve the way the world works and lives, Accenture (NYSE: ACN) is committing more than US$200 million over the next three years to help equip people around the world with job skills for the digital age.
"As a technology leader, we have an obligation to apply new scalable technology solutions to help solve complex societal challenges," said Pierre Nanterme, Accenture's chairman and CEO. "Our investments will continue to empower Accenture to produce socially minded partnerships and programs that will have a profound impact on the lives of millions of people throughout the world, now and for the future."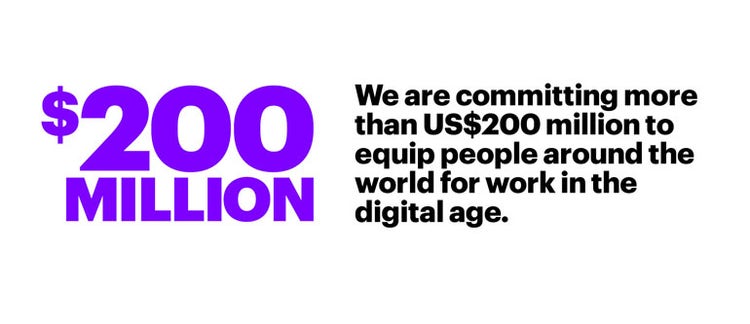 Accenture's commitment will help support Skills to Succeed, Tech4Good, Accenture Development Partnerships and related Accenture initiatives.

The company's Skills to Succeed initiative advances employment and entrepreneurship opportunities, leveraging digital innovation to help close employment gaps at scale. Together with a network of nonprofits and other ecosystem partners, Accenture has since 2010 equipped more than 2.2 million people with the skills to get a job or build a business, with a goal of equipping a total of more than 3 million people by 2020. Examples of Accenture's Skills to Succeed partnerships include:
Helping Youth Business USA develop a platform that uses artificial intelligence and analytics to connect young entrepreneurs from under-represented communities with the resources, skills, training and mentoring needed to grow their business.
Working with Rede Cidadã and Instituto Ser Mais in Brazil to provide low-income populations with the business and technical skills they need to build meaningful, lasting careers in technology, including the opportunity to be hired by Accenture.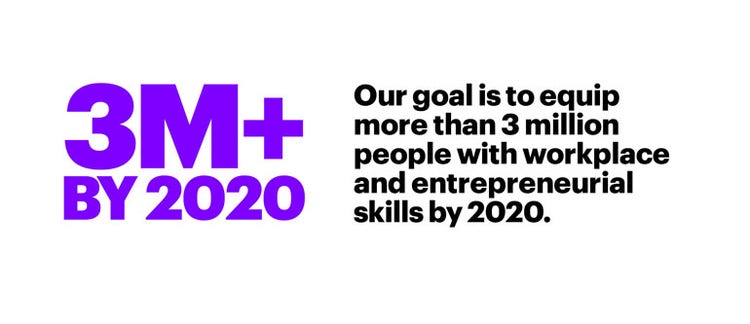 Accenture's Tech4Good projects use advanced technologies to help solve critical challenges facing business and society. For instance, the company collaborated with The Grameen Foundation India, using technologies from AI to augmented reality, to help disadvantaged people improve their financial literacy to enhance their financial and social well-being. In collaboration with Club Egalité, Accenture Labs in Sophia Antipolis, France, is developing a virtual-reality game that helps teen students explore future-proof jobs and develop critical skills for the digital economy, with the goal of encouraging an interest in STEM careers.

Accenture Development Partnerships works across government, business and civil society, applying business and technology solutions to build capacity and strengthen programs for development organizations around the globe. For example, Accenture collaborated with the Spanish Ministry of Employment and a consortium of nonprofit partners and corporations in 2013 to create Emplea+, an online program that helps marginalized individuals develop technical, digital and soft skills needed for employment.

"The opportunity to improve lives requires collaboration across business, government and non-governmental organizations," Nanterme said. "As leaders weigh new technologies and applications, we all must ask ourselves: Does this benefit the next generation? If the answer is yes, it's the right thing to do."

About Accenture
Accenture is a leading global professional services company, providing a broad range of services and solutions in strategy, consulting, digital, technology and operations. Combining unmatched experience and specialized skills across more than 40 industries and all business functions – underpinned by the world's largest delivery network – Accenture works at the intersection of business and technology to help clients improve their performance and create sustainable value for their stakeholders. With approximately 442,000 people serving clients in more than 120 countries, Accenture drives innovation to improve the way the world works and lives. Visit us at www.accenture.com.
# # #

Contact:

Stacey Jones
Accenture
+1 917 452 6561
stacey.jones@accenture.com