July 23, 2018
Accenture Announces Winners of Inaugural 'Industry X.0 Challenge' for Start-ups


Winners get a platform to address real-life client business problems by collaborating with Accenture Ventures' Open Innovation program

BENGALURU, India; July 23, 2018 – Accenture (NYSE: ACN) has announced the winners of the first edition of Accenture Ventures Industry X.0 Challenge, which recognizes innovative technology start-ups in India with disruptive solutions for the Industry X.0 segment.
Industry X.0 is the digital reinvention of industry, where businesses use advanced digital technologies to transform their core operations, their worker and customer experiences, and ultimately their business models. New levels of efficiency are achieved in the core of R&D, engineering, production, manufacturing and business support through integrated systems, processes, sensors and new intelligence.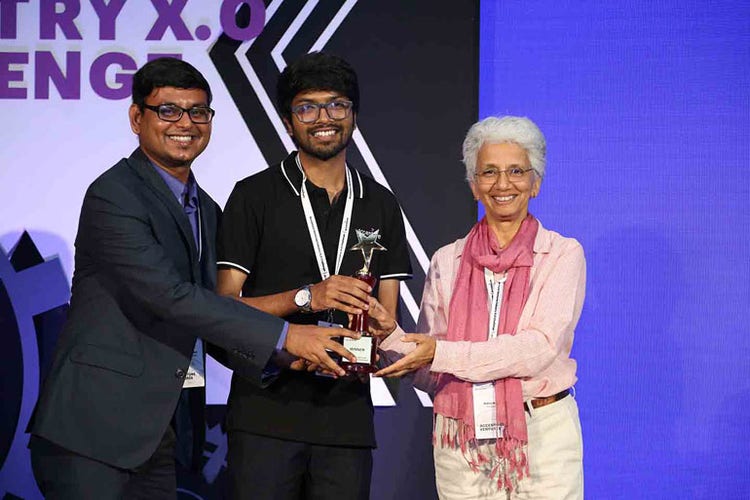 Executives from Detect Technologies receiving the Accenture Ventures Industry X.0 Challenge winner's trophy from Rekha M. Menon, Chairman and Senior Managing Director, Accenture in India
The winners are:
Detect Technologies (1st place) – for its intelligent asset-monitoring solution. With a heavy focus on intellectual property, this IIT Madras-incubated start-up has developed technology that is being adopted in the biggest process plants in India and internationally.
Ecolibrium Energy (2nd place) – for its internet of things (IoT)-based predictive asset intelligence platform, SmartSense, which uses predictive analysis to help industries improve their equipment efficiency and uptime and their productivity.
SatsSure (3rd place) – which uses satellites, artificial intelligence (AI) and Big Data to enable insight-driven decision making across a variety of sectors, including agriculture, infrastructure, banking and insurance, among others.
These start-ups will receive mentorship as part of Accenture Ventures' Open Innovation Partner program, as well as the opportunity to engage with Accenture to gain access to real-life client challenges and use cases and to pitch their solutions to CXOs of Accenture's clients. They will also join a special Industry X.0 cohort with Accenture Ventures and Open Innovation at the Accenture Innovation Hub in Bengaluru.

"Industry X.0 is about using the right combination of technologies to drive innovation and growth — which is particularly important given that our research shows that a piecemeal approach to technology adoption keeps many organizations from getting the most out of digital technologies," said Avnish Sabharwal, managing director of Accenture Ventures India. "With the Industry X.0 Challenge, we are identifying innovative start-ups in India that can help businesses make the shift from industrial manufacturing to producing and delivering digital products and services."

The first Accenture Ventures Industry X.0 Challenge received more than 150 entries from start-ups in India across four categories: supply chain and logistics; R&D and engineering solutions; manufacturing and production; and support and services. The top three start-ups were chosen from a final group of 12 participants in the Grand Finale, which showcased solutions combining a variety of technologies, including analytics, AI, blockchain, computer vision, cybersecurity, extended reality, IoT, robotics, telematics and 3D printing.

All entries underwent an extensive evaluation process, and the finalists were evaluated by a eight-member jury comprising CXOs of large Indian businesses, multi-national corporations, the venture-capital community, and Accenture.

A key component of the Accenture Innovation Architecture, Accenture Ventures partners with and invests in growth-stage companies that create innovative enterprise technologies using an open innovation approach.

About Accenture
Accenture is a leading global professional services company, providing a broad range of services and solutions in strategy, consulting, digital, technology and operations. Combining unmatched experience and specialized skills across more than 40 industries and all business functions – underpinned by the world's largest delivery network – Accenture works at the intersection of business and technology to help clients improve their performance and create sustainable value for their stakeholders. With 449,000 people serving clients in more than 120 countries, Accenture drives innovation to improve the way the world works and lives. Visit us at www.accenture.com.

# # #

Contact:

Kiran Balasubramanian
Accenture
+91 9886771250
kiran.bala@accenture.com