October 18, 2018
Accenture and ServiceNow Announce Greater Collaboration To Drive Innovation In Europe

LONDON; Oct.18, 2018 – Accenture (NYSE: ACN) today announced deeper investments with ServiceNow (NYSE: NOW) to provide clients in Europe with Accenture's full spectrum of digital transformation expertise and ServiceNow's capabilities to improve business performance.
With the increasing demand for cloud migration services, Accenture is expanding on its work with ServiceNow by bolstering its unmatched implementation services to clients in multiple industries at a time when driving digital transformation is critical to today's C-Suite. Both companies are now focusing on helping clients adapt their existing processes and infrastructure to respond to end-user experience needs. For clients in Europe, Accenture and ServiceNow will offer digital transformation expertise to provide a consumer-like approach, integrated service delivery and artificial intelligence capabilities.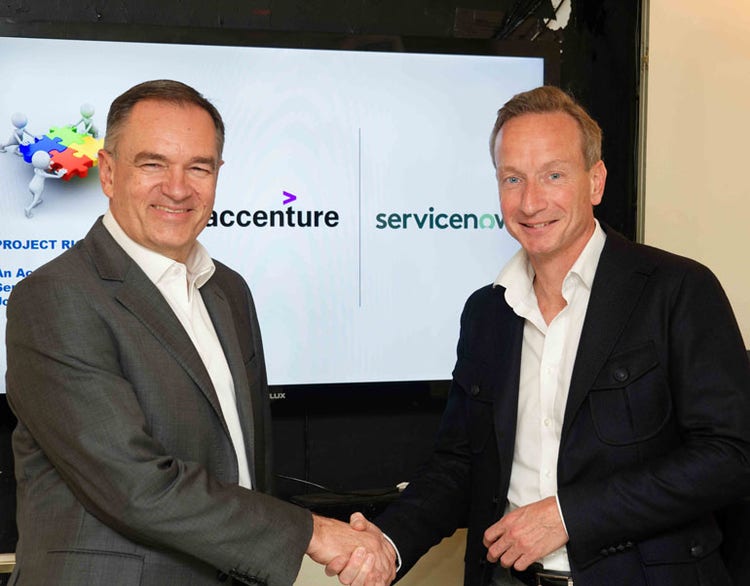 L to R: Accenture Europe Intelligent Cloud & Infrastructure Services Lead Philippe Chauffard and ServiceNow EMEA Senior Vice President and General Manager Philip van der Wilt kick off a deeper collaboration to help clients in Europe achieve superior business outcomes.
"Our deeper collaboration with ServiceNow means that clients will have access to the Accenture Cloud Innovation Center recently announced in Rome to test products and build in proper security controls for their cloud investments," said Jason Wojahn, global ServiceNow lead at Accenture. "The new center will allow clients to sit side-by-side with cloud native experts to explore common use cases, refine cloud security processes and receive strategic direction before products go live."

"Together, we'll help clients implement strategic cloud migration plans with a long-term view, as opposed to tactical, near-term, project-based views," said Philip van der Wilt, senior vice president and general manager, ServiceNow EMEA. "Our mission is to provide solutions for digital experiences that help people do their best work; ServiceNow makes work, work better for people. Our partnership with Accenture now means we have some of the world's top cloud experts working side by side to help our clients realize their business potential."

In Europe, the two companies are working together to recruit the brightest talent and up-skill the existing workforce. Accenture and ServiceNow have developed a three-week program to attract talent from local universities. Accenture's ServiceNow certifications in Europe saw 173 percent growth in 2018 from 2017, the most number of ServiceNow certifications globally. Accenture holds the world's largest global pool of 2,400 ServiceNow certified professionals.

Clients can also tap Accenture and ServiceNow to navigate the compliance requirements of the General Data Protection Regulation (GDPR). Accenture now offers GDPR services such as a Data Protection Impact Assessment (DPIA) as well as Automated Data Discovery. The new Accenture offerings help clients manage the volume of DPIAs with a dynamic in-built risk assessment, fully automated review workflow and robust audit trail and ongoing risk management. Accenture's GDPR expertise is now more relevant than ever because of the serious financial implications involved in non-compliance.

Organizations mitigating risk properly can use the regulation as an opportunity to establish a competitive edge by re-building digital trust with customers.

Accenture's long history with ServiceNow includes work on key clients such as Vattenfall, one of Europe's largest electricity and heat retailers and producers, to deliver a human resources transformation project, with ServiceNow acting as one of the core platforms. Accenture is designing, building and implementing a full spectrum of HR services for all Vattenfall employees.

Accenture was named the Overall Leader, ahead of all 12 competitors, on both execution and innovation in HfS Blueprint for ServiceNow Services, a bi-annual report that evaluates the services ecosystem of Software as a Service platforms.

Beyond operating as implementation partners, Accenture also uses ServiceNow as its primary platform for enabling cross enterprise functions, such as HR services, for its 459,000 employees worldwide.

About Accenture
Accenture is a leading global professional services company, providing a broad range of services and solutions in strategy, consulting, digital, technology and operations. Combining unmatched experience and specialized skills across more than 40 industries and all business functions – underpinned by the world's largest delivery network – Accenture works at the intersection of business and technology to help clients improve their performance and create sustainable value for their stakeholders. With 459,000 people serving clients in more than 120 countries, Accenture drives innovation to improve the way the world works and lives. Visit us at www.accenture.com.

# # #

Contact:

Mylissa Tsai
Accenture
+1 917 452 9729
mylissa.tsai@accenture.com