January 25, 2018
Accenture Again Ranked in Leader Position on Everest Group's PEAK Matrix ™ for Mortgage Business Process Outsourcing

NEW YORK; Jan. 25, 2018 – Accenture (NYSE: ACN) has again been named a leader in business mortgage process outsourcing (BPO) in a recent report from industry analyst firm Everest Group.
The report, "Mortgage BPO – Service Provider Landscape with PEAK Matrix™ Assessment 2017," evaluated 16 mortgage BPO service providers based on two key dimensions: "vision and capability" and "market impact." Accenture was ranked as a leader and received the highest overall positioning in both dimensions.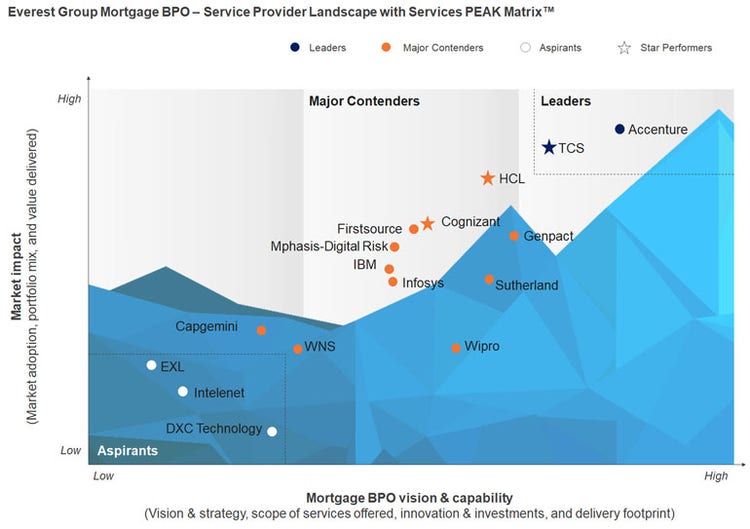 "In an era where P2P lenders and FinTechs are increasingly gaining traction, lenders no longer look for just cost savings; customer experience and risk & regulatory compliance has taken a front-foot for them," comments Manu Aggarwal, Practice Director, Everest Group. "Accenture's continued investments in the mortgage space helps blend domain expertise with digital and compliance solutions, in turn positioning its clients to deliver value and compete in the face of the changing market conditions."

The Peak Matrix is a framework that provides an objective, data-driven and comparative assessment of mortgage BPO service providers based on their absolute market success and delivery capability. According to the report, mortgage BPO stands out as one of the largest submarkets within banking BPO.

Among Accenture's capabilities and strengths noted in the report are:
its robust strategy for developing digital and end-to-end offerings for clients in addition to traditional BPO services;
its investment in advanced analytics solutions over the last few years, which has positioned it to offer clients an enhanced customer experience;
the ramping up of its technology capabilities inorganically with platform, augmentation, and tie-and-run solutions, which helps Accenture provide "end-to-end solutions to clients looking for judgement-intensive mortgage service"; and
its Mortgage-and-Compliance-as-a-Service (MCaaS) platform-based offering helps clients reduce overall cycle times, scale loan volume on demand, and support regulatory compliance.
"We work hard to retain our leadership position in the mortgage BPO industry and are very pleased to see Everest Group validate our success," said Michael Detwiler, who leads Accenture Credit Services in North America. "Our best-in-class technology platforms, automation, digital and analytics capabilities, compliance expertise, experienced personnel and rigorous quality control help lenders deliver a differentiated borrower experience, shorter time-to-close and reduced cost-per-loan. Our ability to provide a warranty to lenders for whom we provide services is an innovation unmatched in the industry."

To read more about Everest Group's PEAK Matrix for Mortgage BPO, visit https://www.accenture.com/mcaas.

About Accenture
Accenture is a leading global professional services company, providing a broad range of services and solutions in strategy, consulting, digital, technology and operations. Combining unmatched experience and specialized skills across more than 40 industries and all business functions – underpinned by the world's largest delivery network – Accenture works at the intersection of business and technology to help clients improve their performance and create sustainable value for their stakeholders. With more than 435,000 people serving clients in more than 120 countries, Accenture drives innovation to improve the way the world works and lives. Visit us at www.accenture.com.

# # #

Contacts:

Melissa Volin
Accenture
+1 267 216 1815
melissa.volin@accenture.com

Rick Grant
+1 570 497 5850
rick.grant@rga-pr.com