August 02, 2018
Accenture Achieves Lead Position in Winner's Circle of HFS Research's 2018 Industry Blueprint for Utility Operations

LONDON; August 2, 2018 – Accenture (NYSE: ACN) has been positioned in the "Winner's Circle" as the leader in both execution and innovation in the HFS Industry Blueprint: Utility Operations 2018 report.
The report analyzed how well 18 service providers met their utility clients' needs across the operations value chain by providing industry-specific services, solutions and capabilities and supporting and enabling the digital transformation of utilities. The top performers like Accenture best realized the eight ideals of the As-a-Service economy, demonstrating more agility and collaborative relationships with clients, with a focus on shared outcomes, while driving new value through smarter combinations of talent and technology.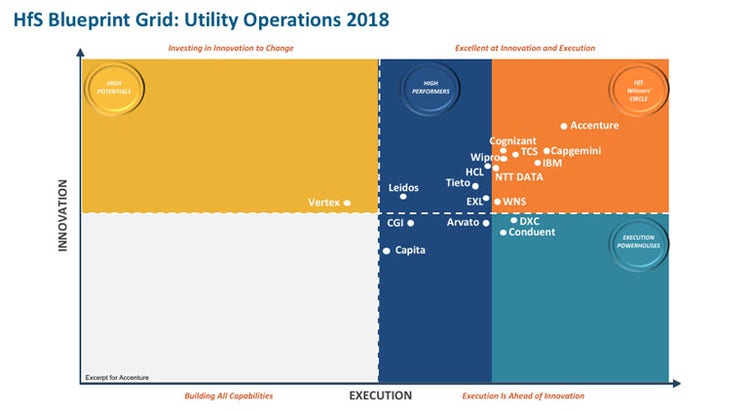 "We're delighted to have been named as leader in this report again, as it demonstrates our ongoing commitment to delivering leading-edge innovation across the value chain in utility operations and our ability to help our utilities clients navigate a challenging industry," said Matias Alonso, a senior managing director at Accenture who leads its Utilities industry group. "The breadth of our industry-specific expertise sets us apart, as does our focus on collaboration and co-creation with our clients, making us best placed to deliver successful outcomes that align with our clients' business needs and our vision for the future of the industry. Our continued investment in new industry solutions, while building on key acquisitions, will ensure our clients thrive in an increasingly competitive landscape."
Accenture Achieves Lead Position in Winner's Circle in HFS Research's 2018 Industry Blueprint for Utility Operations


In the report, Accenture was commended for leading the way by strengthening its deep industry-specific expertise and capabilities, as well as its excellent service delivery. Accenture was also recognized for continuing to strengthen end-to-end capabilities across the value chain by bringing acquisitions like Davies Consulting, Karmarama and Fjord into utility operations engagements; by investing in digital marketing offerings for utilities; and by collaborating with clients to help them digitally transform and grow their core business while creating and scaling up new services.

"Accenture's expertise in core utility processes and the depth of its capabilities is leading in the industry," said Derk Erbé, research vice president for Energy and Utilities at HFS Research. "Accenture's continued commitment to helping utility customers drive value in core operations and fund a pivot to new business models and services stands out. Some particularly important areas of the utility value chain currently undergoing drastic changes are customer experience in the retail space and IT/OT integration in generation, transmission, and distribution. Accenture is doubling down on these value chain segments through investments and creation of industry-specific solutions and services."

Among the key strengths that HFS cited as contributing to Accenture's leading position in the report:
A vision for the evolution of the utility operations market and services: In a challenging market environment, where a strong vision for the utility operations market is more important than ever, Accenture has one of the strongest, with new strategies to realize this for the industry.
Strong focus on the business challenges facing the utility industry: Accenture displays a holistic view of the challenges the industry faces, using business services and technologies as building blocks to address these problems. This approach resonates well with utility executives.
Cybersecurity approach and capabilities: HFS expects cybersecurity to break into the top three priorities of utility C-suite executives. Accenture is one of the few providers that provides the full spectrum of holistic security capabilities and an alliance ecosystem to tackle the cyber-physical threat to critical utility infrastructure.
Enabling business outcomes and new business models: Accenture continues to partner with clients to jointly pursue outcomes. For example, it helps clients reduce cost-to-serve and explore new revenue model opportunities. The value proposition is enabled by Accenture's five businesses – Strategy, Digital, Consulting, Operations, and Technology.
The findings of the report were based on extensive market research, briefings with service providers, online interviews with clients of the service providers evaluated, a survey of utility industry clients in the Global 2000, and publicly available information.

The HFS Industry Blueprint: Utility Operations 2018 can be accessed here.

More information about Accenture's services to the utilities industry can be accessed here.

About Accenture
Accenture is a leading global professional services company, providing a broad range of services and solutions in strategy, consulting, digital, technology and operations. Combining unmatched experience and specialized skills across more than 40 industries and all business functions – underpinned by the world's largest delivery network – Accenture works at the intersection of business and technology to help clients improve their performance and create sustainable value for their stakeholders. With 449,000 people serving clients in more than 120 countries, Accenture drives innovation to improve the way the world works and lives. Visit us at www.accenture.com.

# # #

Contacts:

Guy Cantwell
Accenture
+1 281 900 9089
guy.cantwell@accenture.com

Matt Corser
Accenture
+44 755 784 9009
matthew.corser@accenture.com