January 15, 2018
Accenture Achieves Lead Position in HfS Procurement As-a-Service Blueprint Report

NEW YORK; Jan. 15, 2018 – Accenture (NYSE: ACN) has been positioned as the overall leader in procurement outsourcing services, leading the industry in "innovation and execution," according to the latest HfS Blueprint Report Procurement As-a-Service.
As stated in the report, ahead of all competitors, Accenture is the leading-edge provider of Procurement As-a-Service offerings, exhibiting great breadth, depth, and vision for the future of procurement. HfS highlights Accenture's expanding use of intelligent automation in procurement, its ability to integrate proprietary tools and platforms together, and its investments in partnerships and management tools.

"Enterprise clients are becoming more demanding in the offerings required from service providers in Procurement As-a-Service processes," said Derk Erbe, research vice president of Supply Chain, Procurement and Energy at HfS Research. "Accenture has maintained its market leadership and significantly improved its positioning around innovation, a notable feat, among its competitors."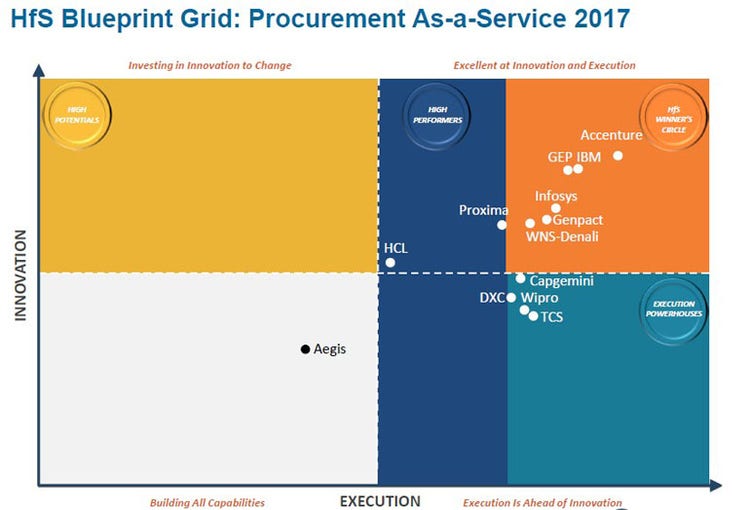 Accenture's key strengths in procurement outsourcing services identified by HfS include:
As-a-Service capabilities. Accenture is advocating an As-a-Service approach to procurement outsourcing that allows clients to select the skills and technology needed to more effectively integrate into their retaining procurement functions than has traditionally been the case.
A true partner to clients. Clients emphasize the true partnership with Accenture as a key strength.
The end-to-end process. Accenture leads the market in breadth, depth, and sophistication of its strategic sourcing and category management, and transaction capabilities with innovative specializations in fields such as energy sourcing, media and advertising, and logistics. Accenture combines deep expertise, platform, intelligence and analytics, and automation to drive outcomes across industrialized end-to-end procurement process.
Excellent account management. Clients are quick to highlight their delight with account management, particularly citing responsiveness and proactivity.
Committing to and delivering hard savings. Several clients are satisfied with the level of savings Accenture is willing to commit to and can deliver. They express confidence of Accenture's ability to drive additional value for their organization.
Innovation in delivery and commercial model. Accenture has moved all its contracts to fixed-fee constructs with a performance-based element and delivery on the Radix platform.
Balanced client portfolio. Accenture has a balanced portfolio ranging from medium to large enterprises across most major industries.
"Accenture is seeing an increased demand from clients to reinvent how they approach procurement," said Keith Hausmann, global procurement business process services lead at Accenture. "Every industry faces their own set of challenges, and Accenture is uniquely positioned to transform procurement into a truly digital organization – one that's data-rich, analytics-driven, and AI enabled – to support the changing needs of the business."

HfS analyzed the innovation and execution capabilities of 13 service providers who offer support across the procurement as a service value chain in strategic sourcing, supplier management, transactional procurement, technology, and contract management. The report also examined the evolving market as it continues move toward business outcome-focused, flexible, on-demand and collaborative changes.

For a detailed Accenture POV on the future of digital procurement, click here to download the company's insights.

About Accenture
Accenture is a leading global professional services company, providing a broad range of services and solutions in strategy, consulting, digital, technology and operations. Combining unmatched experience and specialized skills across more than 40 industries and all business functions – underpinned by the world's largest delivery network – Accenture works at the intersection of business and technology to help clients improve their performance and create sustainable value for their stakeholders. With more than 435,000 people serving clients in more than 120 countries, Accenture drives innovation to improve the way the world works and lives. Visit us at www.accenture.com.

# # #

Contact:

Mylissa Tsai
Accenture
+1 917 452 9729
mylissa.tsai@accenture.com

Copyright © 2018 Accenture. All rights reserved. Accenture, its logo, and High Performance Delivered are trademarks of Accenture.