September 05, 2018
Accenture Achieves Lead Position in HFS Industry Blueprint Report for Telecommunications Operations

NEW YORK; Sep. 5, 2018 – Accenture (NYSE: ACN) has been positioned as the overall leader for both execution and innovation in the latest HFS report on telecommunications operations.
"HFS Industry Blueprint Report: Telecommunications Operations 2018" examines the state of the telecom industry, including the service provider landscape and how the providers are supporting and enabling the digital transformation of telecom firms. HFS carefully reviewed the capabilities of 18 service providers across the telecom value chain to develop a comprehensive analysis of industry-specific services and solutions for telecom firms.

Accenture is positioned ahead of the 17 other service providers in the report, which notes that Accenture demonstrates collaborative relationships with clients, executes services flexibly with the right combination of talent and technology, and has a clear vision for the future of the industry.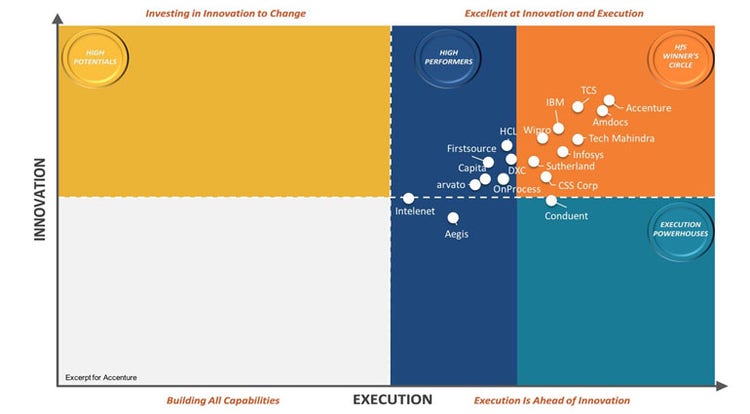 Among Accenture's key strengths in telecommunications operations that HFS identified are:
Industry expertise: Commended for deep sector expertise
Breadth of industry offerings: Recognized for having comprehensive coverage across the telecommunications value chain
Partnership ecosystem: Acknowledged for strong relationships across its partner ecosystem
Growth of industry-specific offerings: A leader in innovating new offerings
Overall innovation: Positioned as a leader for overall innovation
In innovation, for example, Accenture offers its unique "applied intelligence" approach to bring together AI technologies with new data sources, a deep talent bench – strategists, researchers, data engineers, data scientists, AI technologists – and a vast ecosystem of platforms and solutions to help clients scale impact.

"The global telecommunications sector is faced with the dual challenge of digitally transforming what they already do to remain competitive and then in parallel defining entirely new services that replace declining revenue," said Elena Christopher, research vice president at HFS. "Simply supporting the cost-savings efforts of telcos generally addresses the former challenge but not the latter. Accenture's clear understanding of these challenges and its multi-faceted approach to driving growth from core operations combined with the development of new services is what helped propel it to the HFS Winner's Circle."

Francesco Venturini, who leads Accenture's Communications & Media industry practice globally, said, "We put a great deal of time into understanding where the industry is heading and making investments in our people, assets, technology and ecosystem to ensure we are equipped to support our clients' current and future needs. We're delighted that our efforts are being recognized and to be positioned by HFS as an industry leader in execution and innovation."

For a detailed view from Accenture explaining how telecom providers must play by new rules and find new growth in this era of disruption, click here.

About Accenture
Accenture is a leading global professional services company, providing a broad range of services and solutions in strategy, consulting, digital, technology and operations. Combining unmatched experience and specialized skills across more than 40 industries and all business functions – underpinned by the world's largest delivery network – Accenture works at the intersection of business and technology to help clients improve their performance and create sustainable value for their stakeholders. With 449,000 people serving clients in more than 120 countries, Accenture drives innovation to improve the way the world works and lives. Visit us at www.accenture.com.
# # #


Contact:

Molly McDonagh
Accenture
+44 7825 023 622
molly.mcdonagh@accenture.com