October 17, 2017
US Consumers More Reluctant to Shop During Peak Holiday Shopping Days and More Likely to Purchase Online Than in Stores, Accenture Survey Reveals


11th Annual Accenture Holiday Shopping Survey finds consumers are bargain hunting for their holiday haul all year round

NEW YORK; Oct. 17, 2017 – U.S. consumers are less inclined to shop on traditional peak holiday shopping days this year and more likely to search for and buy the best bargains online than in stores, according to results of Accenture's (NYSE: ACN) 11th Annual Holiday Shopping Survey.
The online survey found that slightly more than half (52 percent) of respondents said they are less likely to shop on Black Friday this year, with nearly the same number (50 percent) less likely to shop on Thanksgiving and 42 percent less likely to shop on Cyber Monday.

Approximately two-thirds (64 percent) of those who said they don't plan to shop on Black Friday cited the crowds of people competing for bargains as the reason. Another reason for the expected drop in shopping during the peak holiday shopping days: year-round bargain buying. Nearly two-thirds (64 percent) of consumers said they shop for holiday gifts throughout the year, with the rise of constant discounts like deal websites and Amazon Prime Day. In fact, more than four in 10 respondents (44 percent) cited the ability to get equally good discounts other days of the year as one reason they're less inclined to shop on Black Friday.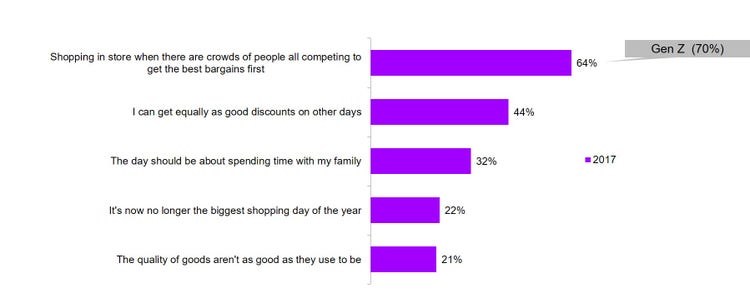 Reasons why shoppers are less inclined to shop on Black Friday
In addition, consumers plan to do more than half (54 percent) of their holiday shopping, on average, from the comfort of their home this year rather than in person at the mall or other brick-and-mortar stores (46 percent). Furthermore, half of the survey respondents said that a convenient shopping experience online, including easy check-out and purchase through mobile apps, are positively affecting their holiday spend in 2017.

"Given the rise of constant discounts and promotions on sites such as Amazon, consumers are doing more of their holiday shopping year-round, and this is proving to be the biggest competitor to the traditional peak holiday shopping days," said Jill Standish, senior managing director and head of Accenture's Retail practice. "Smart retailers are taking a longer-term view of the season. Rather than just striving to win new sales through ever-lower discounts, they instead see the holidays as an opportunity to define their purpose, engage in a way that is memorable and be clear about the role they will play in shoppers' lives both practically and emotionally. Experiences that are distinct, memorable and worth sharing with others can be the foundation for a more-profitable, enduring and year-round relationship."

Among other key findings of this year's survey:
Lower percentage of consumers say they'll spend more money on holiday gifts this year. While several indicators predict holiday spending to increase, the number of respondents who said they plan to spend more this year dropped by 11 percentage points, from 44 percent last year to 33 percent this year. This could be due, in part, to the rising uncertainty of consumers' financial circumstances: 29 percent of consumers in this year's survey said they are optimistic about their financial situation coming into the holiday period, compared with 34 percent last year.
Gas prices are more likely than any other factor to affect consumers' holiday spending. Gasoline prices is the main factor negatively affecting consumers' holiday shopping spend this year, cited by more than one-third (37 percent) of respondents – double the number who cited that factor last year (19 percent). Rising food prices was cited next-most-often; 31 percent of respondents this year which is up slightly from 28 percent last year.
Shoppers will do their homework. Consistent with last year's survey, U.S. shoppers will be doing lots of research before making holiday purchases this year. Three-quarters (76 percent) of respondents said they will likely 'webroom' – i.e., shop for a product online before purchasing it in a retail store – and approximately the same number (79 percent) said they plan to 'showroom' – i.e., visit a store to review a product before purchasing it online. In addition, more than four in five shoppers (84 percent) said they check Amazon.com before looking or buying elsewhere.
Retailers could benefit by providing shopping ideas. Nearly two-thirds (64 percent) of respondents said their shopping experience would be made easier if they could get ideas for gifts for holidays and special occasions, as well as for people for whom they don't regularly shop. More than half (54 percent) also cited online wish lists as another factor that would improve their shopping experience.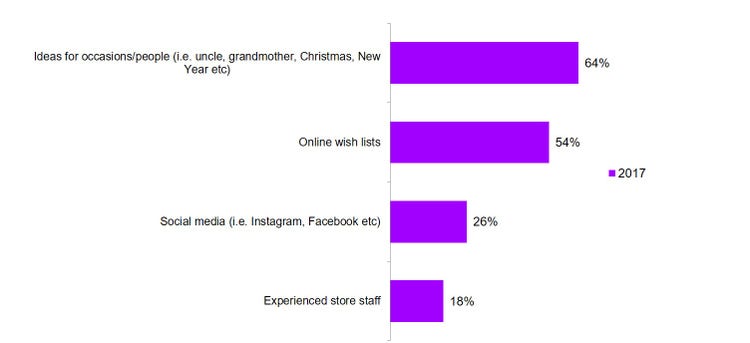 What would make consumers' shopping experience easier?
'Experience' gift purchases will likely increase. One-third (34 percent) of respondents said their holiday gift-buying this year will include 'experience' gifts — such as for restaurants, cooking classes, travel, concert and theater tickets. In addition, 36 percent of respondents said they will spend more money on 'experience' gifts this year than last year, with another six in 10 (58 percent) saying they plan to spend the same amount.
"Winning over the consumer will require providing active, rather than passive, shopping inspiration," said Standish. "For instance, by proactively offering gift recommendations for that special person, retailers can influence purchasing before consumers check out Amazon or other e-tailers. And while technology has altered the retail experience for consumers and retailers alike, retailers must not lose the human touch. Those that succeed will balance human understanding and sensibility alongside digital prowess."

"In addition, with the rising popularity of 'experience' gifts, competition for wallet-share is shifting from rivals in the retail industry to new competitors in other industries, such as travel. This makes it even more imperative for retailers who want to grow — or even just maintain — their share of wallet to enhance and improve their customers' shopping experience, whether through improved technology or the addition of new services."

Additional findings from the survey:
Consumers remain price-sensitive. Respondents were nearly twice as likely to say they plan to buy gift items at individual stores to get the best prices on each rather than buying them all in one place (48 percent vs. 25 percent).
In terms of delivery, consumers prefer free over fast. Respondents were more than 10 times as likely to say they're willing to wait longer for their items to be delivered for free than to pay an additional cost for immediate delivery (53 percent vs. 5 percent).
Gift cards remain popular. More than two-thirds (71 percent) of respondents said they plan to purchase gift cards this holiday season, spending an average of $42 on each gift card.
To view additional research findings on data security concerns and interest in/adoption of new services and technologies launched in early October, click here.

For an insight into some wildly varying shopper expectations across 15 U.S. metros, click here.

About the survey
The Accenture Holiday Shopping Survey offers insights into consumer buying patterns during the holiday time period, providing an indication of retail performance expectations both on the high street and online at a key time for the sector. For this year's study, [Coleman Parkes Research, on behalf of Accenture] surveyed a representative sample of 1,500 U.S. consumers online in September 2017. Respondents were split evenly between Generation Zers (aged 18-20), younger millennials (21-27), older millennials (28-37), Generation Xers (38-54) and Baby Boomers (55 and older).

About Accenture
Accenture is a leading global professional services company, providing a broad range of services and solutions in strategy, consulting, digital, technology and operations. Combining unmatched experience and specialized skills across more than 40 industries and all business functions – underpinned by the world's largest delivery network – Accenture works at the intersection of business and technology to help clients improve their performance and create sustainable value for their stakeholders. With more than 425,000 people serving clients in more than 120 countries, Accenture drives innovation to improve the way the world works and lives. Visit us at www.accenture.com.

# # #

Contact:

Aleks Vujanic
Accenture
+44 7500 974 814
aleks.vujanic@accenture.com