April 25, 2017
Six Capabilities Needed for Industrial Businesses to Master Digitization, According to New Book from Accenture

HANNOVER MESSE, Germany and LONDON; Apr. 25, 2017 – Industrial manufacturers must begin to digitize their operations, products and services now to make the most of the Industrial Internet of Things, analytics, AI and other "Industry X.0" technologies, according to a new book, Industry X.0 – Realizing Digital Value in Industrial Sectors, from Accenture, written by Eric Schaeffer.
Accenture Research and the World Economic Forum found that industrial manufacturers could contribute to unlocking an estimated $100 trillion in value over the next seven years – if they managed to leverage the Industrial Internet of Things (IIoT) and digital to vastly improve health and safety, employment, income, industrial value creation, resource efficiency and profits within their operations and ecosystems.

Accenture's Eric Schaeffer discusses Industry X.0, realizing digital value in industrial sectors
To do this, Schaeffer argues that industrial businesses must begin their journey toward digitization by mastering what is often referred to as the fourth industrial revolution, and continue to move toward the next iterations of Industry X.0 – a tremendous challenge that must be overcome.

The ship has clearly sailed for digital sceptics. The industrial sectors, comprising two thirds of the world's gross domestic product, will be changed beyond recognition by digital technology, disrupting decades-old business habits, conventions and operating models," said Eric Schaeffer, senior managing director at Accenture. "Businesses need to embrace this change, and to harness its potential. For this, they need a clear strategy for managing the necessary organizational pivots, and the right digital capabilities for this new era of digitized manufacturing."

Industry X.0 – Realizing Digital Value in Industrial Sectors takes an insightful look at the business impact of the Internet of Things movement on the industrial sphere. Schaeffer combines deep analysis with practical strategic guidance, and offers tangible and actionable recommendations on how to realize value in the current digital age.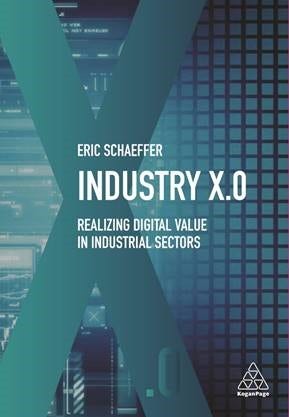 "With this inspiring book, Eric Schaeffer demonstrates the monumental impact that IIoT has on the industrial sectors, and clearly shows how this can be harnessed for major competitive advantage, profit and growth," said Cyril Perducat, Executive Vice President, Digital Services Transformation, Schneider Electric.

The six "no regrets" capabilities for digitized manufacturing
Based on extensive research and insights, the book explores six core competencies - the critical aspects of IIoT that have been identified by Accenture as having the biggest impact on industrial companies. Schaefer defines each of them and how they are shaping the industry:
Synchronizing lifecycle clocks by having a superior product lifecycle management approach is vital. During digitization, hardware, products, shop floor machinery and other production assets will age more slowly than the software that steers them. Increasing early integration and synchronization of hardware and software cycles will help avoid production complications later.
Embedding software intelligence and connectivity in sheet metal products enables interaction with the production environment, such as people or machines, including other connected products. As an example of best practices, German industrial giant Siemens, having reached 75 percent digital automation in one of its plants, has reduced its defect rate below 12 items per million produced, while increasing plant output 8.5 times with little change in employment.
Using analytics to gain insights and decision support from data gathered by connected products and other data sources is hugely significant. Unhindered data flow, gathering, and data analytics will soon be the mainstay of highly digitized businesses. A manufacturer that does not use data analytics, even at a project level, will be at a major disadvantage.
Companies must make manufacturing agile by adopting industrial automation wherever possible to increase shop floor speed and flexibility. Automation already is transforming manufacturing in the automotive and industrial equipment industries with sensors and control mechanisms now embedded in most machinery.
Transitioning to "as-a-service" business models is already on many executives' strategy as they seek to be prepared for the paradigm shift to the outcome economy, where combinations of products and services will no longer be acquired as property. Instead, they will be flexibly used as a service when required.
Creating ecosystems and running them will be key because no single company will be in a position to own the whole digital value chain in the outcome economy. Coordinating ecosystems of suppliers, customers, technology partners, start-ups, academia, competitors, and other stakeholders will become the norm.
Meticulously researched and clearly explained, Industry X.0 – Realizing Digital Value in Industrial Sectors makes a stringent case for companies to switch company strategy from products, towards services, value and outcomes. Complemented by a wealth of case studies and real world examples, this book provides invaluable, practical 'how-to' advice for business organizations as they embark on their journeys into the era of the IIoT.

"This ground-breaking book helps leaders and managers to thrive in the face of endless digital transformation. Industry X.0 is an inspirational call-to-action for everyone associated with the industrial sphere," said Stefano Porcellini, Managing Director, Biesse Group.

About the author
Eric Schaeffer is senior managing director at Accenture, leading the company's Industrial Practice, which supports industrial companies as they harness digital opportunities. He also leads the Accenture Product Lifecycle Services business, which provides end-to-end services to unlock value and efficiencies from product data across the entire value chain.

Industry X.0 – ISBN: 9780749481469, Price: £26.99 – is available to purchase from Kogan Page from 3rd May 2017. For a review copy, a by-lined article or to arrange an interview with the author, please contact Florian.Heinrichs@Accenture.com.

Accenture at Hannover Messe, Germany – visit us @DIGITAL FACTORY, HALL 6, BOOTH K45
Accenture is attending Hannover Messe, Germany. The company is offering daily topical panel sessions with IIoT experts, keynote presentations from leading academic and business figures, and real-life applications of digital technologies for industrial companies for a range of scenarios, from greater operational efficiency to new revenue streams and analytics-powered insights. Accenture is located at DIGITAL FACTORY, hall 6, booth K45. To schedule a booth tour, please contact Florian.heinrichs@accenture.com.

For more information on Accenture's Hannover Messe presence and program, please visit: https://www.accenture.com/us-en/event-hannover-messe-2017

To schedule a booth tour, please contact Florian.Heinrichs@Accenture.com.

About Accenture
Accenture is a leading global professional services company, providing a broad range of services and solutions in strategy, consulting, digital, technology and operations. Combining unmatched experience and specialized skills across more than 40 industries and all business functions – underpinned by the world's largest delivery network – Accenture works at the intersection of business and technology to help clients improve their performance and create sustainable value for their stakeholders. With more than 401,000 people serving clients in more than 120 countries, Accenture drives innovation to improve the way the world works and lives. Visit us at www.accenture.com.

About Kogan Page
Kogan Page is the leading independent global publisher of specialist professional books and content with over 900 titles in print. Its authors come from some of the world's most prestigious academic institutions, international commercial organisations or professional associations in Leadership, Management, Marketing, Branding, Human Resources, Coaching, Logistics, Entrepreneurship and Careers. Follow @KPMktng for information about new books and business insights from author experts.

# # #

Contact:

Florian Heinrichs
Accenture
+ 49 151 11407803
florian.heinrichs@accenture.com