March 08, 2017
Rentokil Uses Mobile Machine Learning from Accenture and Google to Fight Bugs Fast


PestID solution incorporates a full stack of technologies to mobilize pest identification and remediation, increase job and customer satisfaction
NEW YORK; Mar. 8, 2017 – Rentokil, a global pest control company based in the UK, is piloting an Artificial Intelligence app developed by Accenture to help its almost 5,000 pest control technicians fight bugs faster for customers. The solution utilizes a partnership announced last year, when Accenture and Google joined forces to bring to market industry-specific solutions that help clients use cloud, mobility, machine learning and analytics to advance their digital transformation agenda and improve business performance.
Rentokil technicians are some of the best trained in the industry but even they come across unusual insects that they can't identify. As part of a larger rollout of new Android mobile devices and apps to its field service workers, Rentokil took advantage of Accenture's alliance with Google to solve their business challenge through an innovative mobile app that identifies pests and automatically presents information, customer recommendations, and treatment plans.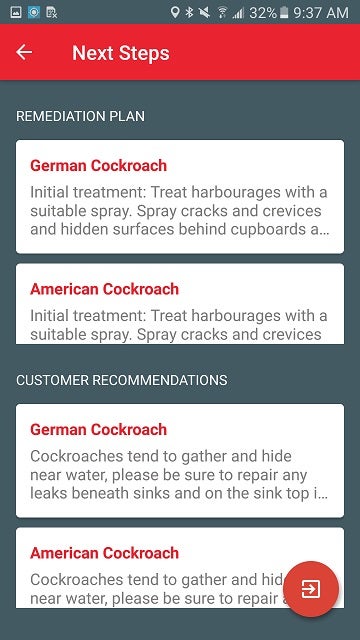 Screenshot from Rentokil's PestID app, built by Accenture Mobility
The Android app, called PestID and built by Accenture Mobility, part of Accenture Digital, uses Google's CloudML image classification technology to help field technicians identify and treat pest problems quickly and efficiently. By using pictures captured with smartphone cameras, pests are automatically identified by comparison with a machine learning model trained on a large corpus of Rentokil's existing pest imagery. Additional information is provided for each suggested match, with a confidence meter to help field technicians make intelligent decisions. When a positive identification is made, the app provides remediation solutions to quickly manage pests.

"We were already focused on field force automation and helping equip our workers with the best possible tools for the job," said Keith Chisholm, Head of North America IT and Partnerships for Rentokil. "Being able to work with Accenture to take advantage of the latest Google CloudML and Android technologies and design something totally new puts us in control of our own future. By applying machine learning to our work today, our customers and employees will all benefit from a better, more efficient service. The PestID tool supplements our current mobile app roadmap, and those members of the workforce trialing it in North America are providing very positive feedback of their experiences."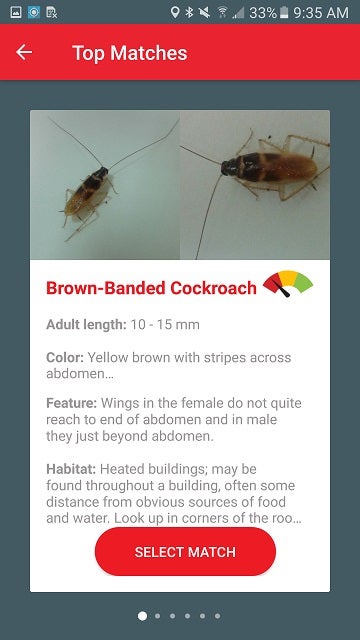 Screenshot from Rentokil's PestID app, built by Accenture Mobility
Together, Accenture and Google have pledged to deliver solutions to customers in a number of industries including retail, healthcare, consumer products, energy, finance, and others. These solutions combine products from across Google, including Android, G Suite, analytics, augmented reality, big data, IoT and machine learning with Accenture's broad industry expertise and capabilities to enable clients to solve pressing business challenges.

"The PestID app is a great example of how our ecosystem delivers new outcomes for clients, by innovating with key industry players to benefit from industry-specific cloud and mobile solutions for impactful business results," said Abhijit Kabra, mobile apps practice lead at Accenture Mobility, part of Accenture Digital. "Accenture's alliance with Google Cloud and Android allowed our industry experts and technology specialists to work very closely with Rentokil to rapidly ideate, design and build a new tool that could increase efficiency in the field, and improve the accuracy of pest identification to provide the best possible experience for Rentokil customers."
The PestID is among 20 solutions across several industries on display by Accenture at Google Cloud NEXT 2017 Conference in San Francisco this week.

About Accenture
Accenture is a leading global professional services company, providing a broad range of services and solutions in strategy, consulting, digital, technology and operations. Combining unmatched experience and specialized skills across more than 40 industries and all business functions – underpinned by the world's largest delivery network – Accenture works at the intersection of business and technology to help clients improve their performance and create sustainable value for their stakeholders. With more than 394,000 people serving clients in more than 120 countries, Accenture drives innovation to improve the way the world works and lives. Visit us at www.accenture.com.

Accenture Mobility, part of Accenture Digital, plans, implements and manages mobility solutions for businesses and public organizations, including developing and implementing enterprise mobility strategies; building and testing applications; and supplying credible, business ready Internet of Things offerings and managed services. Accenture Mobility services are based on deep industry insights and technical expertise that help clients across all industries achieve growth, efficiency and manage a successful transformation as they adopt the tools of a digital business. Find out more by following @mobilitywise and visiting www.accenture.com/mobility.

# # #
Contacts:

Joanna Vos
Accenture
+ 44 7500 835588
Joanna.r.vos@accenture.com

Alexander Aizenberg
Accenture
+ 1 917 452 9878
alexander.aizenberg@accenture.com