February 02, 2017
Public Sector Agencies Must Adopt Emerging Technologies Like Machine Learning and Artificial Intelligence to Effectively Compete for Talent, Accenture Report Finds

ARLINGTON, Va.; Feb. 2, 2017 – Public sector agencies must adopt emerging technologies – including machine learning, artificial intelligence and biometrics – to attract and retain more technically adept employees. This approach is critical to addressing a widening skills gap and strong competition from a better financed private sector, a new report from Accenture (NYSE: ACN) shows.
The report, Emerging Technologies in Public Service, examines the adoption of emerging technologies across agencies with the most direct interaction with citizens or the greatest responsibility for citizen-facing services: health and social services, policing/justice, revenue, border services, administration and pensions / social security.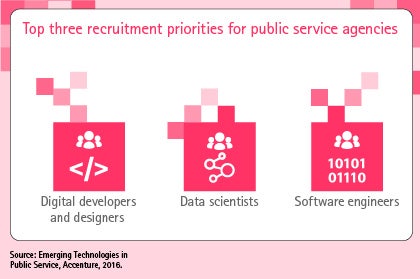 As part of the report, Accenture surveyed nearly 800 public service technology professionals across nine countries to identify emerging technologies being implemented or piloted. These technologies include advanced analytics/ predictive modeling, the Internet of Things, intelligent process automation, video analytics, biometrics/ identity analytics, machine learning, and natural language processing/ generation.

According to the report, the need for attracting technically proficient employees is becoming even more urgent as the existing workforce continues to age, creating an irrevocable loss of institutional knowledge unless action is taken now. Hiring and developing people with the necessary skills, including the need for emerging technology specialists, is one of the top three challenges across all industries and countries today.

"The very concept of work is being redefined as different generations enter and exit the workforce in a rapidly changing technological landscape," said Terry Hemken, who leads Accenture's Health & Public Service Analytics Insights for Government business. "Government leaders must make every effort to reskill their people to be relevant in the future and ready to adapt to change."

Better – Not Fewer –Jobs
Survey respondents said emerging technologies will augment existing roles rather than replace them. Automating tasks, whether through artificial intelligence, machine learning or other technologies, frees up employees to focus on activities that are more critical and more closely aligned with citizen needs, according to the research. In fact, eight in 10 respondents said that implementing emerging technologies will improve job satisfaction and can aid staff retention, partly by automating certain repetitive tasks and making others more aligned with citizens' direct needs.

Adoption of emerging technologies can offer new skills and opportunities for existing employees and help retain the best talent. Nearly 60 percent (58 percent) of respondents agree that these technologies will increase the range of relevant skills in the organization.

As citizen expectations continue to rise, one of the primary objectives for technology leaders when implementing emerging technology projects is to improve the experience of citizens, customers and staff, the report concludes.

The Skills Chase Is a Sprint
Nearly 60 percent of respondents said that being able to implement projects using emerging technologies would require significant investment in reskilling existing staff. Currently, the report shows, research & development staff are most likely in place to deliver value from these projects, but public service agencies need to hire data scientists, software engineers and digital developers and designers from one of the most competitive job pools.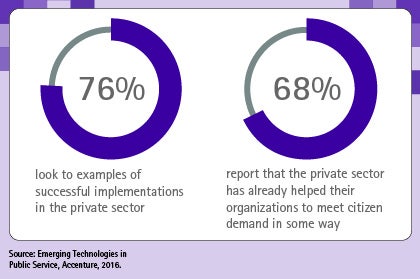 Employees who combine technical skills with the understanding of the agency/ citizen challenge are not easy to find, or retain, according to survey results. Half of all respondents (51 percent) said they look predominantly to the private sector to hire talent when developing projects using emerging technologies.

Intelligent process automation is cited most frequently (60 percent) as the skill most likely to address technological and data skills shortages. When it comes to addressing hiring and people-development challenges, Finland identified biometrics/ identity analytics professionals as its greatest need, a priority shared with Australia. Norway seeks natural language processing and generation specialists as the highest priority (40 percent). Respondents in Singapore, a nation ahead of the digital curve, identified hiring needs almost equally among Internet of Things (21 percent), video analytics (29 percent) and biometrics/ identity analytics (21 percent).

"Responsive and responsible leaders must ensure that their people are relevant and adaptable to keep pace with technology," Hemken said. "Creating the future workforce now is the responsibility of the very highest levels of an organization. Providing opportunities to learn new technologies has the dual benefit of attracting a more digitally fluent staff while creating opportunities to retain existing workforce talent."

Methodology
Accenture conducted an online survey of 774 technology leaders in public service organizations at all levels of government, responsible for creating, maintaining and expanding citizen services, and for overseeing budget, purchasing and policy decisions in nine countries: Australia, Finland, France, Germany, Japan, Norway, Singapore, the United Kingdom and the United States. The survey was supplemented by in-depth, qualitative interviews with technology experts across these countries.

About Accenture
Accenture is a leading global professional services company, providing a broad range of services and solutions in strategy, consulting, digital, technology and operations. Combining unmatched experience and specialized skills across more than 40 industries and all business functions – underpinned by the world's largest delivery network – Accenture works at the intersection of business and technology to help clients improve their performance and create sustainable value for their stakeholders. With more than 394,000 people serving clients in more than 120 countries, Accenture drives innovation to improve the way the world works and lives. Visit us at www.accenture.com.

# # #

Contact:

Joanne Veto
Accenture
+1 703 947 2590
+1 703 963 4212 (mobile)
joanne.m.veto@accenture.com
@JoanneVeto