Post and Parcel Organizations Have Opportunities to Turn Digital Investments into Financial Benefits, Accenture Research Finds
ARLINGTON, Va.; Apr.17, 2017 – Improving digital performance at post and parcel organizations is critical to successfully capturing the revenue potential created by the explosive growth of eCommerce and to compete effectively in an increasingly crowded delivery landscape, according to a new report from Accenture (NYSE: ACN).
For the first time, Accenture measured post and parcel organizations by the same criteria it used to assess more than 370 companies across eight other industries as part of Accenture's high performance digital research. The report, The Value Game-Changer: Digital Performance in the Post and Parcel Industry, examined the digital performance of 31 post and parcel organizations to understand how digital technologies could help generate revenue on pace with a booming eCommerce marketplace.

Using its Digital Performance Index, Accenture Research quantitatively assessed the level of digital investment and progress across four business functions — "plan" (digital strategy); "make" (digital production and delivery); "sell" (digital customer experience) and "manage" (digital corporate culture and operations). The assessment entailed evaluating 42 business activities, including supply chain, customer service, sales and operations, and more than 100 detailed metrics to determine business performance against industry peers.

The post and parcel industry shows stronger digital performance than consumer goods and services, energy and insurance industries, but lags the five other industries studied: electronics and high tech, communications, retail, banking and utilities.

While eCommerce is driving a very different digital experience in retail, the shipping and delivery of goods purchased online is not nearly as digitally enabled as in other industries and lacks the investment required to keep up with changing consumer, the report shows.

"As the pace of digital change is accelerating daily, last-mile delivery companies will need to leverage digital solutions to remain relevant and competitive in a fast-changing market. eCommerce growth is enticing new entrants and investment. This growth and competition will force post and parcel organizations to become more digital to create the agility and flexibility they will need. And those same digital capabilities will be essential to creating the growth they'll need to achieve high performance," said Brody Buhler, who leads Accenture's global post and parcel business.

The report reveals that the post and parcel industry, like many of the world's leading companies, is not translating digital investments into better financial performance. For example, only 6 percent of all companies studied, as well as 6 percent of post and parcel organizations, are considered "Digital High Performers" — combining strong digital performance with strong financial performance. And while the post and parcel industry has 44 percent more "Business Leaders" — organizations with strong financial performance but limited digital enablement than do any of the other industries studied. Only 10 percent of post and parcel companies are "Digital Leaders" — companies that made significant digital progress but are still working to translate that into financial results.

Post and parcel organizations score better at planning for digital than executing those plans, according to the report, which calls for additional action to assess and improve results of digital investments and to create a culture that takes full advantage of digital. While 90 percent of posts focus on digital capabilities such as data analytics and predictive modeling in their business strategies and more than 70 percent have a social media presence for customer interaction, less than 30 percent have a dedicated budget for digital programs.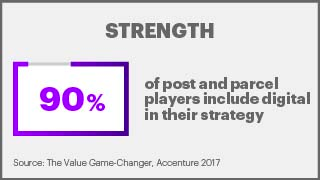 The report shows that digital strategies are just beginning to evolve in the post and parcel industry but will become increasingly important over the next few years. Last-mile delivery organizations currently focused on using digital to drive improved productivity for increased financial performance will need to focus on growth to drive financial performance.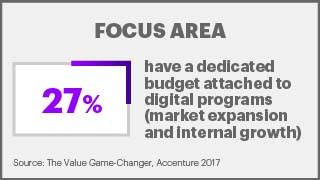 There are delivery organizations that are using digital technologies, processes and partnerships effectively to transform the organization and drive growth, according to the report. For instance:* Deutsche Post DHL's Innovation Center in Germany uses start-ups and partnerships to test new solutions and significantly accelerate innovation, creating a space to experiment with potentially disruptive technology at a faster pace and larger scale that is market leading.
The U.S. Postal Service Informed Delivery service emails images of the front of the mail the morning the mail will arrive, combining the power of mail with mobile advertising to create a first-of-its-kind omnichannel platform that is market-leading.
The Data Services division of the United Kingdom's Royal Mail is turning data into revenue by helping companies improve direct marketing and prospecting, enabling robust data cleansing that improves ROI on direct marketing while protecting the customer's data.
UPS has made several investments to optimize delivery in real-time to make last-mile delivery faster and cheaper. The company also is active in the start-up network, recently acquiring Coyote Logistics for flexibility and investing in Deliv, a same-day delivery service.
Methodology
The Accenture Digital Performance Index tracks 42 business activities and 117 detailed metrics across all areas of the business, including strategy R&D, manufacturing, supply chain, marketing, sales, customer service, internal culture and operations. This information was then combined and compared the results with Accenture's High Performance Business framework — a method of evaluating business performance against industry peers. Organizations analyzed are An Post (Ireland), Aramex (UAE), Australia Post, Austrian Post Group, bpost (Belgium), Canada Post Corp., Ceska Posta (Czech Republic), Correios Brasileiros (Brazil), Correios de Portugal, Correos y Telégrafos (Spain), Deutsche Post DHL (Germany), FedEx (United States), Groupe La Poste (France), Gru;ppo Poste Italiane (Italy), India Post, Japan Post, Magyar Posta (Hungary), New Zealand Post, Post Office Limited (United Kingdom), Posten Norge (Norway),Posti Group (Finland), PostNL (The Netherlands), PostNord (Sweden and Denmark), Royal Mail Group (United Kingdom), Singapore Post, South African Post Office, Swiss Post (Switzerland), TNT N.V. (the Netherlands), U.S. Postal Service, UPS (U.S.) and Yamato (Japan). These organizations deliver 90 percent of the world's mail and parcels across six continents.

About Accenture
Accenture is a leading global professional services company, providing a broad range of services and solutions in strategy, consulting, digital, technology and operations. Combining unmatched experience and specialized skills across more than 40 industries and all business functions – underpinned by the world's largest delivery network – Accenture works at the intersection of business and technology to help clients improve their performance and create sustainable value for their stakeholders. With approximately 401,000 people serving clients in more than 120 countries, Accenture drives innovation to improve the way the world works and lives. Visit us at www.accenture.com

# # #

Contact:

Joanne Veto
Accenture
+ 1 703 963 4212 (mobile)
joanne.m.veto@accenture.com
@JoanneVeto
Join us on LinkedIn / Follow us on Twitter