New Report Reveals Significant Opportunities for Government to Boost Civic Engagement
Citizens rarely request government services, lack access and awareness of ways to engage
NEW YORK; Nov. 7, 2017 – Three-fourths (74 percent) of survey respondents said they rarely or never request services from a government agency, according to research by the Governing Institute, sponsored by Accenture and Salesforce.

Of the 26 percent who do occasionally or more often request government services, a mere 10 percent said they made requests on a regular basis, submitting requests every few months or more. Nevertheless, when asked if government service requests are answered promptly, many more said no (37 percent).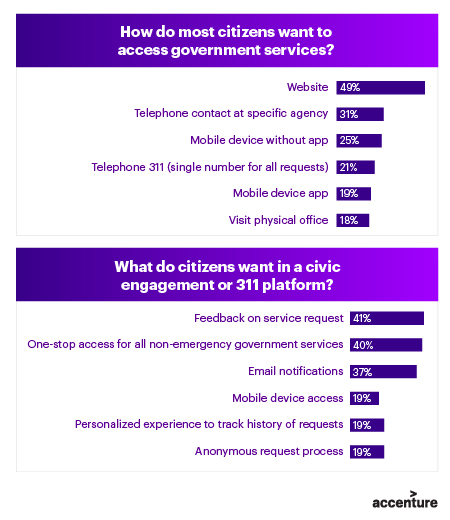 "Innovative government leaders are continually striving to better engage citizens," said Dennis Alby, who leads Accenture Cloud First Public Services. "This research helps government understand how to build effective connections with the people being served, by better understanding citizen practices and preferences and adapting to changing expectations and new digital opportunities."

Sixty-one percent of citizens surveyed did not know if their jurisdiction had a 311 telephone service or online option for making non-emergency government service requests. Among the respondents who live in a jurisdiction with a 311 or similar civic engagement platform, 58 percent were not aware of the system. Additionally, urban and suburban residents were significantly more likely than rural residents to have requested government services.

"The rate of innovation is faster today than ever before, and while we are seeing some improvements in citizen engagement across government, there is still a huge opportunity for agencies to modernize so they can meet the expectations of today's digitally savvy population," said Casey Coleman, SVP, Public Sector at Salesforce. "By adopting cloud-based solutions that can be deployed quickly and at a lower cost than on-premise and legacy systems, these agencies can deliver value by providing modern, cost-effective and digital ways to connect with their citizens."
What Citizens Want
Although most citizens said they had no experience requesting services from government, they still had preferences for specific types of access and features that would make them more likely to engage. The most desired type of access was a government website, favored by 49 percent of respondents. The most desired feature was feedback, with 41 percent saying they wanted to know if their request was received and confirmation when it was addressed. A single point of access, "one-stop shopping," was also favored, by 40 percent.

Responses from 125 local government leaders revealed some notable misperceptions within government about citizen preferences. Government leaders overestimated the priority of mobile devices and social media as channels for engaging citizens. They also tended to estimate that responsiveness to citizen requests was faster than citizens believed. And broadly, citizen expectations of government services were reportedly not being as well met as local government officials thought they were. Only 36 percent of citizens said their expectations for government services were being well met, compared to 63 percent of government respondents.

Government Opportunities
As a whole, the survey findings showed a low level of citizen awareness and use of channels for requesting government services, and revealed major opportunities for government to boost civic engagement.* Provide convenient/easy access – Providing better access to an array of convenient channels for citizen engagement is crucial; governments need a balanced and multi-channel approach rather than heavy reliance on single channels such as telephone, mobile or social media;
Build awareness – Outreach is crucial, due to the generally low level of citizen awareness of opportunities to request services; and
Ensure interaction and follow-up – Feedback is essential; citizens want verification when their request is received and completed."This is a time of great opportunity for government to use digital and process advances to increase citizen engagement and satisfaction, for instance artificial intelligence has increased the power of government to deliver more personalized citizen services" Alby continued. "While 311 services have been around for years, we are in a new digital era offering streamlined systems such as theAccenture Citizen Engagement Solutionrecently launched with Salesforce, using AI to enable cities to respond faster, more cost-effectively and to better track and analyze citizen concerns."
About the Research
The Governing Institute was commissioned by Accenture and Salesforce to conduct an online survey in May of 2017 of 2,006 U.S. citizens (adults) and 125 local government officials, to gather data regarding civic engagement in government service requests.

About Accenture
Accenture is a leading global professional services company, providing a broad range of services and solutions in strategy, consulting, digital, technology and operations. Combining unmatched experience and specialized skills across more than 40 industries and all business functions – underpinned by the world's largest delivery network – Accenture works at the intersection of business and technology to help clients improve their performance and create sustainable value for their stakeholders. With approximately 425,000 people serving clients in more than 120 countries, Accenture drives innovation to improve the way the world works and lives. Visit us at www.accenture.com.

Salesforce and others are trademarks of Salesforce.com, Inc.

# # #

Contact:
Joe Dickie
Accenture Health & Public Service
+1 512 694 6422
joseph.r.dickie@accenture.com