March 08, 2017
Nearly Half of Chief Financial Officers Believe Digital Technologies Will Fundamentally Change Everything Finance Does, According to Accenture Strategy


New study shows that eight in 10 CFOs are seeing measurable ROI from digital finance investments

NEW YORK; Mar. 8, 2017 – Digital puts real-time decision making in a CFO's hands like nothing else before it, and according to a new study from Accenture Strategy, 48 percent of finance executives believe digital technologies will fundamentally change everything finance does.
As digital swiftly inches its way to the top of the CFO agenda, CFOs are incorporating digital into their organizations at large, driving transformational change. The Accenture Strategy study, "CFOs Are the New Digital Apostles," shows that one-in-four companies are realizing greater than expected returns from digital, and a whopping 82 percent are seeing measureable business Return On Investment (ROI) from digital finance investments.

"Today's CFOs are embracing digital more than ever. It is much more than social, mobile and analytics, they are increasingly relying on digital for security threat intelligence, blockchain and artificial intelligence too," said David Axson, Managing Director, Accenture Strategy, CFO & Enterprise Value. "Those that are moving beyond single-point applications to enterprise-wide digital deployment are seeing greater than expected ROIs across the board."

Digital is currently delivering improvement in professional staff productivity, and could soon make monthly and quarterly management reports a quaint relic of a bygone time. About one-third of all digital technologies have delivered transformational benefits to firms with cycle time reduction (37 percent) and finance staff productivity improvement (36 percent) being the top benefits.

The study did highlight a few barriers – the greatest being the level of investment required for digital technologies (18 percent) and hiring talent that has the required skills to implement and operate the new technologies (16 percent).
Nearly half of #CFOs say digital technologies will change everything finance does. https://accntu.re/2m9H0Ca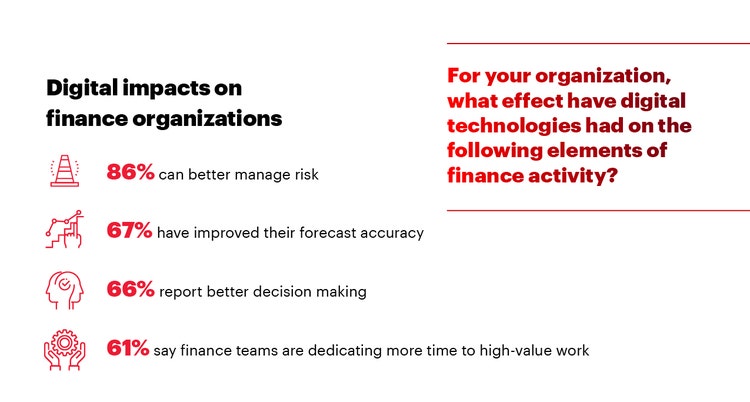 Preparing for a digital world
Switching to digital can seem daunting, especially for CFOs who have shied away from IT-related matters. Over one-third of respondents believe their organization is leading competitors in digital technology adoption – however not all companies are there yet. Here are a few suggestions to help the transition:
Move beyond Digital Lite. Digital is more than social, mobile, analytics and cloud. If your organization is not addressing blockchain, artificial intelligence, security intelligence and robotic process automation – at a minimum – you are already behind.
Remove your cost and productivity lens. Think total investment value. Align digital finance strategy with business strategy.
Make decisions differently. Digital is not an overlay. It changes the way your business operates – and the way your teams must make decisions. Put the right talent in place and allow them to utilize digital as a bedrock of the business to deliver maximum results.

About the study
Accenture Strategy's "CFOs Are the New Digital Apostles" report is based on the findings from a global online survey of Chief Financial Officers which explored Digital Adoption in Finance in organizations with yearly revenues greater than $1 billion USD in Australia, Brazil, France, Germany, Japan, the UK and the US. The survey was conducted during August and September 2016 and covered various Industries, namely: Banking, Insurance, Life Sciences, Consumer Goods & Services, Automotive, Industrial, Infrastructure & Travel, Energy and Communications, Media & Technology.

About Accenture
Accenture is a leading global professional services company, providing a broad range of services and solutions in strategy, consulting, digital, technology and operations. Combining unmatched experience and specialized skills across more than 40 industries and all business functions – underpinned by the world's largest delivery network – Accenture works at the intersection of business and technology to help clients improve their performance and create sustainable value for their stakeholders. With more than 394,000 people serving clients in more than 120 countries, Accenture drives innovation to improve the way the world works and lives. Visit us at www.accenture.com.

Accenture Strategy operates at the intersection of business and technology. We bring together our capabilities in business, technology, operations and function strategy to help our clients envision and execute industry-specific strategies that support enterprise wide transformation. Our focus on issues related to digital disruption, competitiveness, global operating models, talent and leadership help drive both efficiencies and growth. For more information, visit www.accenture.com/strategy.

# # #

Contact:

Tourang Nazari
Accenture Strategy
+ 1 202 322 4640
tourang.nazari@accenture.com