September 07, 2017
Lack of Awareness Limiting Use of Patient Services, Accenture Research Finds


Accenture identifies gaps in communication between pharmaceutical companies, healthcare professionals and patients; recommends actions pharmaceutical companies can take to fill the gaps and improve patient support and health outcomes
NEW YORK; Sept. 7, 2017 – New research from Accenture finds healthcare professionals' lack of awareness is limiting the usage of patient services (such as adherence programs and remote monitoring) offered by pharmaceutical companies. This is a critical disconnect as patients and pharmaceutical companies primarily rely on healthcare professionals to provide information to their patients on support services.
The Accenture research is based on a survey of more than 360 healthcare professionals in France, Germany, United Kingdom, and the United States, with respondents being either general practitioners or specialists in one of five main therapeutic areas: oncology; immunology; neurology; cardiology; and respiratory.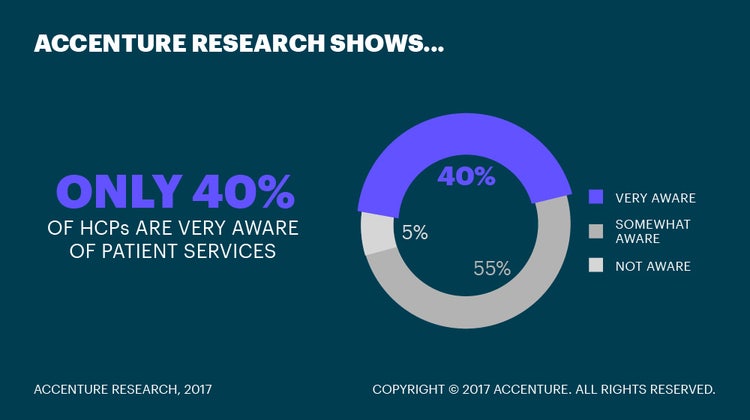 Despite most pharmaceutical companies (80 percent) relying on healthcare professionals (HCPs) as the primary way to communicate information about their services to patients, just 40 percent of respondents reported being 'very aware' of pharmaceutical companies' patient services, with more than half (55 percent) saying they were only 'somewhat aware' and five percent saying they were 'not aware.'

The research also reveals that while pharmaceutical sales reps are the primary way HCPs hear about patient services (mentioned by 70 percent of interviewed HCPs as the primary source), sales reps most often do not mention patient services during their meetings with HCPs. Nearly half (46 percent) of the HCPs interviewed said they hear about patient services less than 25 percent of the time they meet with sales reps; this was true across each of the six therapeutic/practice areas included in the survey.

"Our previous research revealed patients want, value and expect patient services from pharmaceutical companies. The fact that pharmaceutical companies' main conduit for this information — healthcare practitioners — aren't very aware of these services presents a significant opportunity," said Tony Romito, North America managing director, Intelligent Patient Services, Accenture. "The industry can improve the impact they are having with patients if they can more effectively engage healthcare professionals around the availability and benefits of their support programs."
How do HCPs find out about #patientservices? Often they don't. Find out why and how to fix it. https://accntu.re/2f0tXye


The survey also found HCPs hear about patient services even less through other communication channels, such as conferences, email, websites and portals. More than half of HCPs (53 percent) said they hear about patient services through these channels less than 25 percent of the time.

The survey also revealed better patient outcomes are the benefit that HCPs cited most often for using patient services. However, HCPs said just three out of ten pharmaceutical sales reps present services in terms of their ability to improve patient outcomes. The majority (two-thirds) present them primarily as an add-on to a pharmaceutical product, rather than as part of an integrated solution that improves patient outcomes.

In addition to relying on HCPs to communicate with patients about their services, an Accenture survey last year also revealed that pharmaceutical companies are significantly increasing their investment in patient services. Despite this reliance on HCPs and increased investment, 85 percent of HCPs in this survey reported that they 'only sometimes,' 'rarely' or 'never' share information on services with patients. This leaves only 15 percent of HCPs who said they 'always' share pharmaceutical services information with their patients. The reason HCPs cited most often for not discussing services with patients is that they lack a good understanding of what's available which speaks directly to the issue of lack of awareness.

The research also found HCPs who share information about services with patients do so most often when those patients are starting out with a new therapy/drug/device, rather than at other points in or throughout their treatment, suggesting a 'one and done' approach to talking to patients about services versus a constant conversation throughout their treatment journey.

"Instead of presenting patient services as integral to their company's offerings and part of a holistic solution to address an unmet patient needs and improve patient outcomes, most sales or medical representatives instead present the product first and seem to treat services as an after-thought or an add-on," said Eva Wiedenhoeft. European managing director, Intelligent Patient Services, Accenture. "Our research clearly found that HCPs would be far more likely to recommend pharmaceutical companies' services to their patients if they were communicated more frequently and presented with a more compelling case for their use, such as published evidence of improved outcomes."

Accenture's research recommends pharmaceutical companies can turn many more HCPs into champions of patient services and in doing so, enable patients to become beneficiaries of those services. To do so, pharmaceutical companies should address communication gaps in these three areas:

1.R&D and Commercial Gap
Rigorously generate evidence on the effect of patient services on outcomes—starting with clinical trials. Capturing this evidence at the very earliest stages of clinical trials will also help prove the value internally to sales reps, medical affairs and budget holders, who will then advocate or allocate resources so that service programs can be developed more effectively and marketed more purposefully.

2.Product and Service Gap
Refocus commercial functions from developing and marketing brands to designing and marketing holistic patient solutions. Leading organizations will embed patient services talent into their existing brand teams to enable their organizations to build and market holistic solutions.

3.Engagement Gap
The entire healthcare industry is shifting to a value-based approach, but pharmaceutical companies are still talking primarily about their products. Pharma companies need to embrace an outcomes-first mindset, which means they are bringing an outcome to market, rather than a product. They need to ensure that every communication through every channel leads with outcome—this approach should apply whether they are communicating to the market through the marketing organization, through sales reps, or through Medical Affairs (as is often the case in Europe).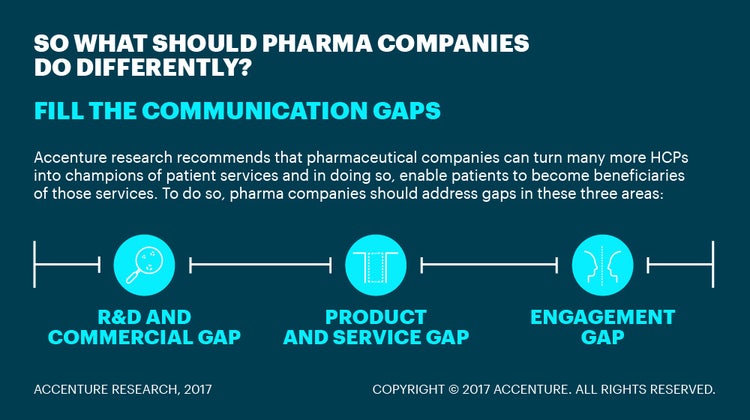 "The goal of our research is to help pharmaceutical executives make better strategic decisions about how to connect patients with services that can improve their care," Romito said. "It's all about helping pharmaceutical companies and healthcare providers tap the full potential of patient services to improve patient outcomes."

To learn more, click here.

About the survey
As part of its fourth annual survey to understand market and growth dynamics and the impact of patient services on patient and economic outcomes, Accenture queried 362 healthcare professionals across France, Germany, United Kingdom, and the United States during March and April 2017 to identify their awareness, use and value of patient services. The professionals were specialty physicians; primary care physicians; nursing specialists (e.g. a diabetic specialist nurse); and nurses working in a practice setting, hospital setting or, in the U.S., in integrated delivery networks or accountable care organizations. Survey respondents represented the following therapeutic areas: Cancer/Oncology; Immune system / Immunology; Brain; Cardiology; Lungs/Respiratory; and General Medicine. On average, these respondents each treat 2,240 patients per year.

About Accenture
Accenture is a leading global professional services company, providing a broad range of services and solutions in strategy, consulting, digital, technology and operations. Combining unmatched experience and specialized skills across more than 40 industries and all business functions – underpinned by the world's largest delivery network – Accenture works at the intersection of business and technology to help clients improve their performance and create sustainable value for their stakeholders. With more than 411,000 people serving clients in more than 120 countries, Accenture drives innovation to improve the way the world works and lives. Visit us at www.accenture.com.

# # #

Contact:

Cam Granstra
Accenture
+1 312 693 5992
cameria.l.granstra@accenture.com