September 28, 2017
Growth At Stake As B2B Companies Lose Control Over Customer Experience, Accenture Study Finds


Complex buying journeys and sprawling partner networks hampering customer experience delivery

NEW YORK; Sept. 28, 2017 – Complex customer buying journeys and disconnected channel partner networks are preventing B2B companies from delivering the personalized customer experiences that drive loyalty and growth, according to new research from Accenture (NYSE: ACN). Only 21 percent of sales and customer service executives surveyed say they have total control over their organization's sales networks and overall customer experience. B2B leaders must abandon the benign neglect of traditional channel management and adopt an orchestrated approach to drive connected growth.
The 'B2B Customer Experience 2017' study from Accenture Strategy surveyed 1,350 sales and customer service executives from B2B organizations around the world to understand how well companies are serving customers. The study found that the urgency to grow indirect channel partner networks and monetize customer experiences is disconnected from today's operational reality.

"B2B leaders know that customer experience is the gateway to growth and have increasingly relied on channel partners to help them deliver. But many have been flying blind. Distracted by building extensive partner networks to increase selling opportunities, they've missed the critical balance of picking and managing partners who can leverage customer insight and use it to deliver better experiences," said Robert Wollan, senior managing director and global Advanced Customer Strategy lead at Accenture Strategy. "To regain control, B2B leaders will orchestrate their sales ecosystem by seeing partners as an extension of their business and empower them with customer insights, coaching and support. Only then can they fully tap their connected growth potential."

Digital disruption, rise of consumerism and new services making B2B customers harder to reach
According to Accenture's research, most customers are already 57 percent through the buying process before they first engage with a company representative; 90 percent never respond to cold outreach; and 61 percent of all B2B transactions now start online.

Seventy-one percent of B2B executives say customers increasingly want B2C-like experiences compared to a few years ago – fast response times, consistent experiences across multiple channels, and availability 24/7 – but nearly half (49 percent) admit they are failing to deliver the cutting edge and highly relevant experiences customers crave.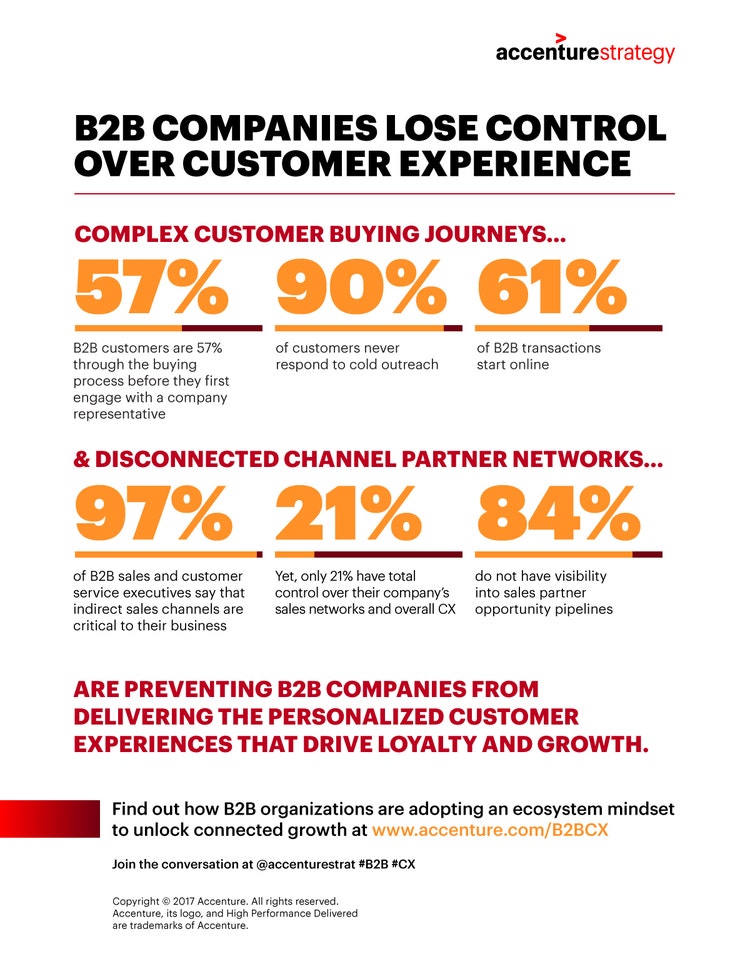 Channel partner disconnect
The majority (97 percent) of B2B executives say that indirect sales channels are critical to their business. They are pursuing new types of partners, increasing investments, and setting greater expectations. Yet, only 21 percent have total control over their organization's sales partner networks, and additional Accenture research shows 84 percent do not have visibility into sales partner opportunity pipelines.

"B2B companies recognize that channel partner disconnect is hindering their growth potential," said Jason Angelos, managing director, Advanced Customer Strategy, Accenture Strategy. "Companies with integrated partner lead generation and coaching are 63 percent more likely to exceed their indirect channel revenue goals. It's not surprising that the majority of organizations are planning significant investments in enhancing digital channels to improve ecosystem engagement over the next two years."
Channel partner disconnect stopping B2B companies from realizing growth potential via new @AccentureStrat #B2B #CX study


Unlocking connected growth
To deliver the customer experiences that drive connected growth, B2B companies must fundamentally rethink how they integrate and collaborate with partners. They should consider:
Pivoting from partner management to 'ecosystem orchestration' – Companies can regain control over customer experience by considering indirect partners as extensions of their own business and critical enablers of customer value. Intentionally teaming with a select network of partners and ensuring they are well supported can significantly improve customer experience.
Supporting partner priorities – In an indirect channel ecosystem, understanding the needs and preferences of end customers must take priority. Delivering the best customer experiences requires connected insights. Feedback mechanisms and data sharing are essential to building trust and understanding how to create new value for customers. Providing partners with something they value – such as leads, resources, customer events and sales coaching – will encourage continuous customer information sharing.
Adopting a new currency for connected growth – Customer data management, analytics and social listening technologies can help companies deliver the relevant and personalized experiences that customers crave. Investing in these technologies and integrating them with core customer experience capabilities, such as closed-loop feedback, is a solid way to measure performance.
For further information about the study, please visit www.accenture.com/B2BCX. Join the conversation at @AccentureStrat #B2B #CX.

About the research
Accenture Strategy surveyed 1,350 executives from sales, service and marketing functions from B2B organizations around the world in May 2017 to understand how well companies are performing around customer experience. Respondents from 10 countries, including the U.S., UK, France, Germany, Italy, Spain, Japan, Brazil, China and South Korea, and from across 16 industries, were included in the sample. The majority of companies posted annual revenues of more than US$1bn.

About Accenture
Accenture is a leading global professional services company, providing a broad range of services and solutions in strategy, consulting, digital, technology and operations. Combining unmatched experience and specialized skills across more than 40 industries and all business functions – underpinned by the world's largest delivery network – Accenture works at the intersection of business and technology to help clients improve their performance and create sustainable value for their stakeholders. With approximately 425,000 people serving clients in more than 120 countries, Accenture drives innovation to improve the way the world works and lives. Visit us at www.accenture.com.

Accenture Strategy operates at the intersection of business and technology. We bring together our capabilities in business, technology, operations and function strategy to help our clients envision and execute industry-specific strategies that support enterprise wide transformation. Our focus on issues related to digital disruption, competitiveness, global operating models, talent and leadership help drive both efficiencies and growth. For more information, follow @AccentureStrat or visit www.accenture.com/strategy.
# # #


Contact:

Lucy Davies
Accenture
+44 777 3044 808
lucy.d.davies@accenture.com