February 16, 2017
Citizen Satisfaction with Digital Government Services Doubles in Two Years, Accenture Report Shows
Citizen interest in smart phone access nearly doubles in same time frame

NEW YORK; Feb. 16, 2017 – While U.S. citizens' expectations for digital government increased by more than 15 percent over the past two years, their level of satisfaction with digital services available from government more than doubled over the same period, according to findings of an Accenture (NYSE: ACN) survey.
In the survey of more than 3,000 U.S. citizens in mid-2016, 85 percent of respondents said they expect the same or higher quality from government digital services as they do from commercial organizations, up from 73 percent in a similar survey in 2014. Over that same time period, however, the number of citizens who said they are satisfied with digital services from government more than doubled, from 27 percent in 2014 to 58 percent in the 2016 survey.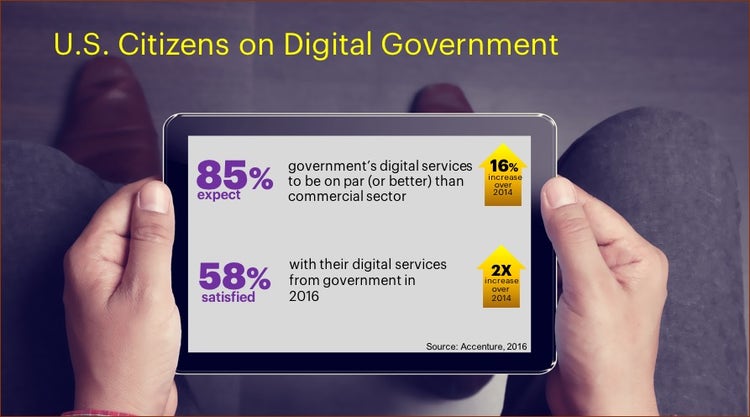 "Government has made major headway in satisfying citizen expectations for digital services, and demands and opportunities to do better keep growing," said Peter Hutchinson, Accenture strategy lead for state and local government consulting. "With around 40 percent of citizens remaining unsatisfied with digital government, and clear evidence that digital services are generally well-received when implemented, the public sector must continue expanding the scope and increasing the quality of its digital capabilities."

The survey also found that when using digital services, citizens in 2016 were increasingly focused on seamless digital interaction and integration in areas such as mobile/smartphone access to services and use of social media channels.
More than four in 10 respondents (44 percent) in the most-recent survey said they placed priority on smartphone access to government digital services, versus 28 percent in 2014.
Four in 10 respondents (40 percent) in the most-recent survey said they placed priority on integration of government digital services with social media, double the 20 percent who said so in the 2014 survey.
"The public sector must strive to get further into the digital revolution as one of the keys to delivering better outcomes for citizens in an increasingly efficient manner," Hutchinson added. "Citizens are demanding it, and smart government leaders will accelerate their digital transformation."

Methodology
Accenture conducted an online survey of 3,300 voting-age citizens and interviews with 118 public service leaders in 16 states, representing all regions of the United States, including California, Florida, New York, Texas, North Carolina and Ohio. Surveys and interviews were conducted in March 2016.

About Accenture
Accenture is a leading global professional services company, providing a broad range of services and solutions in strategy, consulting, digital, technology and operations. Combining unmatched experience and specialized skills across more than 40 industries and all business functions – underpinned by the world's largest delivery network – Accenture works at the intersection of business and technology to help clients improve their performance and create sustainable value for their stakeholders. With more than 394,000 people serving clients in more than 120 countries, Accenture drives innovation to improve the way the world works and lives. Visit us at www.accenture.com.

# # #

Contact:

Joe Dickie
Accenture
+ 1 512 694 6422 (mobile)
joseph.r.dickie@accenture.com
Follow @AccenturePubSvc