May 18, 2017
Autonomous Vehicles Will Add US$81 Billion in New Premiums for Auto Insurers

by 2025, According to Accenture Report

NEW YORK; May 18, 2017 – Insurance coverage for autonomous vehicles will bring US$81 billion in new premiums to the U.S. auto insurance industry over the next eight years, driven by risks related to cybersecurity, software and hardware and by the need for additional public infrastructure coverage, according to a new report from Accenture (NYSE: ACN) and Stevens Institute of Technology.
"Insurers are bracing for long-term declines in auto premiums as new and safer autonomous vehicles gain adoption," said John Cusano, a senior managing director at Accenture and global head of the company's Insurance practice. "However, our research suggests that auto premiums will increase before they decline on this trend, so insurers that can navigate the changing technology environment could win market share."

For the report, "Insuring Autonomous Vehicles: An $81 Billion Opportunity by 2025," Stevens Institute of Technology developed several models to evaluate the impact of autonomous vehicle technology on the insurance industry. These models were then applied to different scenarios and insurance products based on parameters set by Accenture's Insurance and Connected Transport teams.

The research found that cybersecurity, product (software and hardware) liability and public infrastructure insurance for autonomous vehicles could reach a total of US$81 billion by 2025. The report notes that this premium growth will precede an anticipated decline in industry revenue beginning in 2026 and that, as roads become safer and policies shift from consumers to autonomous vehicle manufacturers and other service providers, insurers will see reduced demand for personal insurance.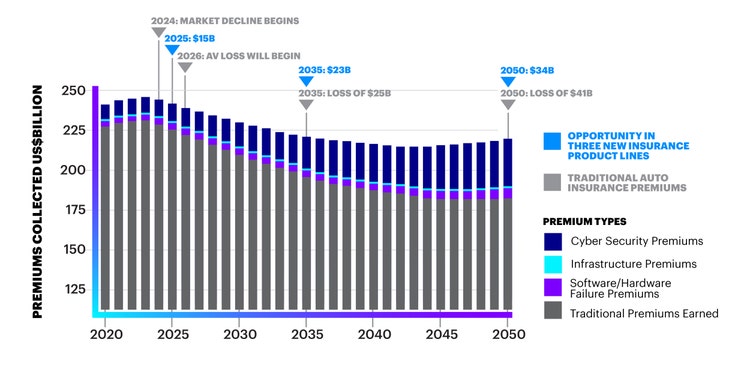 Larry Karp, a co-author of the report and global insurance telematics lead in Accenture Mobility, part of Accenture Digital, said, "Three new business lines — cybersecurity, product liability for sensors and software algorithms, and public infrastructure — are going to drive billions in new insurance premiums for the U.S. auto insurance industry in the coming years. Forward-thinking insurers are already putting these new products at the top of their agenda as they look to capitalize on the first-mover advantage."

The research found that cybersecurity insurance will be the greatest potential driver of new premiums, totaling US$64 billion by 2025, followed by product liability insurance (US$14 billion) and public infrastructure insurance (US$3 billion).

These three new business lines include:
Cybersecurity: Protection against remote vehicle theft, unauthorized entry, ransomware and hijacking of vehicle controls, as well as coverage for identity theft, privacy breaches and the theft or misuse of personal data.
Product liability for sensors and software algorithms: Manufacturer coverage for failures related to communications (e.g., internet connection), software (including bugs, memory overflow and program defects) and hardware (sensory circuit failure, camera vision loss, and radar and lidar failures).
Public infrastructure: Insurance for cloud server systems that manage traffic and road networks, in addition to failure of external sensors and signals; and communication problems originating at the system level.

Chen Liu, co-author of the report and a research assistant at Stevens Institute of Technology's School of Systems and Enterprises, said, "This research is an important step in helping insurers understand how their business models need to evolve over the next decade. Autonomous-vehicle technology will drive a significant shift in risk from human error to malicious third party, software, hardware and infrastructure risk. Understanding and proactively responding to this anticipated enterprise transformation is imperative."

For more information on the report, please click here.

About the Research
Accenture, in collaboration with Stevens Institute of Technology, conducted proprietary research into autonomous vehicle technology and its impact on the insurance industry in the United States. The research was conducted from October 2016 to March 2017. Dynamic algorithmic forecasting models were constructed, with researchers using different variables and assumptions to forecast expected premium declines and gains for U.S. insurers. These assumptions included, among other things, differing speed of adoption and market saturation of autonomous-vehicle technology; accident rates and severity; population and vehicle mileage growth rates; current and future expected software and hardware failure rates; and expected sensor requirements in small, medium and large cities.

About Accenture
Accenture is a leading global professional services company, providing a broad range of services and solutions in strategy, consulting, digital, technology and operations. Combining unmatched experience and specialized skills across more than 40 industries and all business functions – underpinned by the world's largest delivery network – Accenture works at the intersection of business and technology to help clients improve their performance and create sustainable value for their stakeholders. With approximately 401,000 people serving clients in more than 120 countries, Accenture drives innovation to improve the way the world works and lives. Visit us at www.accenture.com.

About Stevens Institute of Technology
Stevens Institute of Technology, The Innovation University®, is a premier, private research university situated in Hoboken, N.J. overlooking the Manhattan skyline. Founded in 1870, technological innovation has been the hallmark and legacy of Stevens' education and research programs for 147 years. Within the university's three schools and one college, 6,600 undergraduate and graduate students collaborate with more than 290 full-time faculty members in an interdisciplinary, student-centric, entrepreneurial environment to advance the frontiers of science and leverage technology to confront global challenges. Stevens is home to three national research centers of excellence, as well as joint research programs focused on critical industries such as healthcare, energy, finance, defense, maritime security, STEM education and coastal sustainability. The university is consistently ranked among the nation's elite for return on investment for students, career services programs and mid-career salaries of alumni. Stevens is in the midst of a 10-year strategic plan, The Future. Ours to Create., designed to further extend the Stevens legacy to create a forward-looking and far-reaching institution with global impact.
# # #


Contact:

James Murphy
Accenture
+ 1 973 524 1136
James.p.murphy@accenture.com