April 19, 2017
Artificial Intelligence Set to Transform Insurance Industry but Integration Challenges Remain, According to Accenture Report
Insurers are investing in AI technology to enhance the customer experience, empower their own people
NEW YORK; Apr. 19, 2017 – Insurance executives believe that artificial intelligence (AI) will significantly transform their industry in the next three years, with insurers investing in AI to empower agents, brokers and employees to enhance the customer experience with automated personalized services, faster claims handling and individual risk-based underwriting processes, according to Accenture's Technology Vision for Insurance 2017.
At the same time, however, the report found that insurers face challenges integrating AI into their existing technology, citing issues such as data quality, privacy and infrastructure compatibility. Titled "Technology for People," the report is based on the insights of a technology advisory board, interviews with industry technologists and a survey of more than 550 insurance executives across 31 countries.

According to the report, three-quarters (75 percent) of insurance executives believe that AI will either significantly alter or completely transform the overall insurance industry in the next three years. One-third (32 percent) believe that their own company will be "completely transformed" by AI within that timeframe, and an additional 39 percent believe that AI will "significantly change" their company.

"The adoption of artificial intelligence is gaining momentum within insurance, with executives pointing to AI's potential to revolutionize the customer experience and empower agents, brokers and employees," said John Cusano, senior managing director and global head of the Accenture Insurance practice. "Our research shows that insurers are investing in AI technologies to, among other things, improve customer interactions based on written and spoken interactions, gestures, interactive touch displays and hybrid mixed-reality platforms that merge the virtual and the real world, with each customer exchange becoming increasingly personalized."

According to the report, the rise of AI is creating new opportunities for insurance agents, brokers and employees to deliver a better customer experience, with the technology enhancing the way sales and services are executed, facilitating faster claims processing, and enabling more-accurate, individual risk-based underwriting processes.

Four in five (79 percent) of the executives surveyed believe that AI will revolutionize the way insurers gain information from and interact with their customers. When asked about the benefits of embedding AI into user interfaces, more than half (55 percent) of respondents cited better data analysis and insight. Further highlighting the industry's growing adoption of AI, two-thirds (68 percent) of respondents said they now use AI-powered intelligent virtual assistants either across the organization or in specific business areas to create better customer interactions.

"While insurers are increasingly aware that AI is central to their success in the digital economy, their success is by no means assured," Cusano said. "As the technology evolves, insurers will need to not only address data quality and privacy concerns, but also revamp their IT architectures to support AI's features and technical dependencies. Insurers that focus on empowering people with a human-AI experience and intelligently integrating AI into their company will benefit from a powerful combination that drives deeper customer engagement, stronger brand loyalty and more-sustainable profits."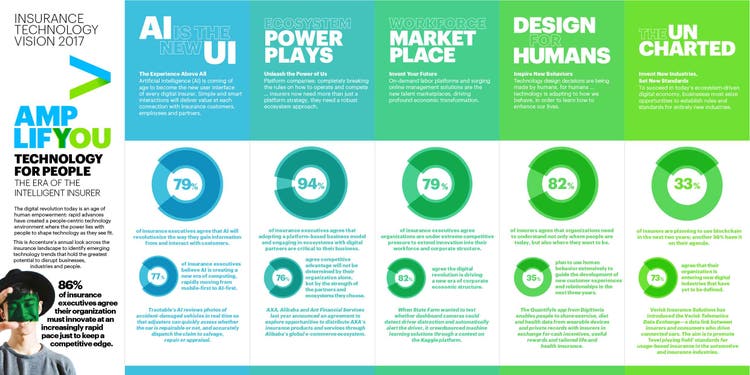 AI is one of five key trends shaping the insurance industry around which the "Technology for People" report is focused. In addition to "AI is the new UI," the report's other themes are:
Ecosystem Power Plays. Insurers are building a more prominent role in new digital ecosystems to unlock their next wave of strategic growth, complementing their direct customer relationships with a push toward a broader ecosystem approach. More than nine in 10 (94 percent) of executives surveyed said that adopting a platform-based business model is critical to their business, and three-quarters (76 percent) said that their organization's competitive advantage will be influenced by the strength of the partners and the ecosystems they choose.
Workforce Marketplace. A surge of on-demand labor platforms and online work management solutions is up-ending workplace dynamics and traditional corporate structures, replacing them with open talent marketplaces. Four-fifths (79 percent) of respondents said they are under extreme competitive pressure to extend innovation into their workforce and organizational structure, with the report noting that a fast and effective way to do this is by leveraging workplace marketplaces to crowdsource innovation on demand. In fact, more than half (54 percent) of respondent organizations said they plan to grow their freelance workforce over the next year by anywhere from 25 percent to 100 percent, with another 9 percent planning to more than double its size in that time.
Design for Humans. Technology is shrinking the gap between effective human and machine cooperation. By leveraging adaptive technologies and interfaces that interact with customers and employees in a more natural, human way, insurers will be able to move beyond simple personalization techniques to provide real-time services and risk-management solutions that address customers' actual behaviors and goals, using customer-driven insights to drive innovation. In fact, more than one-third (35 percent) of respondents said they plan to use human behavior extensively to guide the development of new customer experiences and relationships.
The Uncharted. Other emerging new technologies in insurance, such as blockchain, or distributed ledger technology, could address the industry's historically cumbersome challenges of governance, accountability and digital trust. Five in six respondents (84 percent) said that blockchain and smart contracts will be either very or moderately critical to their organization over the next three years.
"The technology behind autonomous cars, connected homes and personal health is reducing claims, risks, premiums and revenue for insurers as they grapple simultaneously with transforming their legacy business in a digital age," Cusano said. "But that same technology is also the insurance industry's biggest opportunity. Insurance ecosystems are expanding and driving new platform business opportunities, and a more liquid workforce continues to upend traditional corporate structures. Insurers are increasingly attuned to the power of a 'technology for people' approach as they reshape and redefine their industry."

To download Accenture's Technology Vision for Insurance 2017 report, Technology For People, please click here.

Methodology
Accenture's Technology Vision is developed annually by the Accenture Labs. For the 2017 report, the research process included gathering input from the Technology Vision External Advisory Board, a group comprising more than two dozen experienced individuals from the public and private sectors, academia, venture capital firms and entrepreneurial companies. In addition, the Technology Vision team conducted interviews with technology luminaries and industry experts, as well as with nearly 100 Accenture business leaders.

In parallel, Accenture Research conducted a global online survey of more than 5,400 business and IT executives across 31 countries and 16 industries to capture insights into the adoption of emerging technologies. The insurance industry report is based on responses from more than 550 respondents at insurance companies in 31 countries across North America, Europe, Asia-Pacific, Africa and South America. The goal of the survey was to identify the key issues and priorities for technology adoption and investment. Respondents were mostly C-level executives and directors, with some functional and line-of-business leads, at companies with annual revenues of at least US$500 million, with the majority of companies having annual revenues greater than US$6 billion.

About Accenture
Accenture is a leading global professional services company, providing a broad range of services and solutions in strategy, consulting, digital, technology and operations. Combining unmatched experience and specialized skills across more than 40 industries and all business functions – underpinned by the world's largest delivery network – Accenture works at the intersection of business and technology to help clients improve their performance and create sustainable value for their stakeholders. With approximately 401,000 people serving clients in more than 120 countries, Accenture drives innovation to improve the way the world works and lives. Visit us at www.accenture.com.

# # #

Contact:

James Murphy
Accenture
+ 1 917 452 0588
james.p.murphy@accenture.com