June 26, 2017
Artificial Intelligence Poised to Accelerate China's Annual Growth Rate from 6.3 percent to 7.9 percent by 2035, Finds New Research from Accenture

DALIAN, World Economic Forum; June 26, 2017 – New research from Accenture (NYSE: ACN) reveals that artificial intelligence (AI) could accelerate China's economic growth rate from 6.3 percent to 7.9 percent by 2035, by transforming the nature of work and opening new sources of value and growth.
The report, titled "How Artificial Intelligence Can Drive China's Growth," explores new insights into AI and its impact on China's economy. Based on analysis and modeling by Accenture Research, in collaboration with Frontier Economics, there is dramatic impact on China's growth when AI is added as a completely new factor of production to the economic growth model.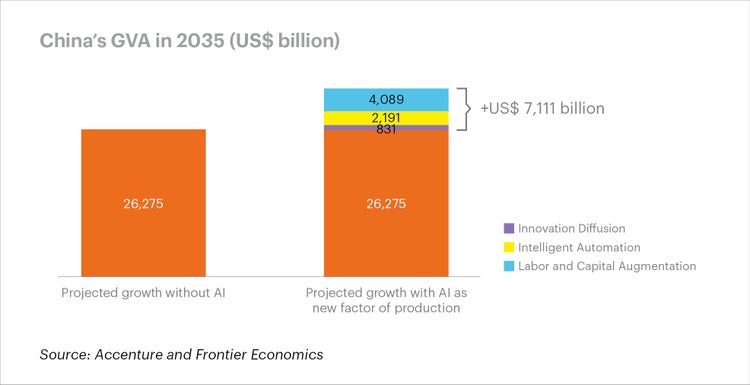 "China has already made great leaps in the development of AI and our research shows that it has the potential to be a powerful remedy for slowing growth," said Chuan Neo Chong, Accenture Greater China Chairwoman. "However, as with any catalyst, it is important to remember the challenges and the risk of unintended consequences. Stakeholders must prepare themselves intellectually, technologically, politically, ethically and socially for the promise of AI."

The research compared the size of China's economy in 2035 in a baseline scenario, which shows expected economic growth under current assumptions, and an AI scenario, which shows expected growth once the impact of AI has been absorbed into the economy. As a new factor of production, Accenture finds that AI is poised to boost China's gross value added (GVA) by USD $7,111 billion by 2035.

The report also finds that AI has the potential to boost China's labor productivity by 27 percent by 2035 - driven by innovative AI technologies that enable people to make more efficient use of their time.

These effects occur because, as a capital-labor hybrid, AI can drive growth in three different ways via intelligent automation, which creates growth through a set of features unlike those of traditional automation solutions; labor and capital augmentation, which results from enhancing the skills and abilities of existing workforces and physical capital; and innovation diffusion, which trickles down throughout the economy in the form of increased total factor productivity (TFP).

Accenture's findings also reveal that Manufacturing, Agriculture, Forestry and Fishing, and Wholesale and Retail are the three industry sectors that will benefit most from the application of AI in China, with boosts in their annual GVA growth rates by 2 percentage points, 1.8 percentage points and 1.7 percentage points respectively by 2035.

"AI could be a game changer for China's industries," said Frank Chen, Head of Accenture Greater China Technology Practice. "To harness its potential, industry leaders will need to synthesize AI into their strategies and create a new playbook for AI. This means adapting traditional company structures to AI, and more innovative thinking when it comes to both operations and business models. Industries will need to shift from doing things differently, to doing different things."

To fulfil the promise of AI as a new factor of production that can reignite growth, Accenture recommends the following steps be taken by policymakers and business leaders:
Prepare the next generation – integrate human intelligence with machine intelligence so they can successfully co-exist in a two-way learning relationship and reevaluate the type of knowledge and skills required for the future.
Advocate a code of ethics for AI – enterprises should design responsible AI systems with built-in accountability. This should be supplemented by tangible standards and best practices in the development and use of intelligent machines.
Address the redistribution effects – policymakers should highlight how AI can result in tangible benefits and preemptively address any perceived downsides of AI, helping groups disproportionately affected by changes of employment and income.
Step beyond automation, and towards new innovations - business leaders should actively embrace AI-driven disruptions and synthesize AI into their own business strategies. With recent strides in AI, companies need to take a step beyond automation to harness the intelligence of dynamic, self-learning and self-governing machines.
Invent new business capabilities for an AI-powered organization - To achieve the full potential of AI, human and machine intelligence must be tightly interwoven. For Chinese businesses, creating a culture of inclusion and diversity should also be high on the agenda.
The research report, 'How Artificial Intelligence Can Drive China's Growth', can be accessed at https://www.accenture.com/cn-en/insight-artificial-intelligence-china.

About Accenture
Accenture is a leading global professional services company, providing a broad range of services and solutions in strategy, consulting, digital, technology and operations. Combining unmatched experience and specialized skills across more than 40 industries and all business functions – underpinned by the world's largest delivery network – Accenture works at the intersection of business and technology to help clients improve their performance and create sustainable value for their stakeholders. With more than 411,000 people serving clients in more than 120 countries, Accenture drives innovation to improve the way the world works and lives. Visit us at www.accenture.com.

For more information about Accenture, please visit its corporate homepage www.accenture.com and its Greater China homepage www.accenture.cn.

# # #

Contact:

Irene Han
Accenture
+ 86 13564020046
Irene.ying.han@accenture.com