December 21, 2017
Artificial Intelligence Could Add $957 Billion to Indian Economy, According to New Research by Accenture

Bangalore; Dec. 21, 2017 – Research released today from Accenture (NYSE: ACN) reveals that artificial intelligence (AI) could add US$957 billion to the Indian economy by changing the nature of work to create better outcomes for businesses and society. The report, 'Rewire for Growth,' estimates that AI has the potential to increase India's annual growth rate of gross value added (GVA) by 1.3 percentage points, lifting the country's income by 15 percent in 2035.
"AI's transformative power can be compared to the advent of computing itself, and there's strong early evidence that AI can play a key role in unlocking socio-economic value in India. The time to act is now. With the right investments AI can create a flywheel effect 'liberating' people to create long term economic and societal value," said Rekha M. Menon, senior managing director and chairman, Accenture India.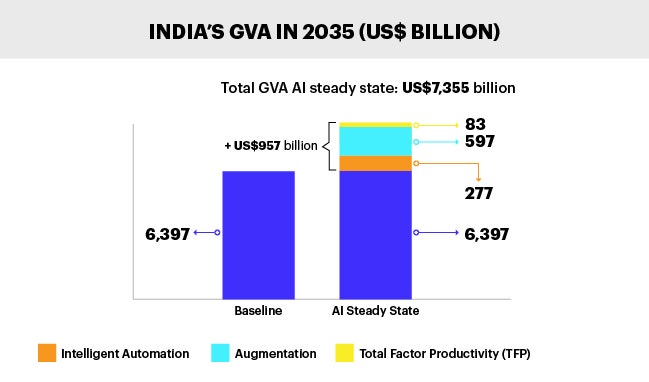 The report explores the strength of India's AI innovation ecosystem relative to other G20 economies across five key pillars– Universities, Startups, Large Businesses, Policy makers and Multi-Stakeholder Partnerships. It studies the current state of activity, areas of opportunities and challenges, and finds that even with a tech-savvy talent pool, renowned universities, healthy levels of entrepreneurship and strong corporations, India lags on key indicators of AI development.

The research finds that major Indian technical universities have been pioneering fundamental research in AI, but are not doing enough to strengthen the AI ecosystem around them, unlike their global counterparts such as Cambridge and Oxford in the UK. It also finds that although AI startups have witnessed higher than average growth in India since 2011, and in 2016 ranked third among G20 countries measured by the number of AI startups, the size of funding received is substantially smaller than in the United States and China, reflecting the limited success of India's AI startups in achieving scale so far.

In line with global trends, large businesses will play a key role in unlocking the economic value of AI, with more than 88 percent of businesses in India surveyed by Accenture earlier this year, expecting to make moderate-to-extensive investments in one or more AI-related technologies over the next three years. In addition, digital platform companies can play a key role in driving AI innovations in India, in line with global trends. Also, that small and large companies alike will need an enabling environment and policy framework to advance AI-led growth.

The report suggests that to realize the full potential of AI, India needs concentrated effort at the national level, with collaboration between policy makers, civil society and the private sector to:
Build an AI blueprint: Develop a long-term vision and action plan that unites the ecosystem, and addresses technical and ethical questions as they arise.
Bolster R&D: Increase spending on core AI research, facilitate ecosystem collaboration for innovation, and create opportunities for smaller players.
Democratize data: Enable greater access to data, to drive the successful adoption of AI for societal and business needs.
Prepare the next generation: Invest in building multidisciplinary and STEAM skills—science, technology, engineering, arts, and mathematics – emanded by AI.
Embrace smart regulation: Set guiding principles on "responsible AI" and develop regulation that adapts to the shorter innovation cycles of AI to achieve the twin goals of promoting trust and preserving maximum flexibility to innovate.
"The economic boost will be driven by innovative AI technologies that enable people to make more efficient use of their time and do what humans do best – create, imagine and innovate new things. What's needed is a clear, long-term vision, and a multi-stakeholder action plan that balances growth with the ethical questions posed by AI," Menon added.

The research report, 'Rewire for Growth,' can be accessed at https://www.accenture.com/in-en/insight-ai-economic-growth-india.

Research Methodology
Accenture Research, in collaboration with Frontier Economics, modelled the impact of AI for India. To estimate the economic potential of AI we compared two scenarios. The first is the baseline, which shows the expected annual economic growth rate under current assumptions about the future. The second is the AI scenario, which shows expected economic growth once the impact of AI has been absorbed into the economy. As it takes time for the impact of a new technology to feed through, we used 2035 as the year of comparison.

About Accenture
Accenture (NYSE: ACN) is a leading global professional services company, providing a broad range of services and solutions in strategy, consulting, digital, technology and operations. Combining unmatched experience and specialized skills across more than 40 industries and all business functions – underpinned by the world's largest delivery network – Accenture works at the intersection of business and technology to help clients improve their performance and create sustainable value for their stakeholders. With approximately 425,000 people serving clients in more than 120 countries, Accenture drives innovation to improve the way the world works and lives. Visit us at www.accenture.com

# # #

Contact:

Garima Misra Punia
Accenture
+91 9811818477
garima.misra.punia@accenture.com