October 17, 2017
According to Accenture: Gen Z Consumers Visit Bank Branches More Often than Any Other Age Group, Including Baby Boomers


Study analyzes consumer behaviors and predicts top trends set to change the payments industry

NEW YORK; Oct. 17, 2017 – Gen Z consumers are surprisingly more likely than any other age group, including Baby Boomers, to visit a bank branch at least weekly, according to a new study from Accenture (NYSE: ACN) – reflecting the heavy cash dependence within their age cohort. The study also found that Gen Z consumers (survey respondents aged 18-21) are the most active and engaged group using mobile banking, with all other consumers preferring online banking as their primary banking channel.
Based on a survey of 1,500 consumers in the United States and Canada, the study, "10 Mega Trends Driving the Future of Payments," identifies consumers' banking and payments behaviors, their appetite for next-generation payments products and experiences, and the trends most likely to drive significant change in the payments industry in the near- and long-term.

Among the key findings: One in five consumers (20 percent) visit their bank branch at least weekly, with nearly one-quarter (23 percent) of Gen Z – more than any other age cohort – accessing banking services through a branch at least weekly, compared with only 16 percent of Baby Boomers. Gen Z is also the most likely to use cash when making an in-store purchase, with 28 percent preferring cash, compared to only 18 percent of Millennials.

"For college-age consumers whose first jobs tend to be cash-based, branch usage is more a necessity than a choice," said Michael Abbott, a managing director in Accenture's Financial Services practice. "Clearly, Gen Z consumers prefer to manage their money on mobile devices, but they still need branches to digitize their earnings. Banks should treat this branch relationship as a near-term opportunity to deepen their ties with Gen Z consumers – offering financial education as their needs grow. But banks should also look at those habits as a clear sign of long-term demand for cashless mobile payment services."

Online Banking is Preferred Channel Overall in U.S. and Canada
The study also found that online banking has become the preferred way for North American consumers to access their banking services, with two-thirds (65 percent) using online banking at least weekly. The one exception is Gen Z consumers, as more than two-thirds (69 percent) of this group prefer to bank via a mobile app, making mobile the preferred banking channel for today's youngest consumers.

"Younger consumers are demanding an exceptional digital payments experience on all platforms – most importantly on their smartphones – and want to be compensated through targeted rewards, offers and discounts, at a cut-throat rate," continued Abbott. "These younger consumers will ultimately force traditional banks and payments players to either think beyond the functional aspect of mobile payment apps and create an engaging customer experience, or risk getting squeezed out of the process."

The survey found that payments usage remained consistent during the past three years, aside from an increase in debit cards and mobile wallet apps aligned to retailers, such as Starbucks. Nearly two-thirds (63 percent) of consumers said they use a debit card for payment at least weekly, up from 53 percent in 2014 – and closing the gap with cash, the most frequently used payment method, which remained flat from 2014, at 66 percent. Mobile wallet usage was flat in all areas, except for retailer apps, which increased 4 percentage points over the past year, from 16 percent in 2016 to 20 percent in 2017. All other mobile wallet app usage remained flat at around 14 percent, with no distinct preference between types of wallets – whether provided by credit card companies, tech giants or traditional banks.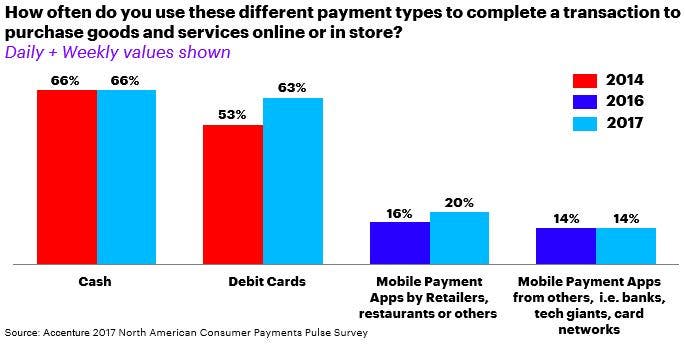 "We've been tracking consumer payments for several years, and we are only seeing marginal shifts between payment types year over year," said Robert Flynn, a managing director at Accenture and head of the company's Payments practice in North America. "Mobile payment adoption continues to be elusive and this is a big challenge for traditional players, which must create greater value and a superior user experience in and around the transaction."

Many of the trends Accenture forecasts in the study are driven by changing consumer behaviors, including:
Gen Z Rising: Gen Z consumers are more engaged than other age groups with financial services across all channels, which will force traditional financial services providers to elevate the experience they offer across mobile, digital and in-bank platforms, as consumers continue to visit the branch regularly.
UX (User Experience) Is the New Gold: Payments have moved beyond the transaction, and customer experience has become a key differentiator. Payments providers that redesign the experience they provide around what customers need will be well positioned in the future. The survey found that more than 70 percent of millennials and Gen Z are interested in AI-enabled tools to help them save money and optimize rewards by managing payments, bill payment and expenses.
Mobile Hits Its Groove: Open Banking and application program interfaces (APIs) will help drive mobile payment adoption, as the technology enables a single-view of all financial accounts information. Nearly one-quarter (23 percent) of consumers would use a digital wallet offered by a bank or non-bank third party and abandon their current banking mobile app if they could get aggregated account data on a mobile wallet; nearly half (45 percent) of Baby Boomers are the most likely to ditch their traditional bank's app.
Rewards Revolution: Accenture estimates that in 2016, consumers enjoyed $15 billion in rewards value through redemption of cash-back, miles and other points. According to the survey, the number one reason Baby Boomers, millennials and Gen Z consumers switched their primary rewards card in the past year was for higher value of rewards in terms of points or value per purchase; for Gen Xers, the number one reason to switch was for lower interest rates.
"Existing rewards models have peaked, with providers competing to squeeze as much value as possible to offer their customers," Abbot said. "As consumers' insatiable appetite for value continues to increase, payments providers will have to find new ways to offer value if they want to become the provider of choice."

To read the full report, please click here.

Methodology
Accenture Research surveyed 1,000 adults in the United States and 500 in Canada online between Sept. 1 and Sept. 10. The overall margin of error is +/- 1.55 percentage points at the midpoint of the 95 percent confidence level.

About Accenture
Accenture is a leading global professional services company, providing a broad range of services and solutions in strategy, consulting, digital, technology and operations. Combining unmatched experience and specialized skills across more than 40 industries and all business functions – underpinned by the world's largest delivery network – Accenture works at the intersection of business and technology to help clients improve their performance and create sustainable value for their stakeholders. With approximately 425,000 people serving clients in more than 120 countries, Accenture drives innovation to improve the way the world works and lives. Visit us at www.accenture.com.

# # #

Contact:

Melissa Volin
Accenture
+1 267 216 1815
melissa.volin@accenture.com