May 12, 2017
Accenture's Annette Rippert Honored with Leadership Award from Women in Technology

ARLINGTON, Va.; May 12, 2017 – Accenture's (NYSE: ACN) Annette Rippert, senior managing director, Accenture Technology – North America, was honored by Women in Technology (WIT) with an award for leadership in the corporate large market sector. Recognized for her extraordinary vision, talent and mentorship in the field of technology, the award celebrates the accomplishments of women who are leading the way in the technology industry.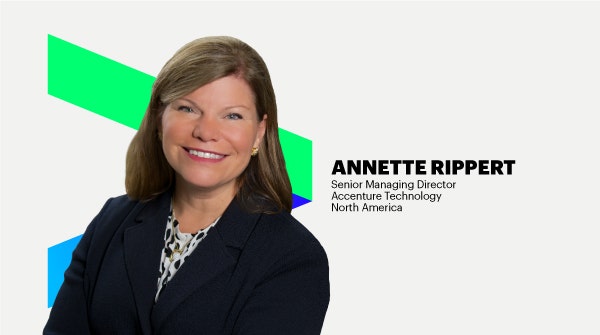 "Annette Rippert, as well as our other award winners, represents the very best of the Washington DC region's technology leadership," said Kathryn Harris, president of WIT. "It's important that we celebrate those like Annette who continue to pave the way and set the bar high in an industry changing so rapidly. She's shown us, through an unwavering passion, dedication and determination, how to stay relevant, lead through innovation and bring women along with her."

Based in Accenture's Metro Washington DC office, Ms. Rippert is instrumental in advancing Accenture's technology business and maximizing the use of emerging technologies to bring the newest innovations to her clients. She is a member of Accenture's Global Leadership Council, North America Leadership Team, and Technology Leadership Council, which helps to shape the company's technology strategy.
Accenture's Annette Rippert honored with leadership award from Women In Technology


"We are fortunate to have Annette as a role model, not only for our people but for others in the industry as well," said Bhaskar Ghosh, group chief executive, Accenture Technology. "Accenture, as well as our clients, benefit from her experience and vision in shaping the transformation taking place in technology and we're proud to see her contributions recognized by Women in Technology."

"The next wave of U.S. growth and competitiveness will come from continuous innovation," said Julie Sweet, Accenture's chief executive officer – North America. "Annette is an outstanding example of a leader who works side by side with our clients to help them develop, scale and deliver innovative solutions. I am delighted to see her recognized as a leader in her field, and as a passionate mentor for women in technology."

For more than 30 years, Ms. Rippert has supported science, technology, engineering and math education by sponsoring women in her community and the broader industry. She earned her Bachelor of Science degree in Computer Science at Northwestern University and her Masters of Management from the Kellogg School of Management at Northwestern University. Today, she serves on the McCormick Advisory Council for the Northwestern University School of Engineering.

"It's extremely gratifying to see Annette recognized as one of the top leaders in the technology industry due to her extraordinary accomplishments and contributions. She is an inspiration for others who have the talent, passion and drive to be technology innovators and leaders," said Paul Daugherty, chief technology and innovation officer, Accenture. "We are tremendously proud of Annette and thrilled to see her honored with this well-deserved award."

"It's an honor to receive this award from Women in Technology," said Rippert. "This is an unprecedented time in technology, which is why it's imperative that we do all we can to encourage women to pursue careers in computer science. Their creativity and talent is critical for creating a diverse workforce that will enable us to develop the innovative solutions that will define our future."

The 18th annual award ceremony was held Thursday, May 11, 2017 at the Hyatt Regency in Reston, VA.

About Women in Technology (WIT)
Women in Technology is a not-for-profit organization with the mission of advancing women in technology—from the classroom to the boardroom—by providing advocacy, leadership development, networking, mentoring and technology education. With nearly 1000 members in the Washington, D.C. area, WIT strives to meet its vision of being the premier organization empowering women to be architects of change in the technology industry. www.womenintechnology.org

About Accenture in the United States
Accenture is a leading professional services company, providing a broad range of services and solutions in strategy, consulting, digital, technology and operations. With more than 50,000 people and operations in 42 cities in the United States, Accenture serves 93 of the Fortune 100 and more than 70 percent of the Fortune 500. In the United States, Accenture has innovation hubs which bring together key elements of the Accenture Innovation Architecture – including labs, studios and innovation centers – to help clients develop and deliver disruptive innovations to drive growth and increase competitiveness. With an unwavering commitment to inclusion and diversity, Accenture is consistently recognized on FORTUNE's 100 Best Companies to Work For and DiversityInc's Top 50 Companies for Diversity lists. Visit us at accenture.com/US

# # #

Contact:

Hannah Unkefer
Accenture
+ 1 415 537 4848
hannah.m.unkefer@accenture.com