August 02, 2017
Accenture to Build NYC Innovation Hub as Destination for Clients and Accenture People to Co-Create Industry Solutions for the Digital Economy


Move to Hudson Yards district will bring together company's 3,000 New York City-based people and full breadth of capabilities to foster deeper collaboration for rapid innovation

NEW YORK; Aug. 2, 2017 – Accenture (NYSE: ACN) will expand its New York City Innovation Hub with a move to the brand-new Hudson Yards district in 2020. The hub will be a destination for Accenture people and clients to ideate, rapidly prototype and launch transformative ideas that meet the demands of today's fast-changing digital world.
One of Fortune's 25 Best Workplaces in New York, Accenture will occupy the top eight floors of One Manhattan West, bringing together in one location its more than 3,000 New York City-based employees and full breadth of capabilities. At the forefront of workplace design, the new space will provide a flexible, configurable environment that enables Accenture's people and clients to work and collaborate in new ways, and will accommodate further growth as its business expands.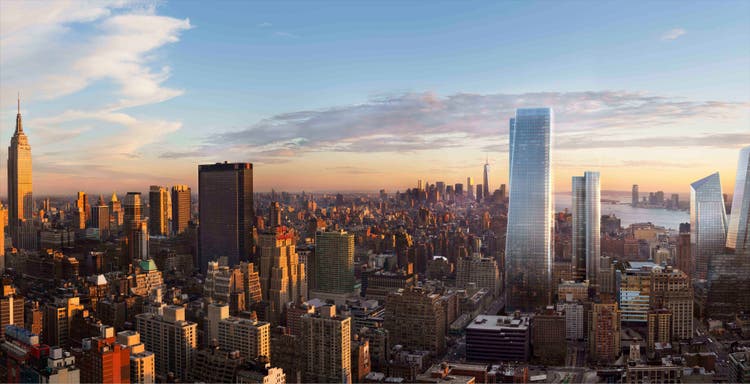 Accenture will consolidate its New York City office space and create an innovation hub at One Manhattan West, in the brand new Hudson Yards district (credit: Brookfield Property Partners).
"Our clients, who are leaders in virtually every industry, are under tremendous pressure to innovate continuously and harness the power of disruption for competitive advantage," said Kathleen O'Reilly, senior managing director—US Northeast, Accenture. "We are bringing innovation to the doorsteps of our clients, creating a new destination where we can work side-by-side with them to reimagine their futures and solve their biggest challenges."

Accenture's new Innovation Hub in New York City will build on its extensive innovation footprint, and further demonstrates its accelerated investment in innovation in the United States. By 2020 the company will build 10 new Innovation Hubs in key cities, invest $1.4 billion in training and create 15,000 highly skilled new jobs. In addition to New York City, Accenture's other Innovation Hubs in the U.S. are in Chicago, Houston, San Jose and Washington, D.C.

Accenture's Innovation Hubs provide clients hands-on access to digital and emerging technologies — artificial intelligence, blockchain, robotics, drones with computer vision, and virtual reality — that have the power to transform business. In New York City, the company's hub includes its Fjord Design Studio, where clients can apply design-thinking methodologies; a Liquid Studio that quickly turns concepts into prototypes through rapid software application development; and industry-specific capabilities such as an Innovation Center for Finance & Risk.

"We are committed to advancing New York City's tech economy and excited to be expanding our footprint in a pioneering neighborhood that so closely reflects our own culture of innovation," O'Reilly said. "We are building a forward-thinking, human-focused space, creating an environment for our incredible talent in the city to learn, collaborate, network and work productively in a high-energy atmosphere."

Accenture in the United States
Accenture is a leading professional services company, providing a broad range of services and solutions in strategy, consulting, digital, technology and operations. With more than 50,000 people and operations in 42 cities in the United States, Accenture serves 93 of the Fortune 100 and more than 70 percent of the Fortune 500. In the United States, Accenture has innovation hubs that bring together key elements of the Accenture Innovation Architecture – including labs, studios and innovation centers – to help clients develop and deliver disruptive innovations to drive growth and increase competitiveness. With an unwavering commitment to inclusion and diversity, Accenture is consistently recognized on FORTUNE's 100 Best Companies to Work For and DiversityInc's Top 50 Companies for Diversity lists. Visit us at accenture.com/US.

# # #

Contact:

Rachel Frey
Accenture
+ 1 917 452 4421
rachel.frey@accenture.com