May 04, 2017
Accenture-Sponsored Award Supports New Online Marketplace for Substitute and Part-Time Teachers


Harvard Public Sector Innovation Award recognizes student-led company

BOSTON; May 4, 2017 – The Public Sector Innovation Award, conferred annually by Harvard University's Technology and Entrepreneurship Center and sponsored by Accenture, is providing $10,000 to help advance Parachute Teachers, a new online marketplace designed to alleviate the nationwide shortage of substitute and part-time teachers.
Led by Harvard University students, Parachute Teachers connects schools with substitute and part-time teachers. The platform enables principals and students to rate the quality of substitutes and includes a system for substitutes to earn micro-credentials, gain formal recognition and potentially earn higher pay based on teaching quality.

More than 450 part-time teachers have signed up for Parachute Teachers since its initial rollout in Greater Boston, and more than 50 school districts around the country are on a waiting list for program expansion.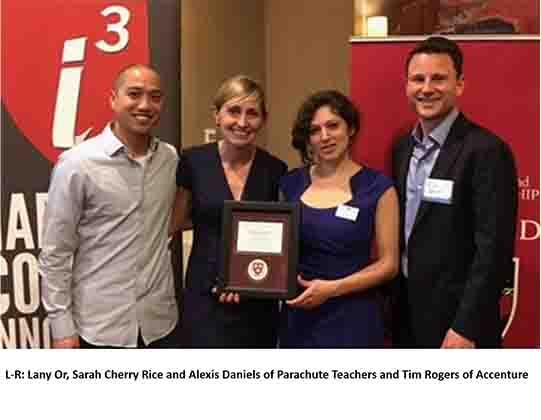 "Parachute Teachers is a valuable way to bring untapped community talent into local classrooms as substitute teachers," said Sarah Cherry Rice, Parachute Teachers' CEO and a Harvard doctoral candidate (2018). "Given that U.S. school districts spend more than $4 billion annually to fill gaps in teaching staff while shortages of substitute teachers are widespread across the country, we believe there is strong demand for this type of online marketplace."

Aaron Millstone, managing director of government enterprise services in North America at Accenture, said, "This is a great example of advancing a public opportunity on a sizable scale, using emerging digital capabilities to create a bigger and more-efficient market for substitute teachers."

Intended to help turn innovative ideas into viable solutions and foster a new generation of public leaders, the Public Sector Innovation Award encourages Harvard University students to apply their creative energy to help solve pressing public-sector challenges and helps foster a new generation of government leaders. Participating students gain the opportunity to engage with government, business and community leaders to address challenges and develop proposals for new products or services to create public value. The winning team in 2016 was Caila (formerly known as ALEX – Anyone's Learning Experience), a platform connecting working learners to online and in-person courses to support career advancement.

Accenture in the United States
Accenture is a leading professional services company, providing a broad range of services and solutions in strategy, consulting, digital, technology and operations. With more than 50,000 people and operations in 41 cities in the United States, Accenture serves 93 of the Fortune 100 and more than 70 percent of the Fortune 500. In the United States, Accenture has innovation hubs which bring together key elements of the Accenture Innovation Architecture – including labs, studios and innovation centers – to help clients develop and deliver disruptive innovations to drive growth. With an unwavering commitment to inclusion and diversity, Accenture is consistently recognized on FORTUNE's 100 Best Companies to Work For and DiversityInc's Top 50 Companies for Diversity lists. Visit us at www.accenture.com

# # #

Contact:

Joe Dickie
Accenture
+ 1 512 694 6422
joseph.r.dickie@accenture.com