March 06, 2017
Accenture Signs Global Agreement with SAP to Offer Human Capital Management "as a Service" on SAP® Cloud Platform

NEW YORK; Mar. 6, 2017 – Accenture (NYSE: ACN) today announced that it has signed a global original equipment manufacturer (OEM) agreement with SAP SE (NYSE: SAP) to offer its human capital management (HCM) applications on SAP® Cloud Platform. The OEM agreement allows organizations to easily access leading Accenture HCM applications that are purpose-built for the SAP SuccessFactors® Employee Central solution and powered by SAP Cloud Platform.
Accenture's HCM solutions are now also available as Software as a Service (SaaS) subscriptions that include SAP Cloud Platform, allowing organizations to easily scale up or down depending on business needs. Organizations can take advantage of a single subscription-based agreement and benefit from premium Accenture services for upgrades, administration and broad functionality without the need to develop platform expertise.

SAP Cloud Platform is SAP's enterprise Platform as a Service with comprehensive application development services and capabilities. It empowers businesses to extend, integrate and build new enterprise-ready, cloud-based applications – all without the requirements of maintaining or investing in on-premises infrastructure.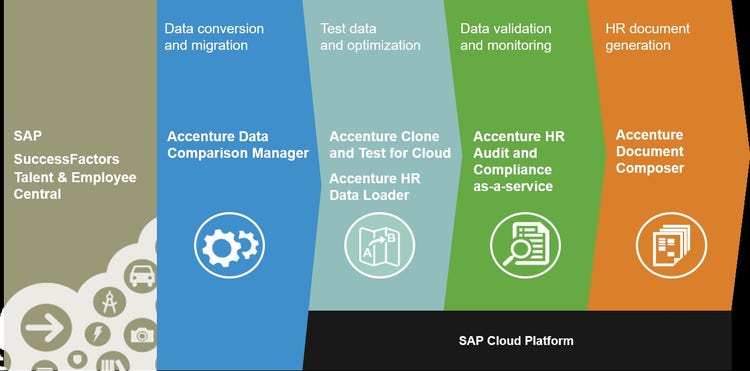 Accenture's HCM solutions help companies adopt a more strategic approach to human resources, using
SAP Cloud Platform to deliver complex global transformation and talent management solutions
Accenture HCM applications for SAP SuccessFactors solutions include:
Accenture Clone and Test for Cloud, which gives reliable, meaningful and authentic HR test data for companies by providing a secure environment for the copying and testing of data. A new module, the Accenture HR Data Loader, enabling easy mass changes in SAP SuccessFactors solution data. It is designed to manage ongoing and recurring HR processes, such as promotions, new hires or terminations.
Accenture HR Audit and Compliance as-a-service, designed to help HR and IT departments enhance HR systems by enabling them to maintain personnel data at a consistently high quality in cloud deployments.
Accenture Document Composer, which complements and extends the capabilities of document generation, updates and management across many SAP SuccessFactors solutions.
"With these new streamlined offerings, clients benefit from an end-to-end service without the complexities of maintaining relationships with two different suppliers," said Mike Detwiler, senior managing director, Accenture Products and Platforms. Our solutions help clients reduce timelines, simplify upgrades and reduce costs associated with implementations of SAP SuccessFactors solutions. By bundling these solutions with SAP Cloud Platform, we are increasing the flexibility and scalability of SAP SuccessFactors solutions."

"This offering from Accenture illustrates our belief in the 'power of many'," said Mike Ettling, president of SAP SuccessFactors. "We want our partners focused on making our customers more successful by introducing options that help ease and speed the move to the cloud. Accenture continues to deliver on this joint goal."

Used by more than 1,800 companies in over 45 countries, Accenture Human Capital Management Software is a suite of software complementary to SAP software for human resources and payroll that helps reduce implementation timelines, simplify upgrades, reduce operational costs and enable even higher performance in SAP solution environments. Accenture's Human Capital Management Software for SAP solutions helps companies adopt a strategic approach to human resources by delivering global transformation and talent management solutions based on SAP software, refocusing the HR function from transactional to strategic programs that deliver critical capabilities for business success.

About Accenture
Accenture is a leading global professional services company, providing a broad range of services and solutions in strategy, consulting, digital, technology and operations. Combining unmatched experience and specialized skills across more than 40 industries and all business functions – underpinned by the world's largest delivery network – Accenture works at the intersection of business and technology to help clients improve their performance and create sustainable value for their stakeholders. With more than 394,000 people serving clients in more than 120 countries, Accenture drives innovation to improve the way the world works and lives. Visit us at www.accenture.com.

SAP, SuccessFactors and other SAP products and services mentioned herein as well as their respective logos are trademarks or registered trademarks of SAP SE (or an SAP affiliate company) in Germany and other countries. See http://www.sap.com/corporate-en/legal/copyright/index.epx for additional trademark information and notices. All other product and service names mentioned are the trademarks of their respective companies.

SAP Forward-looking Statement
Any statements contained in this document that are not historical facts are forward-looking statements as defined in the U.S. Private Securities Litigation Reform Act of 1995. Words such as "anticipate," "believe," "estimate," "expect," "forecast," "intend," "may," "plan," "project," "predict," "should" and "will" and similar expressions as they relate to SAP are intended to identify such forward-looking statements. SAP undertakes no obligation to publicly update or revise any forward-looking statements. All forward-looking statements are subject to various risks and uncertainties that could cause actual results to differ materially from expectations. The factors that could affect SAP's future financial results are discussed more fully in SAP's filings with the U.S. Securities and Exchange Commission ("SEC"), including SAP's most recent Annual Report on Form 20-F filed with the SEC. Readers are cautioned not to place undue reliance on these forward-looking statements, which speak only as of their dates.

# # #

Contacts:

Julie Bennink
Accenture
+ 1 312 693 7301
julie.l.bennink@accenture.com

Copyright © 2017 Accenture. All rights reserved. Accenture, its logo, and High Performance Delivered are trademarks of Accenture.