December 12, 2017
Accenture Report Identifies Underlying Currents Driving the Shifts of Tomorrow and Ways to Design for Positive Change


Fjord Trends takes a provocative look at the developments to watch for in 2018, according to Fjord, design and innovation from Accenture Interactive

NEW YORK; Dec. 12, 2017 – Analyzing the pressing forces acting internally and externally on organizations and society, Accenture (NYSE: ACN) has released Fjord Trends 2018. Its 11th annual report examines seven emergent trends expected to impact business, technology and design in the year ahead.
Rapid technological advancements are altering the world we live in today, provoking both wonder and angst about the possibilities. Whether it's artificial intelligence, computer vision or blockchain, emerging technologies are uprooting the digital and physical experiences of our everyday lives. These joint forces are simultaneously creating optimism and concern about the unprecedented wave of change that is unfolding.
Fjord Trends takes a provocative look at the developments to watch for in 2018
"Each of our 2018 trends is born out of a fundamental tension – be it a shift, a collision or a parting of ways," said Mark Curtis, co-founder and chief client officer at Fjord. "Digital versus physical, human versus machine, centralized versus decentralized, speed versus craft, automation versus control, traceability versus anonymity. Winners in 2018 will be those who best navigate these tensions and seize the opportunity to collectively design the world we'll be living in."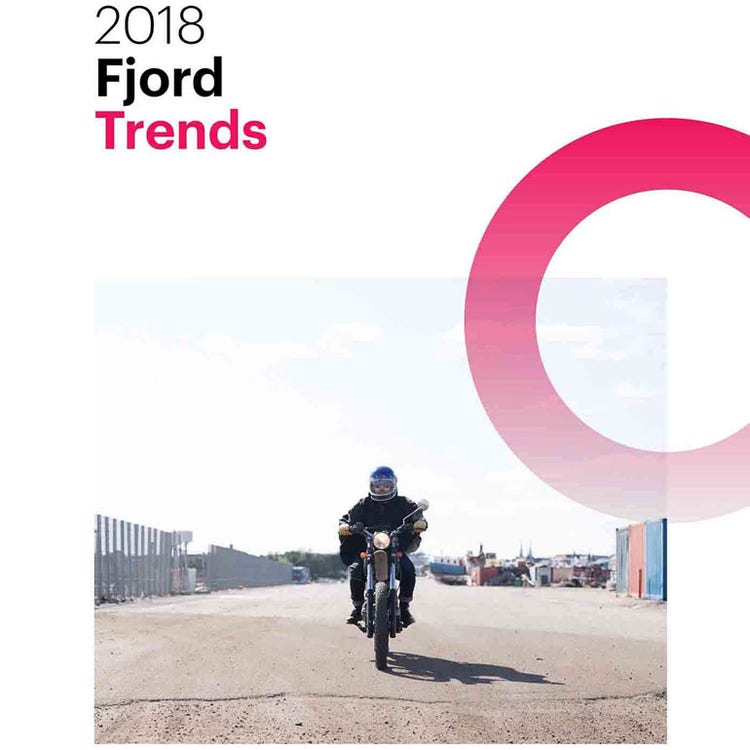 Read Fjord Trends 2018
©2017 Accenture. All Rights Reserved
Fjord Trends 2018 suggests how organizations can navigate these currents and design for positive change. It examines seven trends expected to shape the next generation of experiences:
Physical Fights Back: D igital has had the limelight long enough – there are two brand experience headliners now. The time has come to blend the digital with the physical.
Computers Have Eyes: As well as comprehending our words, computers now understand images without any help from us. Imagine the exciting possibilities for next-generation digital services.
Slaves to the Algorithm: How do you design a marketing strategy to win over the algorithms – immune to conventional branding efforts – that sit between brands and their customers?
A Machine's Search for Meaning: A.I. might change our jobs, but need not eliminate them. We can – and should – design our collaboration with the machines that will help us develop.
In Transparency We Trust: Blockchain has the potential to create transparency that will clear the fog of Internet ambiguity, regain lost trust, and repair relationships with the public.
The Ethics Economy: Organizations are feeling the heat to take stands on political and societal hot button issues, whether they want to or not. And consumers are speaking with their dollars, choosing brands that align with their core beliefs.
Design Outside the Lines: Design's rapid ascendancy and newfound respect within organizations is a win for all. But, in a world in which everyone thinks they're a designer, today's practitioners need to evolve – how they work, learn, and differentiate themselves – if they are to continue having impact.
"We believe this edition of Trends will provoke and inspire but, above all, provide actionable advice for organizations to prepare for the opportunities ahead," said Baiju Shah, global co-lead, Fjord and managing director, Accenture Interactive. "Many of the thorny questions ahead of us revolve around human-machine interactions, the consequences of which will be profound for individuals, society and organizations of all kinds. As digital fades from being stand-alone to being embedded in our physical world, our relationships with everything around us will be redefined."
@Fjord's predictions on design & innovation trends to impact us in 2018 are here: https://trends.fjordnet.com/trends #FjordTrends


Fjord Trends 2018 draws upon the collective thinking of Fjord's 1,000+ designers and developers around the world and is based on first-hand observations, evidenced-based research and client work. This year, for the first time, it also drew upon the individual insights and perspectives from 85 clients across five continents, whose views inspired the report. To read the full report and share your thoughts, visit www.trends.fjordnet.com or view our Slideshare deck.

About Accenture Interactive
Accenture Interactive helps the world's leading brands transform their customer experiences across the entire customer journey. Through our connected offerings in design, marketing, content and commerce, we create new ways to win in today's experience-led economy. Accenture Interactive is ranked the world's largest digital agency in the latest Ad Age Agency Report. Fjord, Accenture Interactive's design and innovation unit, reimagines people's relationships with the digital and physical world around them, using the power of design to create services people love. To learn more follow us @AccentureSong or @fjord and visit www.accentureinteractive.com or www.fjordnet.com.

About Accenture
Accenture is a leading global professional services company, providing a broad range of services and solutions in strategy, consulting, digital, technology and operations. Combining unmatched experience and specialized skills across more than 40 industries and all business functions – underpinned by the world's largest delivery network – Accenture works at the intersection of business and technology to help clients improve their performance and create sustainable value for their stakeholders. With approximately 425,000 people serving clients in more than 120 countries, Accenture drives innovation to improve the way the world works and lives. Visit us at www.accenture.com.

# # #

Contact:

David LaBar
Accenture
+1 646 456 4505
david.labar@accenture.com