December 20, 2017
Accenture Recognized as the Overall Leader and a Star Performer in Everest Group 2017 PEAK Matrix™ Report for Digital Services

NEW YORK; Dec. 20, 2017 – Accenture (NYSE: ACN) has been recognized as the overall Leader for the third consecutive year in the Everest Group 2017 PEAK MatrixTM for Digital Services. Demonstrating its leadership and sustained growth in the market, Accenture was strongly positioned as a result of its end-to-end capabilities in client engagements, strengthened design capabilities and continuous investments in innovation. Accenture is also recognized as a Star Performer, and Best in Class across the areas of domain expertise, delivery footprint and market share gains.
The report states, "Accenture strongly leverages its consulting capabilities to help clients envision and formulate their digital strategy" and that "to help clients transform their digital customer experience, it has been bullish in expanding its design capabilities leveraging Accenture Interactive."

The report involves a competitive assessment of 22 leading service providers, each offering digital services in the required areas of Social, Cloud Apps, Mobility, Analytics and Big Data, Internet of Things (IoT) and Cognitive Intelligence. Measured against key criteria, including service offerings, investments, design studios, innovation and partnerships, each provider's position on the PEAK Matrix™ is determined based on its overall success across the two dimensions of market success and delivery capability.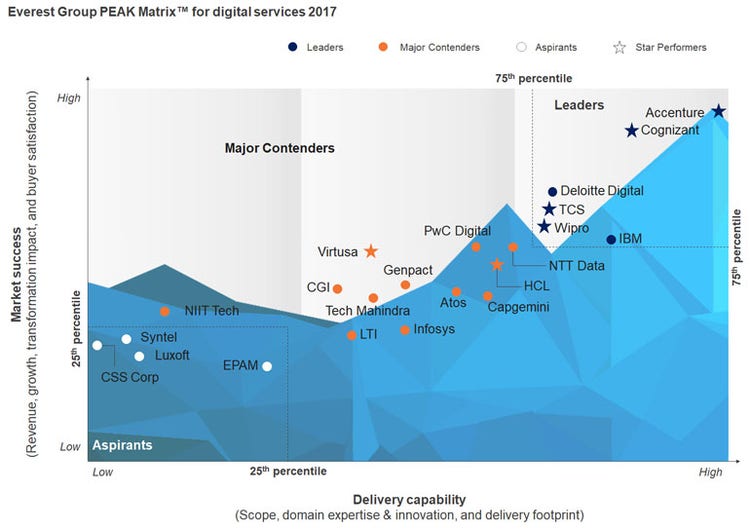 Accenture Recognized as Overall Leader and a Star Performer in Everest Group Report for Digital Services
"As digital adoption becomes a mandate rather than an option, we're seeing enterprises step up their digital investments, and leading IT and business teams come together to define the overarching digital goals," said Chirajeet Sengupta, Everest Group. "Through its strategic M&A activity, coupled with its strong growth record and proven capabilities in client services and innovation, Accenture has become widely recognized as a consistent leader in the digital services space."
Accenture recognized as the Overall Leader and a Star Performer in @EverestGroup 2017 PEAK Matrix™ Report for #DigitalServices


Mike Sutcliff, group chief executive, Accenture Digital, said, "As the pace of technological innovation continues to accelerate, a major focus for Accenture is to continue to invest in talent and grow our digital services. We want to ensure we have the right capabilities in place to provide our clients with leading innovations to compete in the digital world. This recognition is an honor and further proof that Accenture's strategic investments in these key areas are enabling our clients to 'go digital' now and into the future."

Click here to view report.

About Accenture
Accenture (NYSE: ACN) is a leading global professional services company, providing a broad range of services and solutions in strategy, consulting, digital, technology and operations. Combining unmatched experience and specialized skills across more than 40 industries and all business functions – underpinned by the world's largest delivery network – Accenture works at the intersection of business and technology to help clients improve their performance and create sustainable value for their stakeholders. With approximately 425,000 people serving clients in more than 120 countries, Accenture drives innovation to improve the way the world works and lives. Visit us at www.accenture.com.

Accenture Digital, comprised of Accenture Interactive, Accenture Applied Intelligence, and Accenture Industry X.0, helps our clients pivot from thinking digital to being digital at the core by designing new experiences for customers and employees, applying new intelligence across every industry, function and process and driving the Digital Reinvention of Industry through smart, connected products, services, plants and workers. Learn more about Accenture Digital at www.accenture.com/digital. Follow us on Twitter and on LinkedIn.

# # #

Contact:

Kelly Coffed
Accenture
+1 404 219 3100
kelly.coffed@accenture.com