July 21, 2017
Accenture Positioned Furthest and Highest in Everest Group PEAK Matrix™ Report for Procurement Outsourcing 2017

NEW YORK; July 21, 2017 – For the second consecutive year, Accenture (NYSE: ACN) has been recognized as the overall Leader and Star Performer in the Everest Group Procurement Outsourcing – Service Provider Landscape with PEAK Matrix™ Assessment 2017. Accenture leads in both Market Success, based on revenue, number of clients and year-over-year revenue growth, as well as Delivery Capability for its scale, scope, technology and innovation, delivery footprint, and buyer satisfaction.
According to Everest Group, Accenture's procurement outsourcing leadership is a result of its deep procurement capabilities, strong team of category experts, robust analytics and market intelligence capabilities, and deep insights into supplier performance and risk management.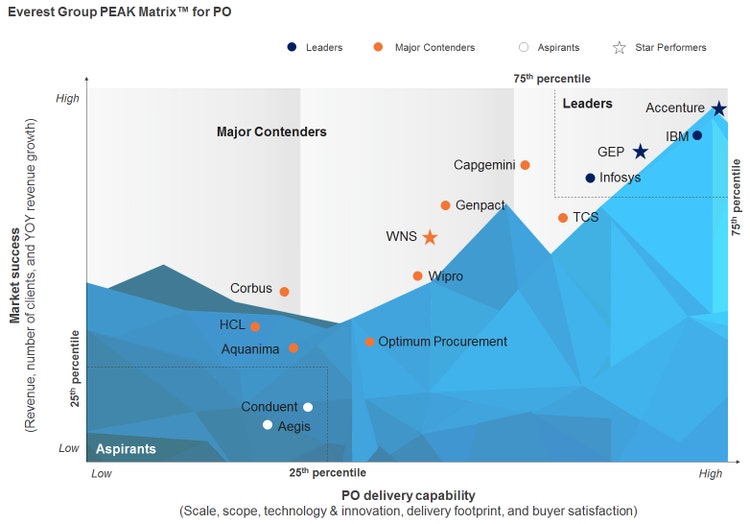 "The procurement outsourcing service provider landscape is rapidly transforming and service providers need the right balance of talent and technology to differentiate themselves in an increasingly complex market," said Megan Weis, VP Business Process Services, Everest Group. "As a Leader and a Star Performer, Accenture understands the market dynamics and has strategically invested in building a comprehensive offering with strong digital capabilities that position them well to meet their client's evolving needs in the future."
For the 2nd year, Accenture is the overall Leader and Star Performer in Everest Group's Procurement Outsourcing report


Additional strengths highlighted in the report include:
Accenture continues to be the leader in procurement outsourcing providing services across the Source-to-Pay (S2P) space through a blend of strategy, consulting, technology, operations and digital offerings.
With more than 1,400 category experts, Accenture is capable of servicing clients with a variety of needs, developing capabilities in direct spend management to cater to the growing buyer demand for outsourcing direct spend.
Accenture is one of the only players in the market with deep insights into supplier performance and risk management.
Accenture's move toward a more modular service offering – procurement analytics-as-a-service, stand-alone end-to-end contract lifecycle management, and supplier relationship management process as-a-service -- speaks strongly to its flexibility in meeting rapidly changing customer demands.
As the procurement space continues to evolve, Accenture is taking the necessary steps to meet future demands by building a procurement ecosystem with better analytics, cloud, and automation capabilities, improved shopping experiences and a simpler sourcing process.
"Accenture's leadership in this report is a testament to the ongoing investments we've made in our digital procurement infrastructure, providing clients with access to the capabilities they need to improve performance and impact, said Keith Hausmann, managing director of Procurement Business Process Services for Accenture Operations. "Our infrastructure enables clients to accelerate their journey to a more data-driven procurement process, fueled by market intelligence and analytics capabilities that help us deliver valuable insights, and drive tangible business outcomes for our clients."

The 2017 Everest Group PEAK Matrix™ Procurement Outsourcing- Service Provider report can be accessed here.

About Accenture
Accenture is a leading global professional services company, providing a broad range of services and solutions in strategy, consulting, digital, technology and operations. Combining unmatched experience and specialized skills across more than 40 industries and all business functions – underpinned by the world's largest delivery network – Accenture works at the intersection of business and technology to help clients improve their performance and create sustainable value for their stakeholders. With more than 411,000 people serving clients in more than 120 countries, Accenture drives innovation to improve the way the world works and lives. Visit us at www.accenture.com.

# # #

Contact:

Hannah Unkefer
Accenture
+ 1 415 537 4848
hannah.m.unkefer@accenture.com