As the leader in both innovation and execution, the report praises Accenture for its track record of acquisitions that demonstrate its commitment to its vision for the evolution of digital marketing services. Accenture is also lauded for its ability to attract and retain talent and its progress on embedding automation.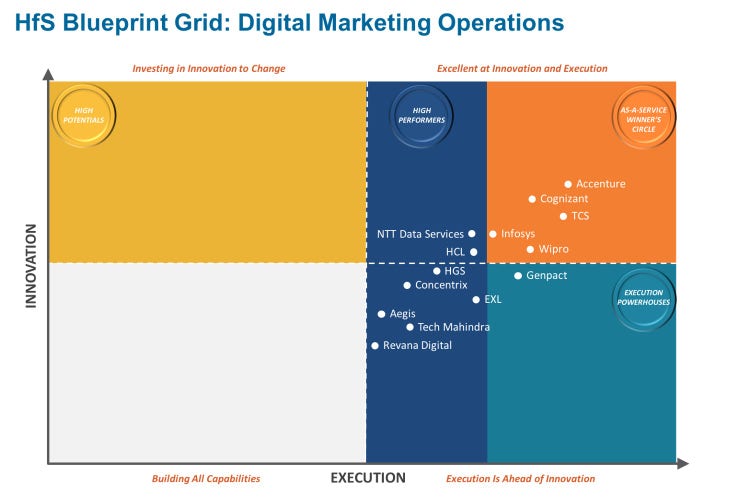 "Accenture has a complete vision for digital marketing operations bolstered by smart acquisitions and complemented by automation," said Melissa O'Brien, director, Digital Marketing Operations and OneOffice Customer Experiences at HfS Research – The Services Research Company™. "Thanks to its long-standing commitment to industrial diversification, talent strategy, and business outcomes, Accenture is helping companies move beyond the limitations of legacy systems."
Accenture secures overall lead position in Digital Marketing Operations report from HfS


A significant element of the assessment methodology was based on the progress of service providers in realizing the As-a-Service Economy, focused on business outcome-oriented, on-demand talent and technology services.

"Digital marketing is changing rapidly and our leadership position in this report underscores our ability to leverage our talent and alliances to stay ahead of the market," said Debbie Polishook, group chief executive, Accenture Operations. "We remain committed to embedding automation and analytics to provide our clients with transformational digital marketing services that deliver personalized customer experiences and accelerated business growth."

Additional Accenture strengths highlighted in the report include:
Industry diversification and business outcome focus: Accenture has digital marketing operations clients and solid case studies spanning numerous industries. Its ability to replicate services across industry verticals and drive business outcomes is a testament to its talent and processes
Talent strategy: Accenture's ex-agency talent brings an expertise and understanding of the traditional agency world with an eye toward the future.
Approach to automation: Accenture maintains a focused approach on the end-to-end process, embedding automation and analytics to deliver business insights and outcomes
Provocative acquisitions: Accenture's acquisitions over the last few years are illustrative of the service provider's forward-thinking vision for the evolution of this market. The acquisitions complement marketing operations and customer experience services, helping to double the service provider's digital marketing operations business over the last two years.
The report assessed the innovation and execution capabilities of 14 major As-a-Service providers in the Digital Marketing Operations market, and reviewed their marketing content development and management, campaign management, and analytics and reporting. HfS highlights rapid changes in customer demand, competitors and talent as defining elements in modern digital marketing.

The results of this report were based on data collected in the fourth quarter of 2016, from buyers and service providers of digital marketing operations services.

The HfS Research's 2016 Blueprint Report for Digital Marketing Operations can be accessed here.

About Accenture
Accenture is a leading global professional services company, providing a broad range of services and solutions in strategy, consulting, digital, technology and operations. Combining unmatched experience and specialized skills across more than 40 industries and all business functions – underpinned by the world's largest delivery network – Accenture works at the intersection of business and technology to help clients improve their performance and create sustainable value for their stakeholders. With more than 394,000 people serving clients in more than 120 countries, Accenture drives innovation to improve the way the world works and lives. Visit us at www.accenture.com.

# # #

Contact:

Hannah Unkefer
Accenture
+ 1 415 537 4848
hannah.m.unkefer@accenture.com