August 04, 2017
Accenture Positioned as Overall Leader in Everest Group Business Process Services Delivery Automation Report

NEW YORK; Aug. 4, 2017 – Accenture (NYSE: ACN) has been recognized as the overall Leader in the inaugural Everest Group PEAK Matrix™ for Business Process Services Delivery Automation Service Provider Landscape with Peak Matrix Assessment 2017. Accenture is positioned ahead of all other competitors, in Market Impact for its market success, portfolio mix and value delivered, as well as in Vision and Capability based on its strategy, scale, technology, investments, implementation and integration, and engagement and commercial model.
The report attributes Accenture's leadership to achieving continual success in business process service automation and for having one of the largest and fastest growing portfolios of clients with Service Delivery Automation (SDA) deployments -- owning between 20 to 30 percent of the entire market.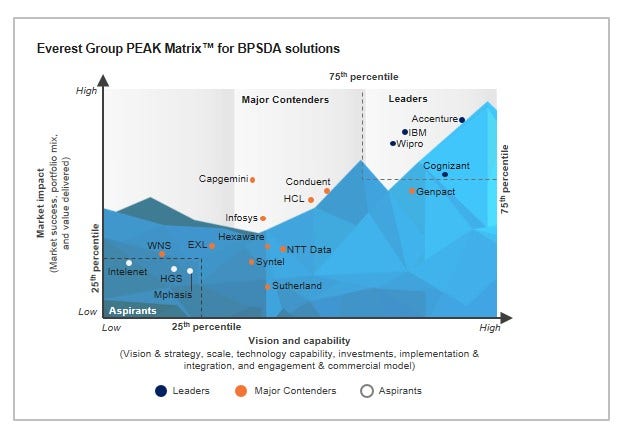 Business Process Services Delivery Automation (BPSDA) Service Provider Landscape
with PEAKTM Assessment 2017, Everest Group

"Digital disruption is reverberating through the Business Process Services (BPS) market," said Sarah Burnett, vice president at Everest Group. "It's impacting BPS buyers who are looking for value-added services that go beyond just simple cost-reduction, and it's affecting BPS providers who need to rise to the challenge with new types of digital services that deliver that value. Accenture is positioned highest among leading providers based on its ability to successfully meet the increasing demands of this new market."
Accenture is overall leader in Everest Group Business Process Services Delivery Automation Report in all categories


Accenture strengths highlighted in the report include:
Accenture's vision for digital transformation driven by automation, artificial intelligence and advanced predictive and prescriptive analytics, supported by appropriate investments
Accenture has adopted a technology-agnostic approach for developing solutions, and consequently, its SDA suite is dominated by solutions based on partnerships with leading third-party automation technology vendors such as Automation Anywhere, Blue Prism, UiPath, OpenSpan and Fusion.
Accenture is focused on leveraging its domain expertise to drive verticalization of SDA solutions and developing industry-specific reusable use cases.
Accenture is ahead of many in maturing toward an integrated automation ecosystem by putting in place a Network Operations Center to centrally schedule, monitor and report multiple client automations
Accenture clients praise it readiness to proactively propose automation initiatives, relationship management skills, and the ability to effectively evaluate the need for reengineering before automation.
"Accenture continues to invest in intelligent automation capabilities, transforming the delivery of business process services by improving the pace and scale of transactional processing, and the quality of insight rich data. This frees our people to focus on complex problem solving, and delivering outcomes for our clients," said Debbie Polishook, group chief executive of Accenture Operations. "By focusing on making our people more productive through the application of automation – we help our clients scale innovation, reduce operational complexity, improve agility, and accelerate time to market."

The report examines 18 leading broad-based BPS providers in the SDA market, evaluating their market impact and vision & capability using the proprietary framework of the Everest Group Performance | Experience | Ability | Knowledge (PEAK) Matrix.

The 2017 Everest Group PEAK Matrix for Business Process Services Delivery Automation report can be accessed here.

About Accenture
Accenture is a leading global professional services company, providing a broad range of services and solutions in strategy, consulting, digital, technology and operations. Combining unmatched experience and specialized skills across more than 40 industries and all business functions – underpinned by the world's largest delivery network – Accenture works at the intersection of business and technology to help clients improve their performance and create sustainable value for their stakeholders. With more than 411,000 people serving clients in more than 120 countries, Accenture drives innovation to improve the way the world works and lives. Visit us at www.accenture.com.

# # #

Contact:

Hannah Unkefer
Accenture
+ 1 415 537 4848
hannah.m.unkefer@accenture.com