July 31, 2017
Accenture Positioned as Overall Leader in 2017 Everest Group PEAK Matrix™ for Workday HCM IT Services Assessment

NEW YORK; July 31, 2017 – Accenture (NYSE: ACN) has been named the overall leader among providers of Workday HCM IT Services in the latest Everest Group report: Everest Group PEAK Matrix™ for Workday HCM IT Services Assessment 2017. Accenture was recognized for overall buyer satisfaction and for the scale and scope of its delivery footprint, domain expertise and innovation, surpassing all competitors in both Market Success and Delivery Capability.
The report identifies Accenture as the chief provider of Workday HCM IT Services across geographies, attributing the company's success to its strong consulting heritage, mature service delivery capabilities, IP investments that support advanced analytics, enterprise change management and industry specific solutions, strategic acquisitions, and long-standing relationship with Workday. The report also highlighted Accenture's ability to lower costs for customers while improving flexibility, agility and top line growth.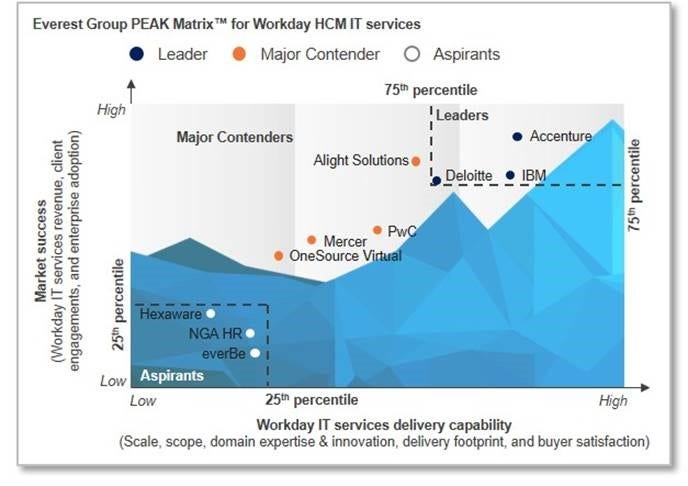 "Workday is gaining wide enterprise acceptance due to its user centricity and alignment to customers' business objectives," said Yugal Joshi, Practice Director, Everest Group. "Accenture's customers have achieved smooth transitions through change management support and a holistic HR transformation experience with cost reduction and improvement in agility being some of the realized benefits."

A Workday Titanium partner, Accenture has the largest pool of 1,100 Workday certified professionals. Last year, Accenture strengthened its offering with the acquisition of DayNine.
@Accenture - now a leader in Workday #HCM ITS, says @EverestGroup


"Accenture continues to lead the field in Workday human capital management and financial management IT services with our global reach and ongoing investment in innovation," said Michael S. Wright, managing director of Accenture DayNine. "The Journey to Cloud requires industry-specific processes and accelerators, and deeply experienced people to forge a set of outcomes that help produce real results."

This assessment covers the global market for Workday-based consulting, implementation and management services, and evaluates the 10 leading Workday IT service providers. Read more about the Everest Group PEAK Matrix™ for Workday HCM IT Services Assessment 2017.

Also announced today, Accenture has been named a Leader in the Everest Group Workday-Based Human Resources Business Process Services – Service Provider Landscape with PEAK Matrix™ Assessment 2017. Accenture is positioned as the overall market leader in delivery capability in recognition of its scale, scope of services, technology and innovation, delivery footprint and client satisfaction.

About Accenture
Accenture is a leading global professional services company, providing a broad range of services and solutions in strategy, consulting, digital, technology and operations. Combining unmatched experience and specialized skills across more than 40 industries and all business functions – underpinned by the world's largest delivery network – Accenture works at the intersection of business and technology to help clients improve their performance and create sustainable value for their stakeholders. With approximately 411,000 people serving clients in more than 120 countries, Accenture drives innovation to improve the way the world works and lives. Visit us at www.accenture.com.
# # #


Contact:

Mylissa Tsai
Accenture
+ 1 917 452 9729
mylissa.tsai@accenture.com