February 28, 2017
Accenture Positioned as Leader in Latest IDC MarketScape Report for IT and OT Integration Service Providers to Utilities Companies in EMEA

NEW YORK; Feb. 28, 2017 – Accenture (NYSE: ACN) has been positioned as a leader in the IDC MarketScape: IT and OT Integration Service Providers for EMEA Utilities 2017 Vendor Assessment1. Accenture was recognized for several strengths in serving utilities clients, including its investment in platform assets and as-a-service business model, the digital intensity of its engagements, and its superior mix of industry knowledge, experience and technical competence.
The report evaluated Accenture and eight other companies with an established reputation for providing professional services to the utilities industry, including those that support integration of information technology (IT) and operational technology (OT), and have an international presence across EMEA. The report analyzed capabilities in business consulting and process services, as well as IT and OT services, including IT and OT network implementations, IT and OT data integration, application development and maintenance, IT and OT deployment and support, and education used to support IT-OT integration. IDC conducted multiple interviews with utilities companies, the end users, for the report.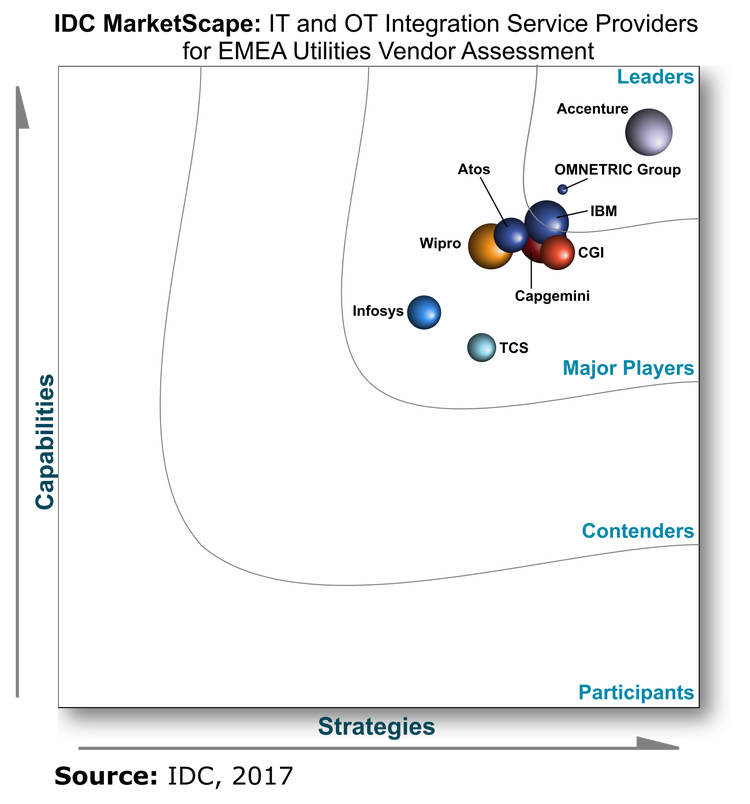 "Our position as a leader in this report reflects our success in supporting the push toward increased IT and OT integration in the utilities industry," said Matias Alonso, senior managing director for the Accenture utilities industry group. "Through a concerted program of strategic acquisitions and a joint venture, we've significantly expanded our portfolio of solutions and skills in this domain, enabling us to deliver for our clients across the utilities value chain. Our continued investments in platform assets and our ongoing focus on as-a-service offerings set us apart, and enable us to help clients improve their capabilities, while reducing their costs."

The report noted that Accenture differentiates itself by focusing on innovation and its mastery of the evolution from providing IT services and outsourcing to offering platforms and digital transformation to meet customer needs. For utilities companies, this covers areas including grid asset management, the connected home and demand response. The report also called out Accenture's Global Delivery Network, its research program and its acquisitions around cloud, Internet of Things (IoT) and security, advanced analytics, and digital services.
Accenture positioned as an EMEA Utilities Leader in IT and OT integration in latest IDC MarketScape report @Accenture_Util


Roberta Bigliani, Head, IDC Energy Insights EMEA, said, "For years, Accenture has supported utilities' drive toward increased IT and OT integration. The company continues to expand its pool of domain-specific skills, solutions, and tools, as well as to build a dedicated ecosystem of partners. Key to Accenture Utilities' IT-OT integration capabilities are its investment in platform assets and as-a-service business model, which are designed to deliver client benefits in terms of capability, speed, and cost."

In addition to interviews with multiple major utilities companies in EMEA, the report is based on vendor briefings and other research information.

The IDC MarketScape: IT and OT Integration Service Providers for EMEA Utilities 2017 Vendor Assessment can be found here.

More information about Accenture's services to the utilities industry can be accessed here.

About Accenture.
Accenture is a leading global professional services company, providing a broad range of services and solutions in strategy, consulting, digital, technology and operations. Combining unmatched experience and specialized skills across more than 40 industries and all business functions – underpinned by the world's largest delivery network – Accenture works at the intersection of business and technology to help clients improve their performance and create sustainable value for their stakeholders. With more than 394,000 people serving clients in more than 120 countries, Accenture drives innovation to improve the way the world works and lives. Visit us at www.accenture.com.

About IDC MarketScape:
IDC MarketScape vendor analysis model is designed to provide an overview of the competitive fitness of ICT (information and communications technology) suppliers in a given market. The research methodology utilizes a rigorous scoring methodology based on both qualitative and quantitative criteria that results in a single graphical illustration of each vendor's position within a given market. IDC MarketScape provides a clear framework in which the product and service offerings, capabilities and strategies, and current and future market success factors of IT and telecommunications vendors can be meaningfully compared. The framework also provides technology buyers with a 360 degree assessment of the strengths and weaknesses of current and prospective vendors.

\
doc #EMEA40142616, February 2017

# # #

Contacts:


Guy Cantwell
Accenture
+ 1 281 900 9089
guy.cantwell@accenture.com

Matt Corser
Accenture
+ 44 755 784 9009
matthew.corser@accenture.com