July 31, 2017
Accenture Positioned as Leader and Star Performer in Everest Group 2017 Life Sciences IT Application Services Assessment

NEW YORK; July 31, 2017 – Accenture (NYSE: ACN) has been named a Leader and Star Performer among 21 providers of life sciences information technology (IT) application services, in the latest Everest Group report: Life Sciences IT Applications Services – Service Provider Landscape with PEAK Matrix™ Assessment 2017. Accenture is positioned above all competitors in life sciences IT application service providers, based on its scale of operations, scope of services, investments in technology, global delivery footprint and buyer satisfaction.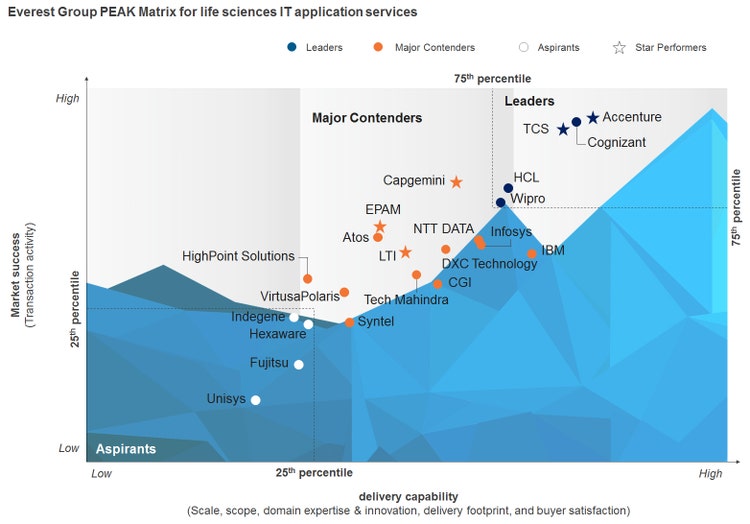 Life Sciences IT Applications Services – Service Provider Landscape with PEAK Matrix™ Assessment 2017;
Everest Group

Ramnath Venkataraman, Accenture senior managing director for global applications services-Products, said, "IT application services are a critical component for delivering business outcomes to our life sciences clients. Accenture's continued leadership in IT application services is rooted in our ability to deliver intelligent, innovation-driven business solutions and capabilities that provide transformational insights to our clients to help them streamline processes, enhance productivity and improve competitiveness."

Additional strengths highlighted by Everest Group in the report include:
A distinguishing feature of Accenture's service portfolio is building and enhancing partnerships and acquisitions in areas such as drug development and digital marketing;
Accenture continues to build traction in innovative service offerings such as Accenture Life Sciences Cloud for R&D and the Accenture Intelligent Patient Platform;
Accenture serves most of the top life sciences enterprises with significant deal renewal rates
Accenture demonstrated the ability to integrate acquisitions in digital to drive strong revenue growth.
"The life sciences landscape has been subject to significant turbulence because a gamut of factors including escalating costs, widespread regulator amendments, changing business models, and evolution of the patient-centric paradigm," said Abhishek Singh, practice director IT services, Everest Group. "Accenture is a Leader and Star Performer in life sciences IT application services based on its innovation, strong revenue share and foothold across major geographies. The life sciences industry is demanding a service provider that brings a problem-solving mindset to their issues, and then employs a blend of deep domain expertise and analytics capabilities to help them unlock value. We believe Accenture with its capabilities is positioned well to serve clients in this environment."

Anne O'Riordan, senior managing director of Accenture's global life sciences business, said, "Our Life Sciences group continues to rotate to the new, high-growth areas of digital, cloud and security - enabled by new and innovative technologies. This rotation is bringing exciting solutions to our clients to help them address IT challenges and enable them to be ready in delivering better outcomes for patients."

Read more about the Everest Group Life Sciences IT Applications Services – Service Provider Landscape with PEAK Matrix™ Assessment 2017 here.

About Accenture
Accenture is a leading global professional services company, providing a broad range of services and solutions in strategy, consulting, digital, technology and operations. Combining unmatched experience and specialized skills across more than 40 industries and all business functions – underpinned by the world's largest delivery network – Accenture works at the intersection of business and technology to help clients improve their performance and create sustainable value for their stakeholders. With approximately 411,000 people serving clients in more than 120 countries, Accenture drives innovation to improve the way the world works and lives. Visit us at www.accenture.com.
# # #


Contact:

Cam Granstra
Accenture
+ 1 312 693 5992
cameria.l.granstra@accenture.com