August 14, 2017
Accenture Positioned as Leader and Star Performer in Everest Group 2017 Life Sciences Clinical and R&D IT Services Assessment

NEW YORK; Aug. 14, 2017 – Accenture (NYSE: ACN) has been named a Leader and Star Performer in a new Everest Group report on information technology (IT) service providers in the life sciences clinical and R&D industry.
In the report – L ife Sciences Clinical and R&D IT Services – Service Provider Landscape with PEAK Matrix™ Assessment 2017: Making Innovation Great Agai n – Accenture is positioned above all the 17 other life sciences clinical and R&D IT service providers in the report, based on its scale of operations, scope of services, investments in technology, global delivery footprint and buyer satisfaction.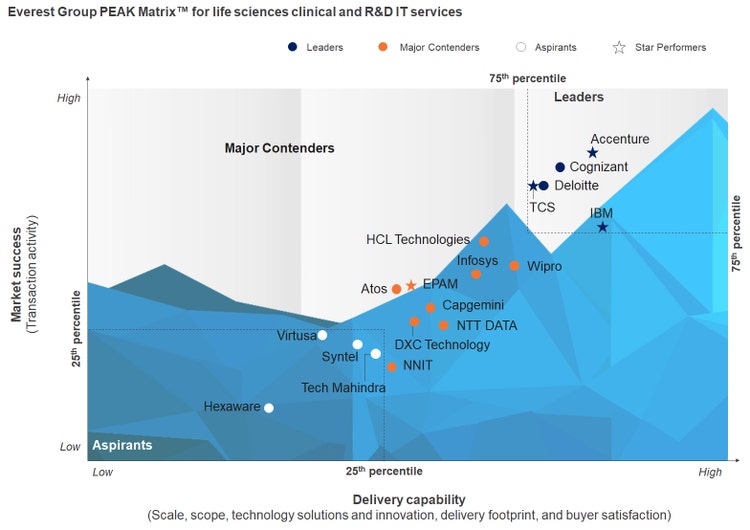 Kevin Julian, who leads Accenture's Life Sciences practice in North America, said, "Accenture's goal is to help life sciences companies drive innovation and improve productivity, ultimately to improve patients' lives. Clinical and R&D IT services are a critical component to delivering these outcomes, and we see this Everest Group assessment as recognition of the hard work of thousands of Accenture R&D professionals who serve this mission every day."

Among the company's strengths that Everest Group highlighted in the report are:
Accenture is well positioned to win clients across the run-to-transform spectrum, given its consultative-led delivery, credibility, and global deliver network;
Accenture builds and enhances its service portfolio through partnerships and acquisitions in areas such as drug development, clinical trials and digital marketing;
Accenture takes a business-first approach and makes meaningful investments through M&A, products and platforms, and industry alliances;
Accenture continues to build traction in innovative service offerings such as Accenture Life Sciences Cloud for R&D and the Accenture Intelligent Patient Platform.
"Life sciences companies are trying to reimagine clinical and R&D using technology as a key lever. They need to crunch cycle times, improve cost efficiency, and drive precision medicine efforts," said Abhishek Singh, practice director, Everest Group. "Accenture has featured as a Leader and Star Performer in this year's life sciences clinical and R&D IT services PEAK Matrix. Accenture's Accelerated R&D Services, lends a differentiated focus with its consulting-led model, business-first approach, and domain expertise. It has emerged as a partner of choice for life sciences firms looking to accelerate impact from clinical and R&D investments."

Read more about the Everest Group Life Sciences Clinical and R&D IT Services – Service Provider Landscape with PEAK Matrix™ Assessment 2017: Making Innovation Great Again here.

About Accenture
Accenture is a leading global professional services company, providing a broad range of services and solutions in strategy, consulting, digital, technology and operations. Combining unmatched experience and specialized skills across more than 40 industries and all business functions – underpinned by the world's largest delivery network – Accenture works at the intersection of business and technology to help clients improve their performance and create sustainable value for their stakeholders. With more than 411,000 people serving clients in more than 120 countries, Accenture drives innovation to improve the way the world works and lives. Visit us at www.accenture.com.
# # #


Contact:
Cam Granstra
Accenture
+ 1 312 693 5992
cameria.l.granstra@accenture.com