May 08, 2017
Accenture Positioned as a Leader in Mobile Enterprise Applications Services report by Independent Research Firm


Report cites Accenture's breadth and depth in creative design and technical capabilities

NEW YORK; May 8, 2017 – Accenture (NYSE: ACN) has been named a Leader in the new Forrester Wave™: Mobile Enterprise Application Services Providers report1. Accenture received the highest score in the 'strategy' criterion in the independent research company's report, which compares how well-positioned the providers are going forward. One of only three Leaders in the Wave, Accenture also scored among the top three in 'current offering' and had the highest score possible in 'market presence.'
The Forrester Research Inc. report noted that Accenture scored well in the evaluation "due to breadth and depth on both the creative design and the technical capabilities necessary for delivering successful mobile enterprise app projects." The report also stated that talent from design agency acquisitions including Acquity Group, Fjord, Chaotic Moon, OCTO Technology, and MOBGEN round out App Studio talent. Accenture has also recently acquired creative agency Karmarama and taken a majority stake in digital agency SinnerSchrader, to further deepen its creative and user experience capabilities.

The report states that Accenture "combines its world-class, global business and technology consulting with more than 5,000 developers on staff with B2B/B2E mobile experience. The result: more than 1,500 releases of enterprise mobile applications for clients to date." It also asserted that because of these proven capabilities "Accenture is well suited to handle clients with large, complex, transformational mobile enterprise apps projects."

One of the three areas assessed for the Forrester Wave, which included nine vendors in this evaluation, was Strategy, in which Accenture had the highest score. This consisted of five key elements: partnerships and alliances; innovation road map; employee retention; vision for this market; and pricing and commercial models. Accenture received the top score possible for four out of five criteria within the Strategy category.

Abhijit Kabra, global mobile apps lead at Accenture Mobility, part of Accenture Digital, said: "Delivering enterprise apps can be complex, but to be successfully adopted, the apps must be designed, built and managed with a focus on the user throughout the process. Design-led thinking guides all our work, and through Accenture's Mobile App Studios we rapidly ideate and prototype user-centric solutions with our clients, solving specific business challenges and creating new value. We can then seamlessly deliver solutions at scale, integrating them across organizations globally through our Mobile App Factories and taking advantage of our market presence, for which we scored the highest possible marks in this report."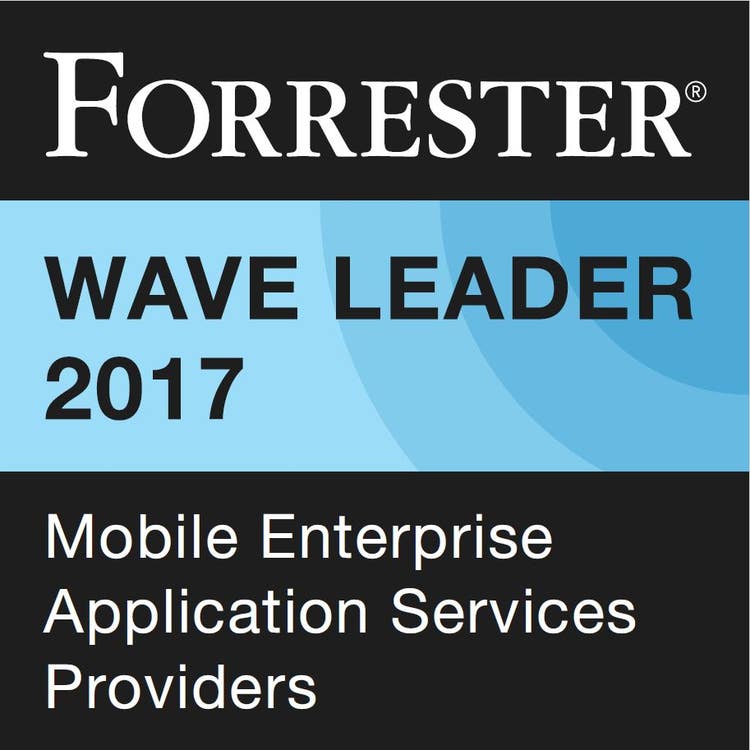 Accenture positioned as a leader in Mobile Enterprise
Applications Services report
You can view the full report here.

About Accenture
Accenture is a leading global professional services company, providing a broad range of services and solutions in strategy, consulting, digital, technology and operations. Combining unmatched experience and specialized skills across more than 40 industries and all business functions – underpinned by the world's largest delivery network – Accenture works at the intersection of business and technology to help clients improve their performance and create sustainable value for their stakeholders. With approximately 401,000 people serving clients in more than 120 countries, Accenture drives innovation to improve the way the world works and lives. Visit us at www.accenture.com.

Accenture Mobility, part of Accenture Digital, plans, implements and manages mobility solutions for businesses and public organizations, including developing and implementing enterprise mobility strategies; building and testing applications; and supplying credible, business ready Internet of Things offerings and managed services. Accenture Mobility services are based on deep industry insights and technical expertise that help clients across all industries achieve growth, efficiency and manage a successful transformation as they adopt the tools of a digital business. Find out more by following @mobilitywise and visiting www.accenture.com/mobility.
The Forrester Wave™: Mobile Enterprise Application Services Providers, Q1 2017 by Jeffrey S. Hammond, Liz Herbert with Christopher Andrews, Bill Seguin, and Andrew Reese

# # #

Contact:

Joanna Vos
Accenture
+ 44 7500 835588
joanna.r.vos@accenture.com