August 02, 2017
Accenture Positioned as a Leader in Inaugural IDC MarketScape Report on North America Distributed Energy Resource Management Systems Strategic Consultants and Systems Integrators

NEW YORK; Aug. 2, 2017 – Accenture (NYSE: ACN) has been positioned as a leader in the inaugural IDC MarketScape: North America DERMS Strategic Consultants and SIs 2017 Vendor Assessment report.1
The report recognizes Accenture as a leader for its comprehensive distributed energy resource management systems (DERMS) offerings, which help electric utilities efficiently manage and integrate renewable energy sources such as solar and wind as well as storage and other distributed energy resources. These offerings enable utilities to maintain and improve system reliability, operate their networks optimally and meet the growing demands of end customers.

Accenture is also recognized in the report for strengthening its DERMS consulting position through the acquisition of the Structure Group in 2015, which added deep knowledge in distribution operations, real-time systems and systems integration, and through the OMNETRIC Group joint venture in 2014 with Siemens. OMNETRIC Group is also recognized as a Major Player in the report.

Vendors were assessed on their DERMS work in a minimum of three regional markets in North America, including at least three utilities or major municipal or electric cooperatives in strategy development, planning, forecasting, demand management, grid management and transactive markets.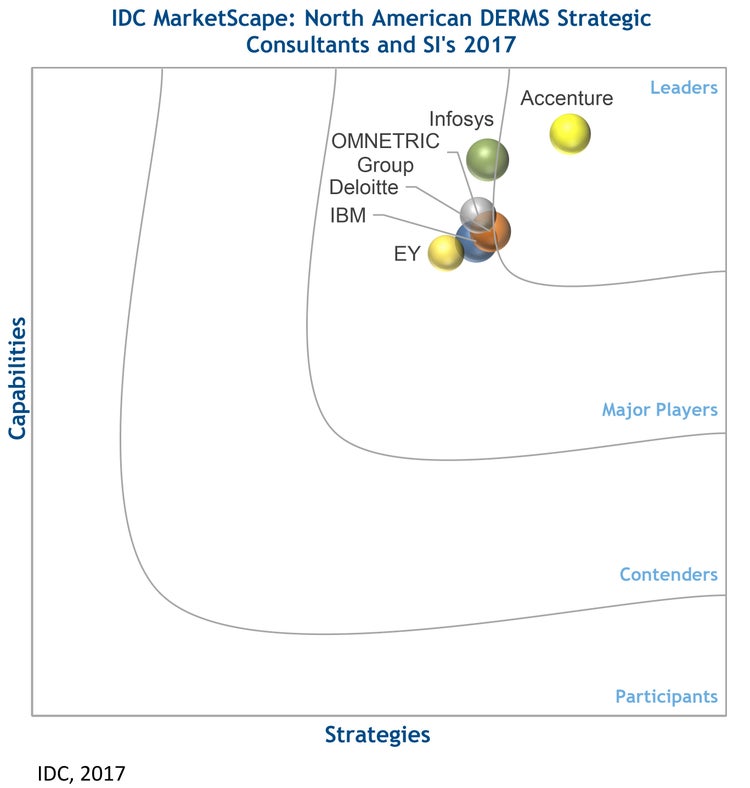 Please see footnote no. 2

"Being named a leader by IDC reflects the strength of our team, their many accomplishments, and our experience and offerings in the distributed energy resources space, which span the full spectrum from strategy, transformation and implementation to analytics platforms and the design of new customer products and services," said Tony Masella, a managing director at Accenture who leads the company's Utilities practice in North America. "We continue to invest in our people and capabilities so that we can help our clients proactively capture value in this rapidly advancing market."

John Villali, research director with IDC Energy Insights and the report's author, said, "Accenture is a Leader in the study, as they proved to provide a set of comprehensive capabilities in the area of DERMS, which is vital for utilities, who need to tap into vendors' deep knowledge and practical experience with DERMS and other real-time systems. Vendor assistance is especially important not only during the early stages of the DERMS market but also as distributed energy resources continue to penetrate regional power markets at a rapid pace, driving utilities to look at investments in DERMS."

The IDC MarketScape: North America DERMS Strategic Consultants and SIs 2017 Vendor Assessment report is based on interviews with major utilities companies in North America, the end users of the report, vendor briefings and other research information. The report can be found here.

More information about Accenture's services to the utilities industry can be accessed here.

About Accenture
Accenture is a leading global professional services company, providing a broad range of services and solutions in strategy, consulting, digital, technology and operations. Combining unmatched experience and specialized skills across more than 40 industries and all business functions – underpinned by the world's largest delivery network – Accenture works at the intersection of business and technology to help clients improve their performance and create sustainable value for their stakeholders. With more than 411,000 people serving clients in more than 120 countries, Accenture drives innovation to improve the way the world works and lives. Visit us at www.accenture.com.

About IDC MarketScape
IDC MarketScape vendor analysis model is designed to provide an overview of the competitive fitness of ICT (information and communications technology) suppliers in a given market. The research methodology utilizes a rigorous scoring methodology based on both qualitative and quantitative criteria that results in a single graphical illustration of each vendor's position within a given market. IDC MarketScape provides a clear framework in which the product and service offerings, capabilities and strategies, and current and future market success factors of IT and telecommunications vendors can be meaningfully compared. The framework also provides technology buyers with a 360 degree assessment of the strengths and weaknesses of current and prospective vendors.
\
IDC MarketScape vendor analysis model is designed to provide an overview of the competitive fitness of ICT suppliers in a given market. The research methodology utilizes a rigorous scoring methodology based on both qualitative and quantitative criteria that results in a single graphical illustration of each vendor's position within a given market. The Capabilities score measures vendor product, go-to-market and business execution in the short term. The Strategy score measures alignment of vendor strategies with customer requirements in a 3-5-year timeframe. Vendor market share is represented by the size of the circles. Vendor year-over-year growth rate relative to the given market is indicated by a plus, neutral or minus next to the vendor name.

# # #

Contacts:

Guy Cantwell
Accenture
+ 1 281 900 9089
guy.cantwell@accenture.com

Matt Corser
Accenture
+ 44 755 784 9009
matthew.corser@accenture.com