The report identifies Accenture as the leading provider across all international geographies, attributing its success to its strong Workday expertise and analytics and automation capabilities.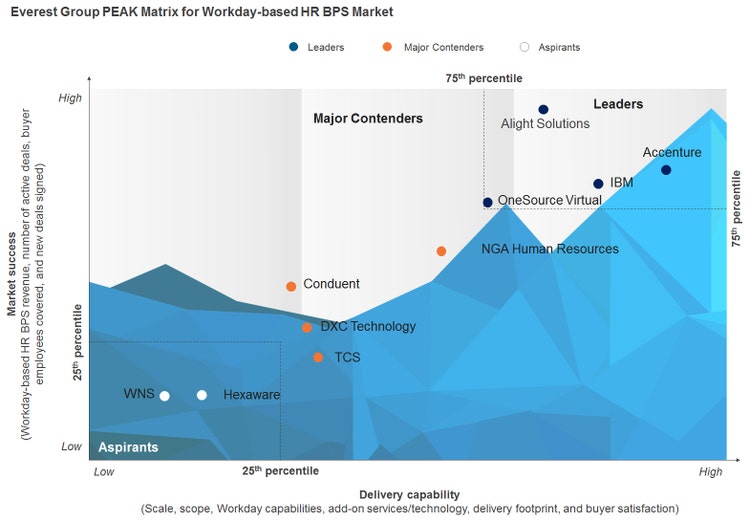 "There has been a shift in the way enterprises approach their HR processes, with an increased emphasis on employee experience, as well as an enhanced focus on utilizing cloud, mobility, and analytics to make HR processes more business driven," said Anil Vijayan, practice director, Everest Group. "With its comprehensive Workday capabilities, experience-driven services, and strong technology capabilities, Accenture is a leader in the Workday-based HR BPS market."

Additional strengths highlighted in the report include:
Accenture has the expertise to deliver large, multi-process Workday engagements spanning multiple continents, with one of the highest revenues in the industry.
Accenture's close relationship with Workday since 2008, along with its DayNine acquisition, a Workday consulting and deployment provider, continue to bolster its implementation services capabilities.
Backed by a strong relationship with ServiceNow and a focus on employee experience-driven services, Accenture is on the path to effectively manage large-scale changes in the HR domain.
With its advanced analytics capabilities, including predictive tools, Accenture complements Workday's native analytics applications.
Through service delivery automation, Accenture is one of the few providers focusing on delivering efficiency benefits for clients in a Workday environment.
Clients cite Accenture's deep HR and Workday expertise, along with its flexibility in accommodating new requests, as major strengths.
"Accenture's leadership in this report reinforces our go-to-market strategy and recognizes our commitment and investment in key areas like employee experience, analytics and automation," said Debbie Polishook, group chief executive of Accenture Operations. "We're dedicated to helping our clients achieve measurable results by boosting workforce productivity and performance, enhancing process quality and efficiency and increasing business agility, ultimately helping to grow revenue and reduce costs."

Also announced today, Accenture was named the overall market leader in the inaugural Everest Group PEAK Matrix for Workday HCM IT Services report. The report recognizes Accenture as a Leader in Delivery Capability for its "best-in-class" domain expertise & innovation, and "high" buyer satisfaction; as well a Leader in Market Success with notable enterprise adoption with a large number of client engagements.

More information about Accenture's HR BPS capabilities can be accessed here.

About Accenture
Accenture is a leading global professional services company, providing a broad range of services and solutions in strategy, consulting, digital, technology and operations. Combining unmatched experience and specialized skills across more than 40 industries and all business functions – underpinned by the world's largest delivery network – Accenture works at the intersection of business and technology to help clients improve their performance and create sustainable value for their stakeholders. With approximately 411,000 people serving clients in more than 120 countries, Accenture drives innovation to improve the way the world works and lives. Visit us at www.accenture.com.
# # #


Contacts:


Hannah Unkefer
Accenture
+ 1 415 537 4848
hannah.m.unkefer@accenture.com