July 18, 2017
Accenture Positioned as a Leader in Everest Group 2017 Supply Chain Management Report

NEW YORK; July 18, 2017 – Accenture (NYSE: ACN) is positioned as a Leader in Everest Group's Supply Chain Management PEAK Matrix™ report and is placed ahead of all competitors in Delivery Capability, which assesses the ability to successfully deliver services to clients.
Everest Group credits Accenture's leading delivery capabilities to its strong growth, significant experience and expertise in providing multi-tower solutions, as well as its heavy dominance in the developed markets of North America and continental Europe. The report recognizes Accenture's industry expertise as a strong differentiator among supply chain providers and praises Accenture for having a balanced global delivery models with an optimal mix of headcount and a presence across all major geographies. Accenture's proprietary tools, control tower framework and solutions are identified as major strengths, while Accenture clients note that a key advantage of working with the company is its proactive approach in recommending ideas for better business outcomes.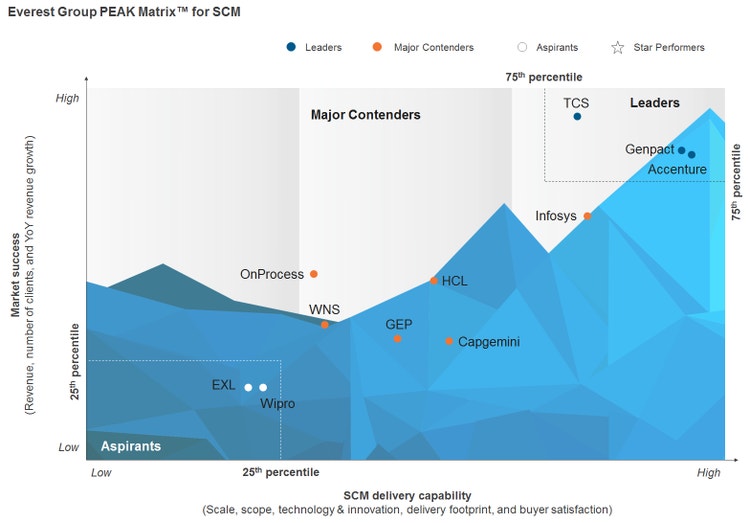 Rob Wiebe, executive vice president of Supply Chain at Loblaw said, "To retain our position as a best-in-class retailer, we knew we needed to move away from a supply chain that was focused primarily on the storage of products. Accenture helped us manage that transition—and did so in a way that generated both quick benefits and long-term value."
Accenture named a leader in Everest Group Supply Chain Management report


"Increasing complexity in supply chain and global cost pressures are driving buyers to look for service providers who can deliver end-to-end supply chain management solutions that go beyond the traditional boundaries of procurement, logistics, and inventory management," said Megan Weis, VP of Business Process Services at Everest Group. "Accenture is among the select group of service providers who recognized this need in the market and got out in front of it by investing in their suite of services and in the mechanism for delivering those services worldwide."

"Accenture's leadership in this report is a testament to our combination of highly skilled industry-specific practitioners, intellectual property and cloud capabilities that help enable us to manage complex, global supply chains for our clients," said Debbie Polishook, group chief executive of Accenture Operations. "By providing comprehensive supply chain management, we're helping our clients increase speed to market, fuel innovation and enable agility, ultimately driving better business outcomes."

The report examines the dynamics of the global Supply Chain Management service provider landscape and its impact on the market. Based on the Everest Group PEAK Matrix, 11 supply chain management providers are segmented into Leaders, Major Contenders and Aspirants.

The Everest Group Supply Chain Management PEAK Matrix™ report can be accessed here.

About Accenture
Accenture is a leading global professional services company, providing a broad range of services and solutions in strategy, consulting, digital, technology and operations. Combining unmatched experience and specialized skills across more than 40 industries and all business functions – underpinned by the world's largest delivery network – Accenture works at the intersection of business and technology to help clients improve their performance and create sustainable value for their stakeholders. With approximately 411,000 people serving clients in more than 120 countries, Accenture drives innovation to improve the way the world works and lives. Visit us at www.accenture.com.
# # #


Contact:

Hannah Unkefer
Accenture
+ 1 415 537 4848
hannah.m.unkefer@accenture.com