June 19, 2017
Accenture Positioned as a Leader in Everest Group 2017 Analytics Business Process Services Assessment
NEW YORK; June 19, 2017 – Accenture (NYSE: ACN) has been named a Leader among providers of analytics business process services (BPS), in the latest Everest Group report: Analytics Business Process Services – Service Provider Landscape with PEAK Matrix™ Assessment 2017. Accenture is positioned above all competitors in analytics BPS delivery capability, based on its scale of operations, scope of services, investments in technology, global delivery footprint and buyer satisfaction.
The report attributes Accenture's dominance to its numerous analytics tools and solutions offered globally. It also cites the substantial investments Accenture has made to expand its client base and grow relationships with existing customers to increase market share.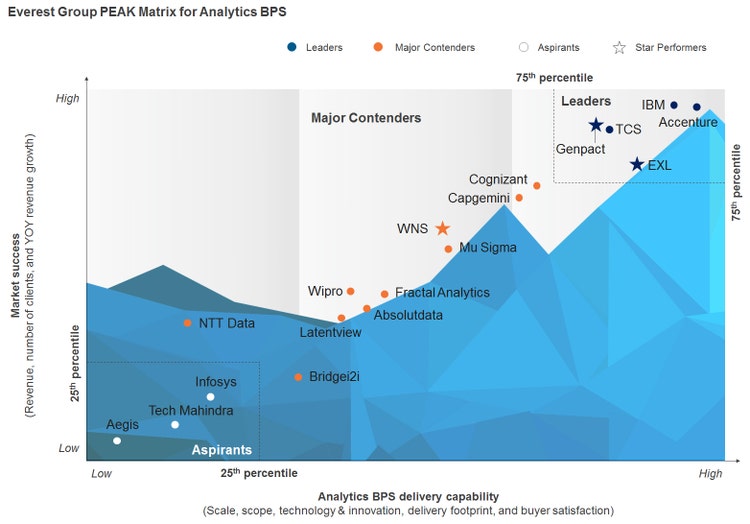 "The global analytics BPS market achieved an annual growth rate of more than 20 percent in 2016," said Anupam Jain, Everest Group. "Accenture is a leader in analytics BPS based on its strong revenue share and foothold across major geographies and industries. Clients today are demanding a service provider that brings a problem-solving mindset to their issues, and then employs a blend of deep domain expertise and analytics capabilities to help them unlock value. We believe Accenture with its capabilities is positioned well to serve clients in this environment."
Accenture is strongly positioned as a Leader in Everest Group Analytics BPS Assessment


Additional strengths highlighted in the report include:\
Accenture is a global provider that offers a wide range of services including analytics, across a broad set of industries and horizontals through its delivery centers spread across 120 countries.
Unique among analytics BPS providers, Accenture covers multiple geographies, including North America, Europe and emerging markets.
Accenture's focus on technology has allowed it to build a library of analytic platforms and tools that are either industry-specific or cross-industry, and can be configured to meet individual client requirements in a short span of time.
Investments in Internet of Things, robotics and artificial intelligence, have resulted in recent wins for Accenture in these areas.
Acquisitions including OCTO Technology, MOBGEN and OPS Rules, as well as relationships with leading academic institutions have strengthened Accenture's analytics capabilities.
Buyers cite Accenture's best practices sharing, continuous improvement and depth of expertise as key strengths.
"Analytics, as part of our broader intelligent automation capabilities, is a critical component for delivering business outcomes to our clients," said Debbie Polishook, group chief executive of Accenture Operations. "Accenture's continued leadership in analytics business process services is rooted in our ability to deliver intelligent, innovation-driven business process capabilities as-a-Service that provide transformational insights to our clients to help them streamline processes, enhance productivity and improve competitiveness."

Narendra Mulani, chief analytics officer at Accenture Analytics, part of Accenture Digital, added: "This report recognizes that we have positioned ourselves to help clients apply intelligence to their operations with speed, scale and agility through our as-a-Service capabilities. There is no issue across the value chain in any industry that can't be addressed through analytics; data creates a new perspective for organizations looking to expand market share, transform their core businesses or reduce costs. Today, with advanced analytics and artificial intelligence, this can be done at unprecedented speeds and in ways that wouldn't have been possible just months ago. Enabling clients to plug into the latest business process and analytics capabilities is just one way we're helping organizations to accelerate the time it takes to unlock value through new intelligence as they embed analytics into the fabric of their business and create a new data native culture."

Read more about the Everest Group Analytics Business Process Services – Service Provider Landscape with PEAK Matrix™ Assessment 2017 here.

About Accenture
Accenture is a leading global professional services company, providing a broad range of services and solutions in strategy, consulting, digital, technology and operations. Combining unmatched experience and specialized skills across more than 40 industries and all business functions – underpinned by the world's largest delivery network – Accenture works at the intersection of business and technology to help clients improve their performance and create sustainable value for their stakeholders. With approximately 401,000 people serving clients in more than 120 countries, Accenture drives innovation to improve the way the world works and lives. Visit us at www.accenture.com.

Accenture Analytics, part of Accenture Digital, helps clients harness the power of new data, data science and technology to unlock value and drive transformation. Recognized as a leader by industry analysts, the company helps clients embed analytics into the fabric of their business to create new intelligence using AI, Machine Learning, proprietary algorithms and app-based solutions, all powered by the Accenture Insights Platform. We collaborate with a powerful alliance and delivery network to help clients operationalize within any market and industry with a focus on speed to value. Combining expertise across industries, analytics, technology and design, Accenture is uniquely qualified to drive new business outcomes with precision, at scale. For more information, follow us @ISpeakAnalytics and visit www.accenture.com/analytics.
# # #


Contacts:

Hannah Unkefer
Accenture
+ 1 415 537 4848
hannah.m.unkefer@accenture.com