February 22, 2017
Accenture Opens Innovation Hub in Houston


At opening event, Accenture to host panel with Houston business leaders to discuss expanding city's innovation economy

HOUSTON; Feb. 22, 2017 – Accenture (NYSE: ACN) today opened a new innovation hub in Houston as part of the company's accelerated innovation investment in the U.S. The innovation hub is designed to help clients grow, compete and transform in the digital economy. Houston is the first of 10 new hubs that Accenture will establish as part of a nationwide initiative, which includes a $1.4 billion investment in training and the hiring of 15,000 new employees over the next four years.
Located in the heart of Houston's business district, the innovation hub includes a liquid studio and innovation center. These are highly collaborative environments where Accenture works side-by-side with its clients to leverage digital and emerging technologies, including artificial intelligence, blockchain, drones with computer vision, and virtual reality to create innovative business solutions.

By the end of 2020, Accenture will open 10 new innovation hubs in key cities in the U.S.
"The next wave of U.S. growth and competitiveness will come from continuous innovation, and I am proud our Houston team is working closely with our clients to drive value by harnessing the power of digital technologies like never before," said Peggy Kostial, senior managing director for Accenture, U.S. Southwest region. "Our 1,800-person team brings innovation, speed and scale to help our clients achieve their goals quickly. And our innovation hub is fundamental to the support of these efforts, as well as being further evidence of Accenture's commitment to the Houston innovation economy."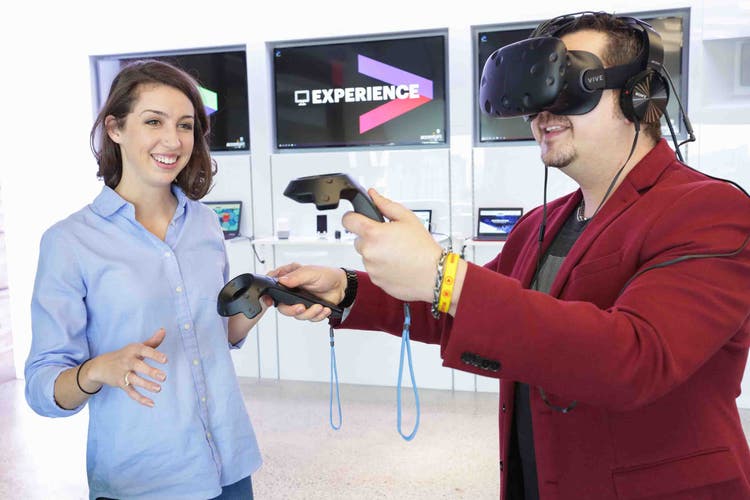 Accenture unveils a new innovation hub in Houston, the first of 10 new hubs that the company will establish
as part of a nationwide initiative to accelerate its innovation investment in the United States.
The Houston innovation hub offers clients access to a range of capabilities, including an innovation center that applies new thinking and technologies to solve business problems, and a liquid studio that quickly turns concepts into prototypes through rapid software application development. The innovation hub also features client solutions, including Accenture's work with a major oil and gas company to develop a gaming engine to visualize massive amounts of real-time drilling data, enabling it to anticipate and prevent costly maintenance issues.

Expanding Houston's Innovation Economy
In conjunction with the opening of the new innovation hub, Accenture is hosting a panel discussion with local business and civic leaders to discuss the findings of a study conducted with the Greater Houston Partnership. The research was designed to identify opportunities to develop Houston's innovation ecosystem and includes a survey of local business leaders, entrepreneurs, policy makers, researchers and venture capitalists as well as learnings from the development paths of other cities.

"As our early findings suggest, Houston has an excellent opportunity to further diversify its economy and raise its profile as an attractive destination for entrepreneurs and startups," said Bob Harvey, president and CEO of the Greater Houston Partnership. "The Partnership is a key driver of collaborative efforts to grow the region's innovation economy, so we are committed to a continued partnership with Accenture to help set the strategy to mature Houston's high-growth, high-impact startup ecosystem."

Accenture in the United States
Accenture is a leading professional services company, providing a broad range of services and solutions in strategy, consulting, digital, technology and operations. With more than 50,000 people and operations in 42 cities in the United States, Accenture serves 93 of the Fortune 100 and more than 70 percent of the Fortune 500. In the United States, Accenture has innovation hubs which bring together key elements of the Accenture Innovation Architecture – including labs, studios and innovation centers – to help clients develop and deliver disruptive innovations to drive growth and increase competitiveness. With an unwavering commitment to inclusion and diversity, Accenture is consistently recognized on FORTUNE's 100 Best Companies to Work For and DiversityInc's Top 50 Companies for Diversity lists. Visit us at accenture.com/US.

# # #

Contacts:

John Connolly
Accenture
+ 1 917 452-0837
john.a.connolly@accenture.com

Kuriko Wong
Accenture
+ 1 346 232-3293
kuriko.wong@accenture.com