July 27, 2017
Accenture Opens Groundbreaking Innovation Hub in Bengaluru


Dynamic new location combines the best of Accenture's technology capabilities and industry expertise to drive client-centric innovation at scale

BENGALURU, India; July 27, 2017 – Accenture (NYSE: ACN) has launched its first Innovation Hub in Bengaluru, a state-of-the-art facility that combines the broad range of Accenture's leading technology capabilities in a vibrant and collaborative environment to help clients transform their businesses for the digital world.
The Innovation Hub in Bengaluru offers clients access to Accenture's deep industry knowledge, leading technology capabilities and business acumen in more than 40 industries, applied in a live technology delivery environment — enabling clients to experience innovation at scale through customized visits, design-thinking workshops, co-innovation workshops and cross-industry innovation.

This location gives clients "hands on" access to all six elements of the Accenture Innovation Architecture – Accenture Research, Accenture Ventures, Accenture Labs, Accenture Studios, Accenture Innovation Centers and Accenture Delivery Centers. The Innovation Hub in Bengaluru enables clients to identify and develop emerging trends and technologies and then quickly prototype, scale and implement innovative solutions.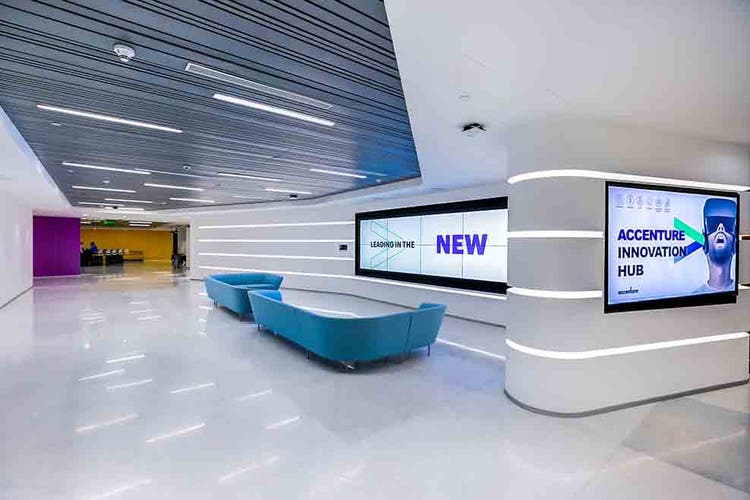 A look inside the Accenture Innovation Hub in Bengaluru

More than 4,000 people will work at the Innovation Hub, combining research and development capabilities, deep industry insights, creativity and leading technology skills to bring Accenture's culture of innovation to life. This location will create and deliver solutions based on "New IT" – which includes digital, cloud and security-related technologies – and designed to help clients reinvent their business processes, accelerate the development of new products and services, and create more-personalized customer experiences.

"Technology has a huge multiplier effect and enables organizations to drive competitive differentiation, transform customer experiences, create innovative business models and achieve breakthrough business results," said Bhaskar Ghosh, group chief executive, Accenture Technology Services. "At the Innovation Hub in Bengaluru, we are pioneering a shift in traditional technology strategy, development and delivery models to an approach that leverages 'the New' to help clients innovate more quickly."

Mohan Sekhar, a senior managing director in Accenture Technology Services, said, "The Innovation Hub combines our technology and world-class delivery capabilities to enable clients to drive innovation at any stage of their business. This groundbreaking new facility gives clients an unparalleled opportunity to understand, experiment with, adopt and quickly scale new and emerging technologies to unlock new value."

Comprising 440,000 square feet of space throughout 10 floors, the Innovation Hub features capabilities from across Accenture, including:
Accenture Lab, which incubates new concepts through applied R&D;
Accenture Liquid Studio, offering rapid development and prototyping of applications and the design and creation of digital services;
Accenture Innovation Center, which builds and scales solutions across technologies and industries; and
Avanade, which provides innovative digital and cloud services, business solutions and design-led experiences through the Microsoft ecosystem and is majority-owned by Accenture.
The Innovation Hub includes dedicated Accenture Delivery Center floors for each of Accenture's five operating groups – Communications, Media & Technology, Financial Services, Health & Public Service, Products and Resources – to focus on delivering industry-specific solutions and services for clients. There are also dedicated floors for digital technologies and for emerging technologies and platforms.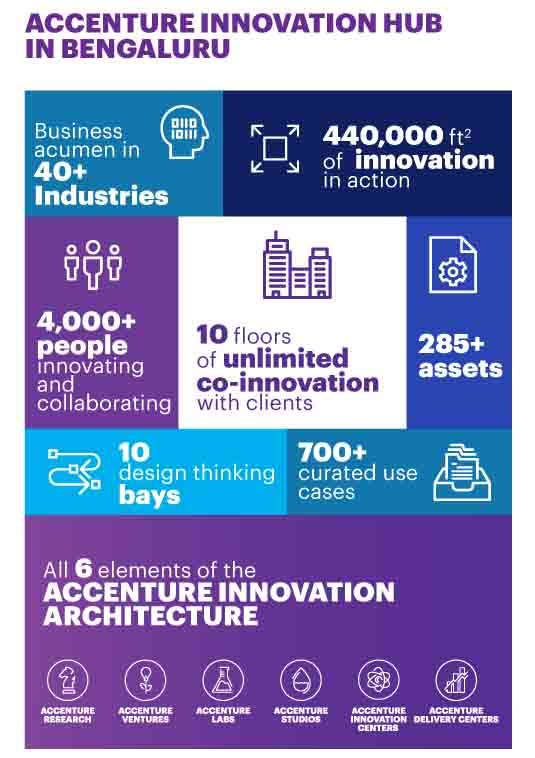 Accenture Innovation Hub in Bengaluru Facts and Stats

Paul Daugherty, Accenture's chief technology and innovation officer, said, "Innovation is part of our DNA. As an innovation-led company, we are passionate about identifying, developing and even inventing the latest innovations to help our clients grow their businesses. We use the Accenture Innovation Architecture to guide them through the process, and the Innovation Hub will be a destination where clients can leverage our capabilities in the latest technologies to transform their business and better compete in a digital-first world."

The Innovation Hub features Accenture's capabilities in artificial intelligence, intelligent automation, quantum computing, machine learning, robotics, Internet of Things, data and analytics, intelligent applications, intelligent platforms, liquid applications management, and experience-led transformation, among others. It will also leverage Accenture's innovation capabilities and broader ecosystem around the world — including Accenture Labs, Liquid Studios, Digital Studios, Interactive Studios, Innovation Centers and Cyber Fusion Centers.

About Accenture
Accenture is a leading global professional services company, providing a broad range of services and solutions in strategy, consulting, digital, technology and operations. Combining unmatched experience and specialized skills across more than 40 industries and all business functions – underpinned by the world's largest delivery network – Accenture works at the intersection of business and technology to help clients improve their performance and create sustainable value for their stakeholders. With more than 411,000 people serving clients in more than 120 countries, Accenture drives innovation to improve the way the world works and lives. Visit us at www.accenture.com.

# # #

Contact:

Kiran Balasubramanian
Accenture
+ 91 9886771250
kiran.bala@accenture.com