September 20, 2017
Accenture Named #1 Innovation Leader and a 'Lighthouse for Innovation' in HfS Blueprint Report for Application Testing Services Supporting Digital Transformation

NEW YORK; Sept. 20, 2017 – Accenture (NYSE: ACN) is named the overall innovation leader and included in the 'Winner's Circle' in the 2017 HfS Blueprint Report for Application Testing Services Supporting Digital Transformation. Notably, Accenture's myWizard platform is praised as a 'lighthouse for innovation,' guiding clients on a holistic automation strategy.
"Testing services need to cover an increasing number of capabilities and technologies that relate to digital transformation," said Bhaskar Ghosh, group chief executive, Accenture Technology Services. "We are thrilled to be cast as a leader in innovation by HfS; we see this as a testament to our evolved, end-to-end testing services that support modernized software delivery and shape the foundation for clients to build a digital enterprise."

The report commended Accenture on its vision for the evolution of testing services, as well as a comprehensive approach to intelligent automation in testing. Accenture also stood out for its work in transforming clients' testing functions with the ability to migrate clients toward outcome-based models. Accenture Touchless Testing Platform and Accenture myWizard are two innovative platforms used to deliver Accenture Application Services, which benefit from Accenture's global patent portfolio that includes over 200 patents and applications related to software testing.

"We are pleased to see that this report recognizes Accenture platforms such as myWizard and Accenture Touchless Testing Platform, which harness analytics, artificial intelligence and automation to help clients rethink and reinvent their approach to testing," said Kishore Durg, managing director and global testing lead for Accenture.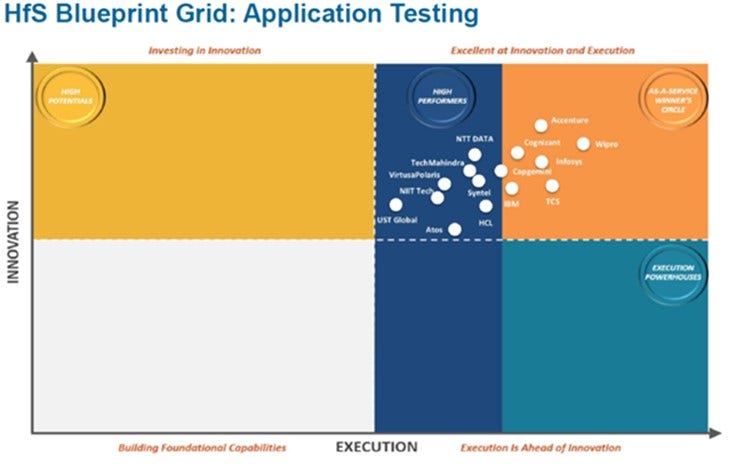 The report highlighted Accenture's strengths in four key areas:
Driving quality engineering as the intersection of testing services with Agile and DevOps methodologies: Accenture foresees that there will be a clear shift from manual testing to newer quality and automation roles augmented by agile and DevOps skills.
Holistic automation strategy: Accenture guides clients on an automation strategy that goes beyond testing, which is critical for customers in order to progress toward the As-a-Service Economy.
Integration of analytics: Accenture's Touchless Testing Platform leverages Intelligent Automation partners along with an analytics engine powered by other partners and Accenture's own IP.
Accenture myWizard: This asset enables more efficient delivery by combining Accenture's industry and technology assets and business knowledge across 40 industries with intelligent automation, including artificial intelligence, at its core.
The 2017 HfS Blueprint Report for Application Testing Services Supporting Digital Transformation builds on the research for the HfS Application Testing Services Blueprint 2015. The data for this Blueprint was collected from the top 20 service providers by revenue in Q1/2 2017, covering services buyers, service providers, and advisors and influencers of Intelligent Automation.

About Accenture
Accenture is a leading global professional services company, providing a broad range of services and solutions in strategy, consulting, digital, technology and operations. Combining unmatched experience and specialized skills across more than 40 industries and all business functions – underpinned by the world's largest delivery network – Accenture works at the intersection of business and technology to help clients improve their performance and create sustainable value for their stakeholders. With more than 411,000 people serving clients in more than 120 countries, Accenture drives innovation to improve the way the world works and lives. Visit us at www.accenture.com.

# # #

Contact:

Julie Bennink
Accenture
+1 312 693 7301
julie.l.bennink@accenture.com